As part of National Nurses Week, BoardVitals Partnered with ZDoggMD with this "Nurse Virginia" video, which is a parody on the song, "Meet Virginia" by Train, to show appreciation to a group of vital and oftentimes underappreciated professions in healthcare. In addition to supporting the potluck for the nurses in the video, BoardVitals gave away free "Trust Me I'm a Nurse" T-shirts to the first 2,000 nurses that signed up at https://www.boardvitals.com/zdogg.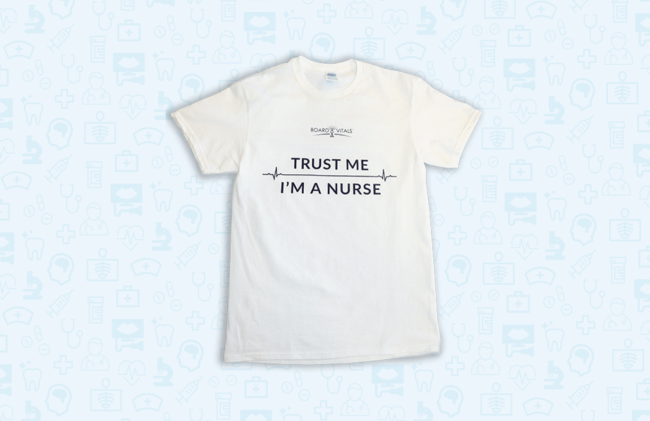 Unfortunately, we couldn't personally thank every nurse on the planet. However, let us speak for everybody when we say, thank you for all that you do. Check out the video below.
BoardVitals loves our nurses and we strive to support them and aspiring nurses by streamlining studying for the many exams they face along the way. If you're preparing for an exam, we've got you covered. BoardVitals offers online question banks for the following Nursing Exams and CE:
Each of these question banks come with hundreds of practice questions to help you prepare. Each question comes with detailed explanations and rationales for correct and incorrect responses so you get a comprehensive understanding of the topic you're reviewing. Timed mode allows you to simulate testing conditions by limiting the amount of time you can take to complete a question set. Study with review mode to read the explanations as you go.
Check out our updates to the NCLEX banks. We added more resources to support even more question types among other enhancements to make the most of your study time.
We hope you enjoyed our "Nurse Virginia" video with ZDoggMD. We had so much fun putting it together with him. Nurses are the unsung superheroes of healthcare and we appreciate all you do.
There's still time to take advantage of our Nurses Week sale. Use promo code NURSESWEEK for 25% off any nursing bank! Offer expires May 12, 2018.
Watch the "Nurse Virginia" Facebook Video and be sure to leave some love for nurses in the comments.