Being ready for your board exam is now easier than ever with the new full-length practice exams from BoardVitals. Full-length practice board exams are now available as an add-on with BoardVitals subscriptions on select question banks for a simulated test day experience. 
With practice exams, users will experience a full-length test in advance of their boards to allow users to ease test anxiety prior to test day. Each practice exam is formatted to mimic not only the precise exam blueprint and length of your board exam, but also the actual interface* you'll see on test day. Practice exam questions are a separate, additional set of questions from the ones within the question bank. Find out your strengths and weaknesses with a personalized score report after the test. 
*Available on select specialties only 
Formatted to the Exact Exam Interface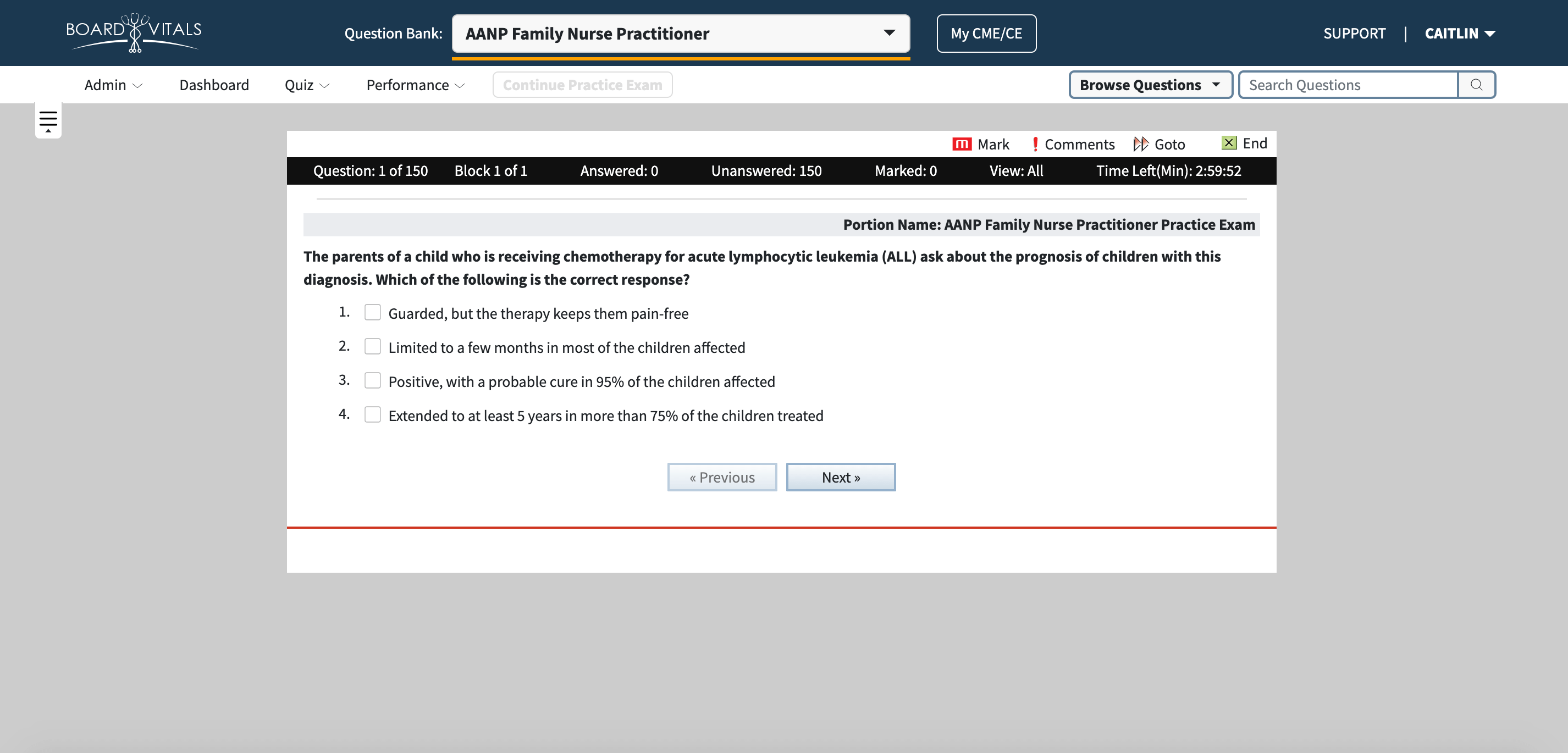 BoardVitals practice exams are specifically designed to replicate what you will see on test day, right down to the interface. This allows you to become familiar with the layout and tools you will use when you sit for your exam. 
In addition, you can even create a custom quiz with the exam interface in case you want to get used to the interface outside of the full-length practice exam.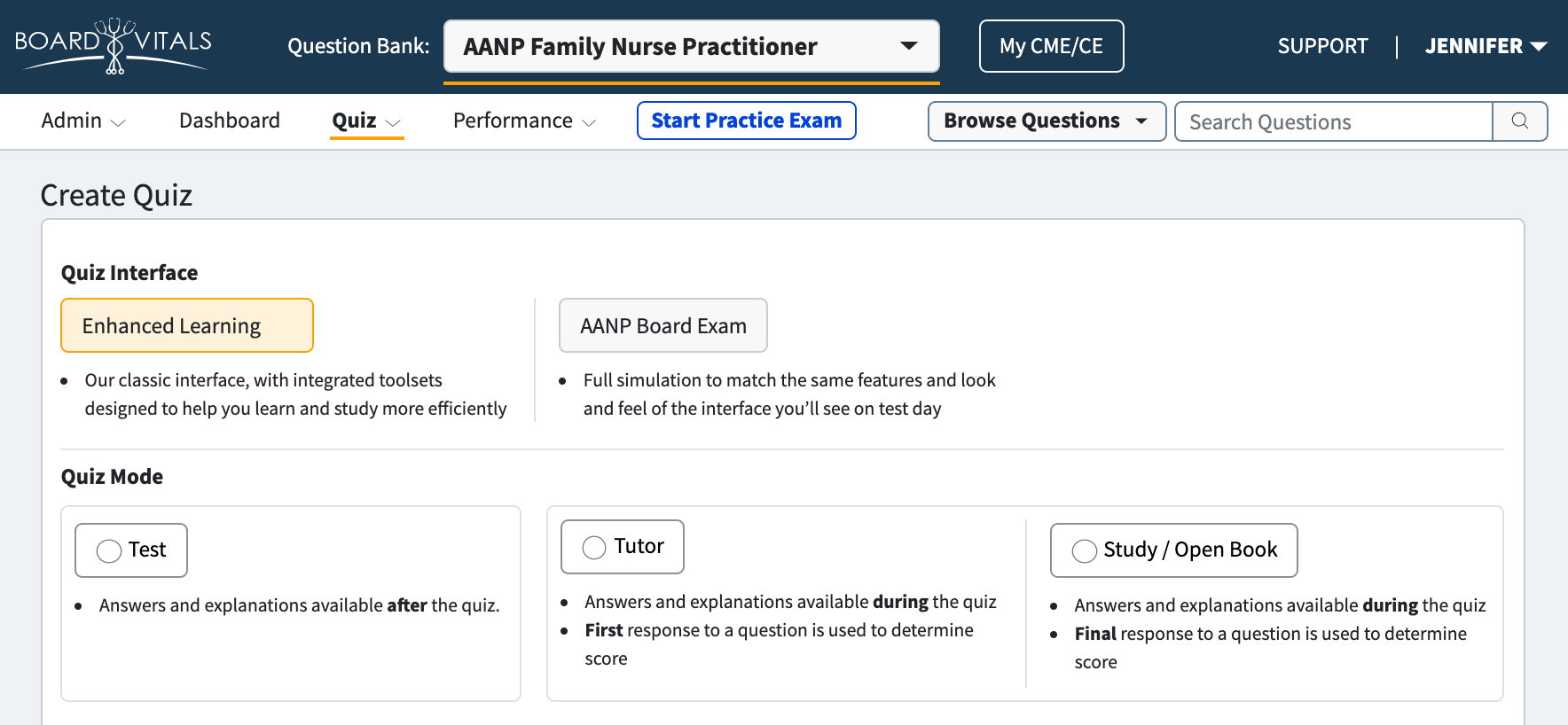 The following specialties include the exam interface with the purchase of a practice exam: 
AANP Adult-Gerontology Primary Care NP

 

AACN Adult-Gerontology Acute Care NP

 

AANP Family Nurse Practitioner

 

Internal Medicine
PANCE

USMLE Step 1

USMLE Step 2

USMLE Step 3 Day 1 & Day 2
As we continue to develop interfaces, more question banks will have access to these interfaces. For question banks without an available interface, users will take their practice exam with the standard BoardVitals interface and features as seen below.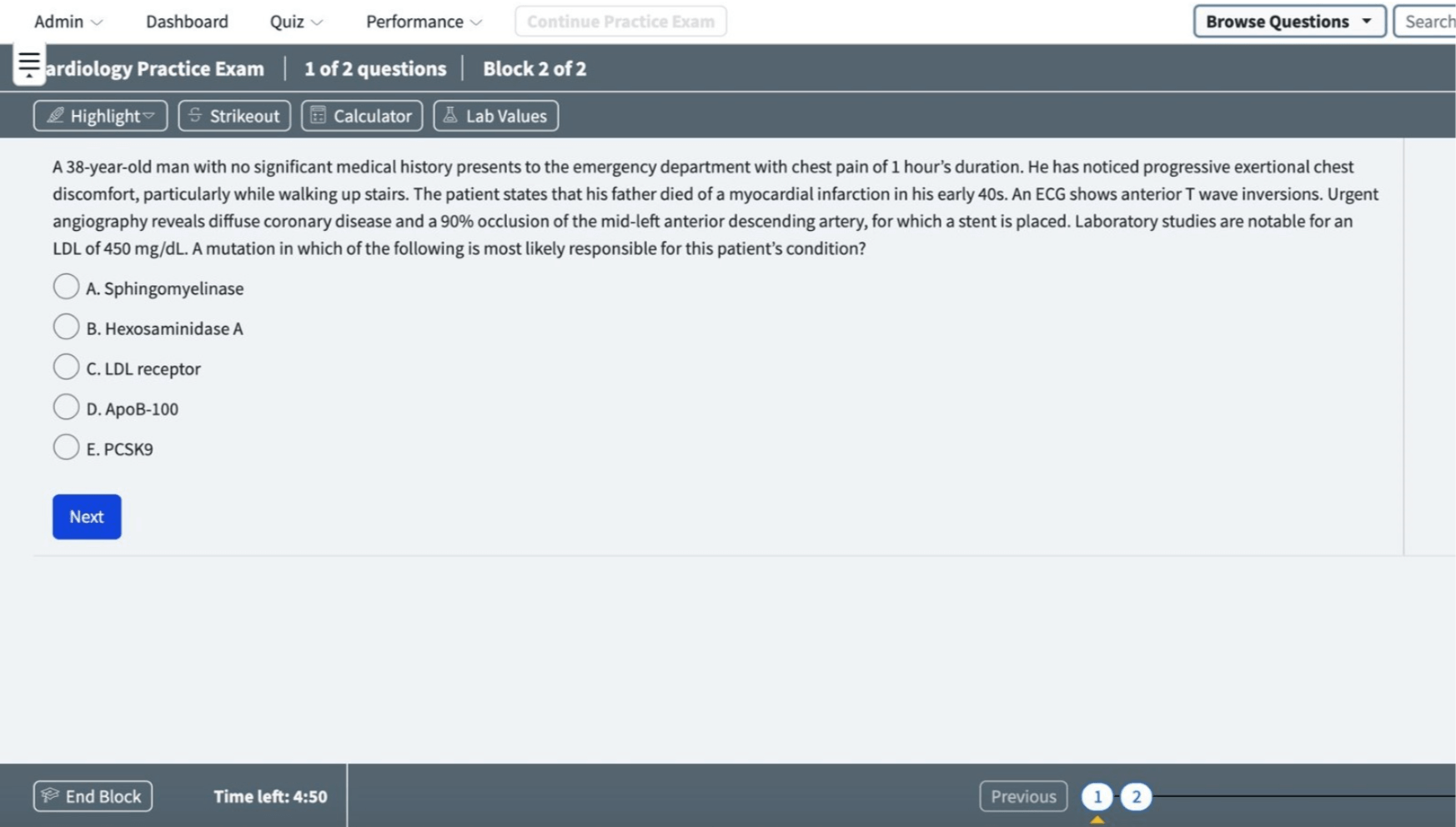 To get started, simply find the "Start Practice Exam" button on your Dashboard.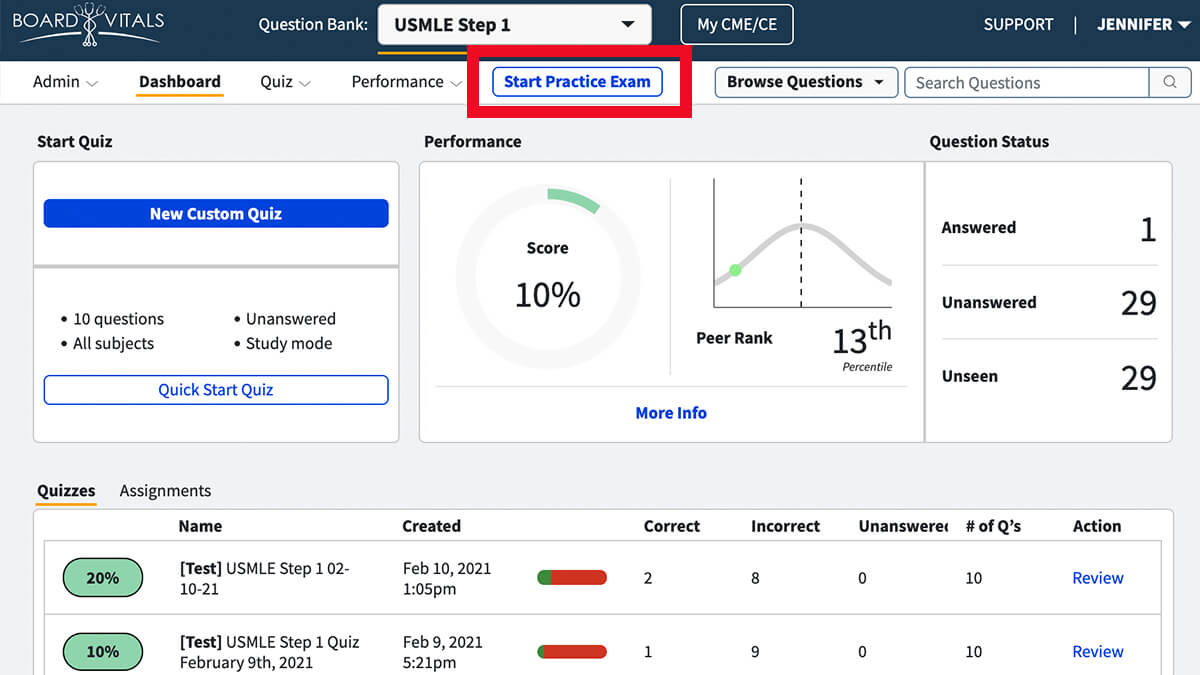 Practice Exam Timing
Each board exam has a different number of questions, number of blocks and breaks, and a different amount of time available for test takers. We have researched each of them to ensure your practice board exam is close to what you will see on test day. Depending on the question bank, your test will feature pooled or individual time.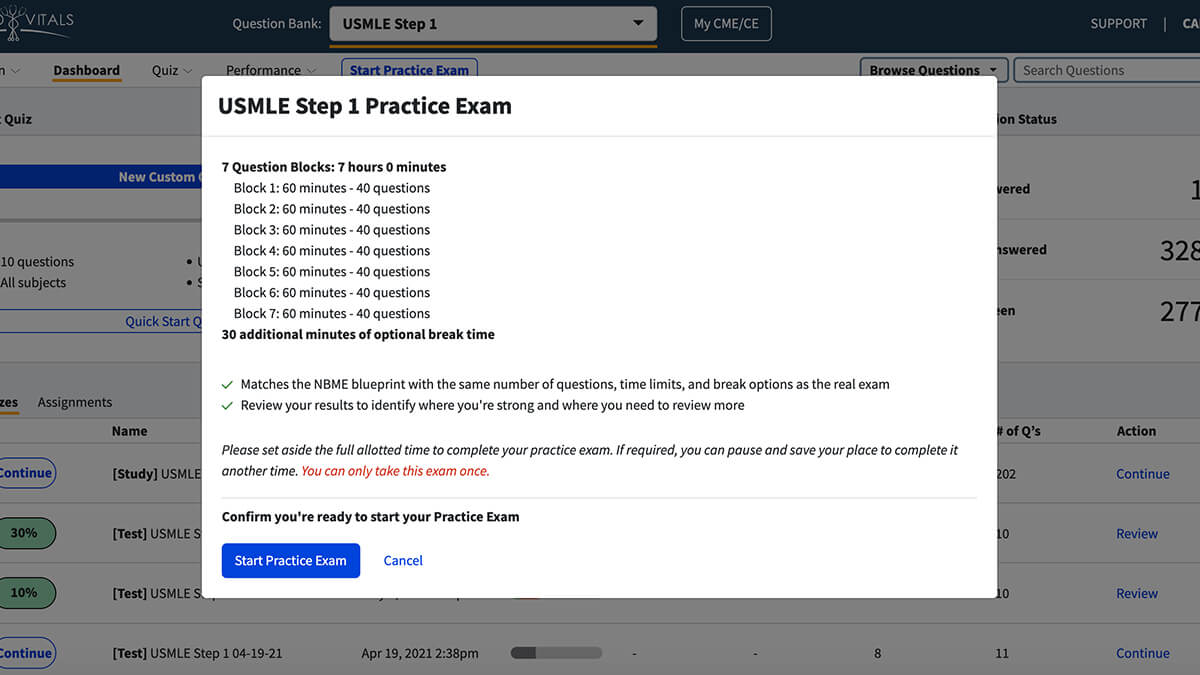 Pooled Time
Some board exams use pooled time for blocks and/or breaks. With pooled time, you have one large pool of time to split however you would like. For example, you may have 8 hours to get through 8 blocks of questions. If you use 30 minutes on block 1, you have 7 hours and 30 minutes for the next 7 blocks. 
Individual Time
Other board exams have individual time for blocks and/or breaks. With individual time, you receive allotted time for a block or break. If you do not use the allotted time, you will not gain any additional time for the remaining sections of your exam. 
Breaks are built into the practice exams in case a user needs to rest, but it is optional to take. Keep in mind that once a question block is complete, the user cannot go back to that block again.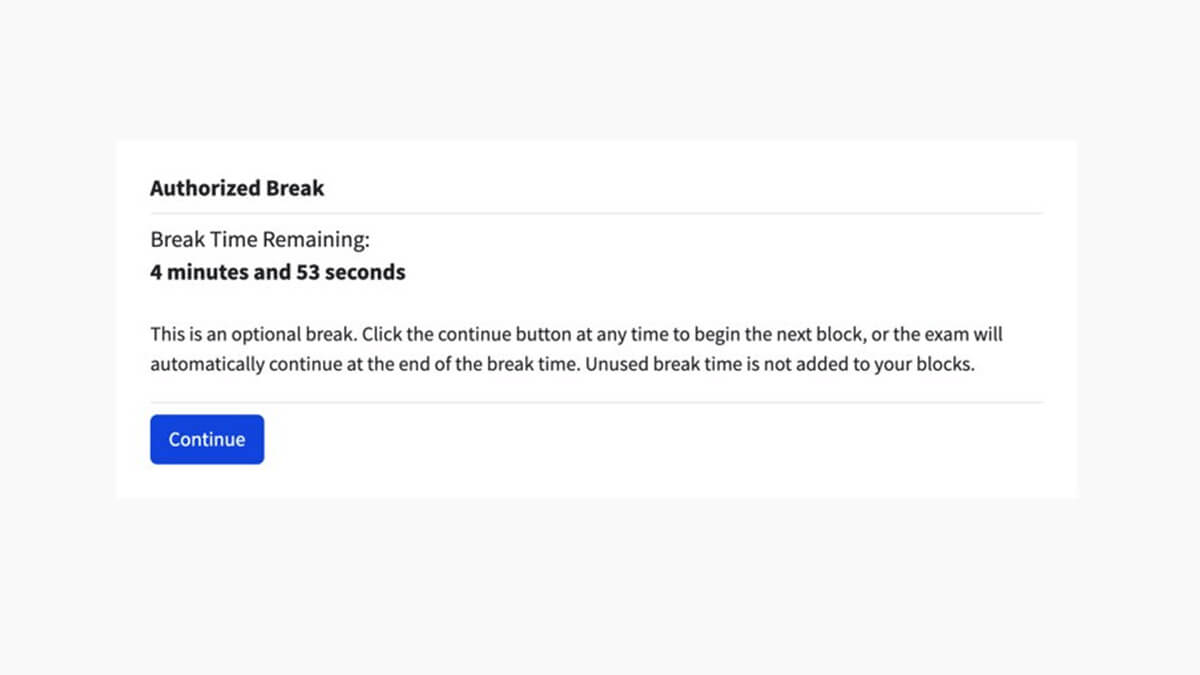 Like all BoardVitals question banks, your practice test includes Answer Response Time to help you get a better idea of your pacing. 

While it is best that you complete your practice exam in one sitting, if required you can pause and save your place before coming back another time to finish. 
Personalized Score Report
Like all BoardVitals quizzes, BoardVitals practice exams give you a clear picture of where you stand before you sit for your boards. The Practice Exam Performance tab shows how you scored on each exam block, and details specific subject performance.  
By understanding which areas you need more help with, you'll be able to create a customized study plan for your next exam. Once you complete your practice exam, you will be able to highlight any problem areas before you sit for your boards.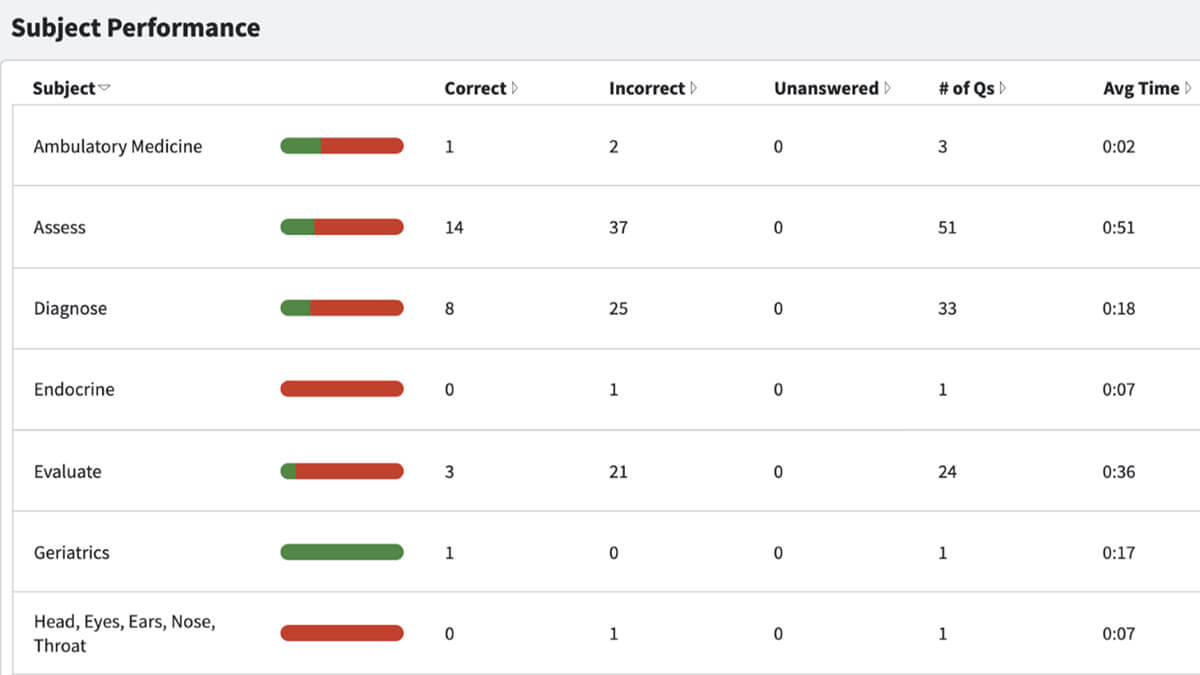 BoardVitals practice exams can be completed once and are available for purchase with one, three, and six-month subscriptions to the following question banks: