Choose your plan
Detailed Explanations and Rationales
Targeted to ABFM Exam Blueprint
Mobile App to Study On-The-Go
Vaccine Donated with Every New Purchase
100% Pass Guarantee
Ask a Physician™
Buy Now, Start Later (up to 6 months)
Detailed Explanations and Rationales
Targeted to ABFM Exam Blueprint
Mobile App to Study On-The-Go
Vaccine Donated with Every New Purchase
100% Pass Guarantee
Ask a Physician™
Buy Now, Start Later (up to 6 months)
Detailed Explanations and Rationales
Targeted to ABFM Exam Blueprint
Mobile App to Study On-The-Go
Vaccine Donated with Every New Purchase
Free Trial
$0
No credit card required
Free access to select questions
Detailed Explanations and Rationales
Targeted to ABFM Exam Blueprint
Included with all plans
Customize practice tests by subject

Track your progress with advanced analytics and reports

Timed option to simulate real test conditions

Compare your progress against the national average
"Your question bank has been so helpful for me. I can't thank you enough! "
W. Cipriani
MD
Family Medicine Board Review Topics Covered:
Neurology
Dermatology
General Medicine
Endocrinology / Metabolism
Musculoskeletal and Sports Medicine
Eye
Pediatrics
Hematology
Hospital Medicine
Gastroenterology
Cardiovascular Disease
Nephrology
Allergy and Immunology
Reproductive - Male
Ambulatory Medicine
Women's Health
Nutrition
Geriatrics and Palliative
Infectious Disease
Oncology
OB/GYN
Ethics
Rheumatology / Orthopedics
Pulmonary / Critical Care
Psychiatry
ENT
Population-Based Care
Urgent Care
Key Family Medicine Board Review Features
Medical Editor
Elise Torres, MD
Our Family Medicine editor, Elise Torres, MD, is a board-certified family physician who practices full spectrum family medicine and telemedicine. After graduating from Stanford University and Harvard Medical School, she completed her family residency training at the Stanford O'Connor Family Medicine Residency and obstetrics fellowship at Santa Clara Valley Medical Center in San Jose, CA.
Information about the ABFM Family Medicine Certification Examination
What is covered on the Family Medicine Certification Exam?
According to the Family Medicine Certification Exam Test Plan Specifications, the exam covers the following:
Cardiovascular 10%
Endocrine 7%
Gastrointestinal 6%
Hematologic/Immune 3%
Integumentary 5%
Musculoskeletal 10%
Nephrologic 3%
Neurologic 3%
Nonspecific 8%
Psychogenic 6%
Reproductive—Female 3%
Reproductive—Male 1%
Respiratory 11%
Special Sensory 2%
Population-based Care 4%
Patient-based Systems 4%
Module (Selected from eight possible choices at the time of the examination) 13%
Certification Examination Module Choices
Ambulatory Family Medicine
Child and Adolescent Care
Geriatrics
Women's Health
Maternity Care
Emergent/Urgent Care
Hospital Medicine
Sports Medicine
How long is the Family Medicine Certification Exam?
The exam is divided into four sections. Each section is 100 minutes long and contains 80 multiple choice questions (MCQ).
The second section of the exam is the modular exam portion which consists of 40 MCQ's over the topic selected and then and additional 40 questions that cover the breadth of Family Medicine. The first, third and fourth sections of the examination will consist of questions which cover the breadth of Family Medicine.
Total allotted time for the entire exam is 9 hours.
The 2018 Family Medicine Certification Examination Pass Rate was 92.7%. Click for information on BoardVitals Pass Rates.
VIDEO: Family Medicine Board Review Question Explained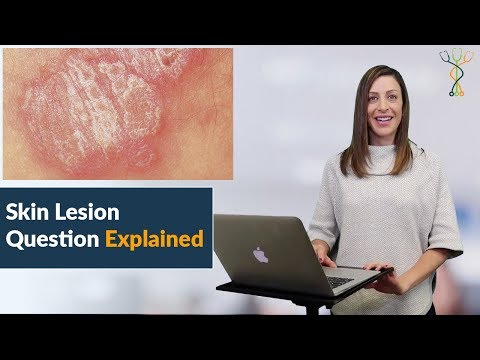 BoardVitals' Cofounder, Dr. Andrea Paul, answers a question from our Family Medicine question bank! This lecture is part of our "Practice Connection" video series that we developed to highlight helpful practice questions and explanations. Check out this Family Medicine lecture discussing how to diagnose particular skin lesions, covered in our Family Medicine question bank.
Tips and Tricks for the Family Medicine Certification Exam
Unlike board exams for the other specialties, you are able to review previous items and change answers. However, in our experience, when physicians go back to modify questions, they often change their answer from the right one to the incorrect one. Unless you're sure of an answer change, focus on the questions ahead, and not the ones that you have already answered.
At about 1 minute per question, make sure to pace yourself! This is feedback that we get from Family Medicine students all the time. We suggest using a portion of our question bank as an actual exam with one minute per question to get a feel for the pace. Remember that there is no brand new information… focus on established medicine.
In addition to the BoardVitals Family Medicine question bank and the Family Medicine Certification Exam Test Plan Specifications, make sure you review the Exam Preparation videos and documents provided by the ABFM.
Good luck on the exam!
Learn more about the Family Medicine Board Exam on the blog
Are you in need of additional information as you prepare for the Family Medicine Board Exam? Visit the Family Medicine section of our blog. Not only are there Family Medicine Board Exam prep tips and practice questions to help you study for the test, you will learn about specific issues related to the medical field.
Free Family Medicine sample questions to help you pass the boards. Try them out now!

Read More
Accreditations
This Enduring Material activity, Online Family Medicine Question Bank Based On The ABFM Blueprint, has been reviewed and is acceptable for up to 100.00 Elective credit(s) by the American Academy of Family Physicians. AAFP certification begins 02/24/2020. Term of approval is for one year from this date. Physicians should claim only the credit commensurate with the extent of their participation in the activity.
BoardVitals is accredited by the Accreditation Council for Continuing Medical Education (ACCME) to provide continuing medical education for physicians.
BoardVitals designates this Internet Enduring Material for a maximum of 40
AMA PRA Category 1™ Credit(s)
. Physicians should claim only the credit commensurate with the extent of their participation in the activity. Further Family Medicine CME info found
here
.