Family Medicine Certification Exam Question Bank
Choose your plan
Detailed Explanations and Rationales
Targeted to ABFM Exam Blueprint
Mobile App to Study On-The-Go
Vaccine Donated with Every New Purchase
100% Pass Guarantee
Ask a Physician™
Buy Now, Start Later (up to 6 months)
Detailed Explanations and Rationales
Targeted to ABFM Exam Blueprint
Mobile App to Study On-The-Go
Vaccine Donated with Every New Purchase
100% Pass Guarantee
Ask a Physician™
Buy Now, Start Later (up to 6 months)
Detailed Explanations and Rationales
Targeted to ABFM Exam Blueprint
Mobile App to Study On-The-Go
Vaccine Donated with Every New Purchase
Free Trial
$0
No credit card required
Free access to select questions
Detailed Explanations and Rationales
Targeted to ABFM Exam Blueprint
Included with all plans
Customize practice tests by subject

Track your progress with advanced analytics and reports

Timed option to simulate real test conditions

Compare your progress against the national average
"This is the best way for a busy family practitioner to revise for recertification: interactive, concise, and up-to-date! I highly recommend this product. "
Dr. Jennifer Gwozdz
Key Family Medicine MOC Board Review Features
Family Medicine MOC Board Review Topics Covered:
Neurology
Dermatology
General Medicine
Musculoskeletal and Sports Medicine
Eye
Endocrinology / Metabolism
Pediatrics
Hematology
Hospital Medicine
Gastroenterology
Cardiovascular Disease
Nephrology
Allergy and Immunology
Reproductive - Male
Ambulatory Medicine
Women's Health
Nutrition
Geriatrics and Palliative
Infectious Disease
Oncology
OB/GYN
Ethics
Rheumatology / Orthopedics
Pulmonary / Critical Care
Psychiatry
ENT
Population-Based Care
Urgent Care
Medical Editor
Elise Torres, MD
Our Family Medicine editor, Elise Torres, MD, is a board-certified family physician who practices full spectrum family medicine and telemedicine. After graduating from Stanford University and Harvard Medical School, she completed her family residency training at the Stanford O'Connor Family Medicine Residency and obstetrics fellowship at Santa Clara Valley Medical Center in San Jose, CA.
Family Medicine Continuing Certification Info
There are four components within the American Board of Family Medicine's Continuing Certification program:
Professionalism
Self-Assessment and Lifelong Learning
Performance Improvement
Foundation of Family Medicine Certification
The BoardVitals Family Medicine MOC Question Bank will help you pass the component within the ABFM's recertification process known as Cognitive Expertise or the Family Medicine Certification examination.
Family Medicine Certification Exam Pass Rate
The 2018 Family Medicine Certification Examination Pass Rate for continuing certification for the U.S. was 91.8%.
As with many of the Medical Specialty exams, there is a strong correlation between the number of practice questions taken and performance on the real exam.
Family Medicine Certification Exam Content:
Cardiovascular 10%
Endocrine 7%
Gastrointestinal 6%
Hematologic/Immune 3%
Integumentary 5%
Musculoskeletal 10%
Nephrologic 3%
Neurologic 3%
Nonspecific 8%
Psychogenic 6%
Reproductive—Female 3%
Reproductive—Male 1%
Respiratory 11%
Special Sensory 2%
Population-based Care 4%
Patient-based Systems 4%
*Module 13%
*The examinee chooses the module at the time of the examination from the eight possible choices below:
Ambulatory Family Medicine
Geriatrics
Women's Health
Maternity Care
Emergent/Urgent Care
Hospital Medicine
Sports Medicine
Recertification Note: We suggest choosing the topics where you spend most of the time in practice. The exam covers mostly fundamentals, so just through day to day practice you likely know most of the content for a couple of the modules. Geriatrics is one of the most popular areas for a number of reasons.
In addition to the BoardVitals Family Medicine MOC Question Bank, we recommend reviewing the Exam Preparation Videos and Documents on the ABFM Website.
The BoardVitals question bank also targets the AOBFP OCC continuous certification exam. Additional resources may be available via the AAFP and ACOFP.
VIDEO: Family Medicine MOC Board Review Question Explained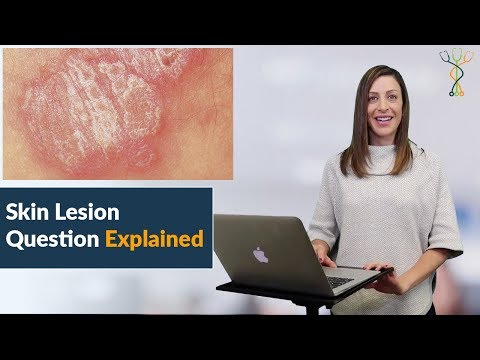 BoardVitals' Cofounder, Dr. Andrea Paul, answers a question from our Family Medicine MOC question bank! This lecture is part of our "Practice Connection" video series that we developed to highlight helpful practice questions and explanations. Check out this Family Medicine lecture discussing how to diagnose particular skin lesions, covered in our Family Medicine MOC question bank.
Stated Learning Objectives for the Family Medicine CME Activity
Upon completion of this activity, participants should be able to:
Provide current guideline-based approaches to the topics presented
Improve your ability to diagnose and manage patients in these areas
Incorporate evidence-based changes into your practice
Reviewing Medical Faculty
How do I earn Family Medicine CME Credits?
Check your state requirements for CME where you practice.
Purchase the Family Medicine Question Bank with optional CME Certificate Add-on.
Answer questions with at least 70% accuracy (you may correct answers as you go).
Redeem and submit the form and evaluation.
Print your PDF certificate of completion.



*Please Note: Non-MOC hours (CME only) are self-reported. Please follow the instructions given by your board to report your CME hours.

For full steps, view our Support Page on Redeeming CME Hours.
Learn more about the Family Medicine MOC Board Exam on the blog
Searching for more information on how to prepare for the Family Medicine Recertification Exam? Check out the articles in the Family Medicine section of our blog. Not only are there practice questions for the Family Medicine Recertification Exam, you can learn about specific health conditions that you may see in practice.
Frequently asked questions that will help you prepare for and pass the Family Medicine MOC Recertification exam.

Read More

Are you preparing for your Family Medicine MOC exam? This test is notoriously tricky. Get ahead of the game with these 5 free practice questions.

Read More
Accreditations
BoardVitals is accredited by the Accreditation Council for Continuing Medical Education (ACCME) to provide continuing medical education for physicians.
BoardVitals designates this Internet Enduring Material for a maximum of 40
AMA PRA Category 1™ Credit(s)
. Physicians should claim only the credit commensurate with the extent of their participation in the activity. Further Family Medicine CME info found
here
.
This Enduring Material activity, Online Family Medicine Question Bank Based On The ABFM Blueprint, has been reviewed and is acceptable for up to 100.00 Elective credit(s) by the American Academy of Family Physicians. AAFP certification begins 02/24/2020. Term of approval is for one year from this date. Physicians should claim only the credit commensurate with the extent of their participation in the activity.