If your USMLE Step 2CK exam is coming up, you've come to the right place to figure out exactly how to review. To start, let's make sure we know what we're tackling. The exam is a one-day, nine-hour exam, and is typically found to be harder than the other Step exams. There are eight sets of questions and each set has a maximum of 40 questions. You have one hour to complete each set. For correct pacing, practice with question banks, giving yourself on average 80 seconds to answer each.
"The best way to obtain a high score on Step 2 is to master the test-taking strategy necessary for these types of questions (i.e. what is the next best step in management or what is the diagnosis). USMLE World is the best question bank — but BoardVitals, Kaplan, and Online MedEd each have question banks that are very high-yield and would be beneficial," Christopher Carrubba, MD*, said.
We are always fielding questions about how our USMLE Step 2CK Question Bank differs from Kaplan and UWorld, so we talked to a few doctors to help you compare them and break down some of the major differences.
Looking for comparisons for USMLE Step 1 and USMLE Step 3 question banks?
---

BoardVitals is a leading provider of online board review, maintenance of certification, and continuing education activities for physicians, nurses, and other healthcare professionals. Among these offerings, are question banks written and reviewed by doctors and specialists who have recently taken each exam. These questions are then accompanied by detailed explanations and references for a more comprehensive understanding of broad topics.
For the USMLE Step 2CK exam, the question bank has more than 1,400 questions at $159 for a month of access, $219 for 3 months, and $359 for 6 months. Though this question bank doesn't have that many questions, it runs at an affordable rate to accompany any study plan.®
Free Trial
BoardVitals offers a free trial consisting of 25 sample questions. This is a great way to test the features of the Qbank and see how questions and explanations are presented.
Progress Tracker
Each BoardVitals Qbank provides individual exam scores, the median score of all users, and the user's percentile rank for the questions in a test.
Feedback & Customer Service
BoardVitals has a feedback link on each question, which enables users to ask questions and get additional feedback from other doctors. This is a great feature for students who may need clarification beyond what was provided in the explanation. Customer service is available 24/7 via email [[email protected]] and via phone [877.221.1529] during normal business hours.
Content
BoardVitals presents its exam questions in either a "timed" or "review" mode. You can set up your block of questions either by subject or a mix of subjects. Questions include audio questions formats as found in the actual examination. Explanations are provided for correct and incorrect answers in order to cover all topics relevant to the USMLE Step 2CK exam.
Additional Features
Unlimited test sets: Create practice tests with however many questions you desire.

Share a question: Users can send a particular question to fellow students or their professors to facilitate a discussion.

Send Exam: Faculty at institutions can send exams to the students for class reviews or assessments.

Practice shelf examination Qbanks are extremely helpful in preparing for third-year shelf examinations, and this makes the transition between basic sciences and clinical examinations smoother. Some institutions use shelf grades to complete students' grades and evaluations for each core rotation, so this is worth getting if you need help with clinical knowledge.
"BoardVitals provides not only question banks, but also an amazing platform for a smooth transition for students in their clinical years. It can be used by institutions to coordinate lectures during students' core rotations," Bisi Akindele, MD, said.
A user can go over all the questions again by deleting the completed exams, that way, they'll be able to reuse all the questions in the bank easily.

BoardVitals also provides a Free Guide on Passing the Step 2 and Step 3 Exams written by Andrew T. Colucci, MD, a Clinical Fellow at Harvard Medical School.
For each new customer, BoardVitals donates one vaccine to children in need as part of their philanthropic initiative: #GiveVax.
---


Kaplan is a large test prep company that offers questions banks for medical licensing exams, including USMLE Step 2CK, among other tests. The Kaplan USMLE Step 2 CK bank has more than 3,000 questions at $159 for 1 month, $199 for 3 months, $299 for 6 months, and $399 for 12 months. Compared to other offers, Kaplan offers this affordable option for those who plan to study for many months.
Free Trial
Kaplan offers 40 questions as a free trial for USMLE Step 2 CK.
"This is a very good tool to figure out your weakest subjects or topics before starting on a question bank," Akindele said.
Progress Tracker
This Qbank displays test analyses and cumulative performance.
Feedback & Customer Service
Kaplan has a help link in each question for those who need additional clarification. They have a doctor available via email to flush out medical content found in the questions. Customer service is available via email or phone.
Content
This bank features similar questions to the system used by the NBME. The banks have audio questions, and explanations are provided for correct and incorrect answers in order to cover all topics relevant to the USMLE Step 2CK exam. The Qbanks can be configured in timed or tutor modes.
Additional Features
Kaplan has various helpful free events, both live and online. They range from Internal Medicine high-yield topics to residency application sessions.
"I attended one of the lectures on preparing for residency applications and it was very helpful at the time," Akindele said. "Such information is helpful whether you're in third or fourth year. They also have short guides on the residency application process on their website."
These question banks can be supplemented by Kaplan's live and online courses that come with textbooks and high-yield videos.

The greatest asset that accompanies this bank is the two full practice assessments (timed, and with eight blocks each to simulate the actual test) and one diagnostic exam.

Mobile app available.
---

UWorld specializes in providing effective question banks covering all topics found on USMLE Exams. The USMLE Step 2CK Bank is written by practicing physicians who excelled in it. This question bank has 4,150 questions and costs $319 for 30 days and up to $729 for two years, which includes two self-assessment exams. UWorld also provides QBanks with practice exams for an additional fee.
Free Trial
UWorld provides a 10-question sample of their question bank to customers.
Progress Tracker
UWorld tracks users' progress and compares individual test scores, the average of other users, and the user's cumulative performance. Each individual question also shows the percentage of people that chose each answer option.
"In general, if your scores are below the average of other users, you have a long way to go," Akindele said.
Feedback & Customer Service
UWorld has a link to FAQs, forums for each exam, and 24/7 customer service via email.
Content
This Qbank looks most like the actual exam, not just the software, but in the presentation of questions too.
Additional Features
Renew function: The renew function is available to extend the duration of your question bank when it's about to expire (you pay for the extension).

Reset Function: The reset function is to wipe out your performance so you can start the questions from scratch. To use the reset function, you need to subscribe for at least 6 months.

Assessment: UWorld provides two assessments that can accompany the Qbank or purchased separately ($40). This practice assessment has 4 blocks of questions, even though the actual test is 8 blocks of questions.

Biostatistics bank: This is a very valuable resource for students taking all the steps. Biostatistics and epidemiology are sometimes major concerns for students and these questions always appear on the tests, so students want to be prepared.

Mobile app available.
---
At-A-Glance Comparison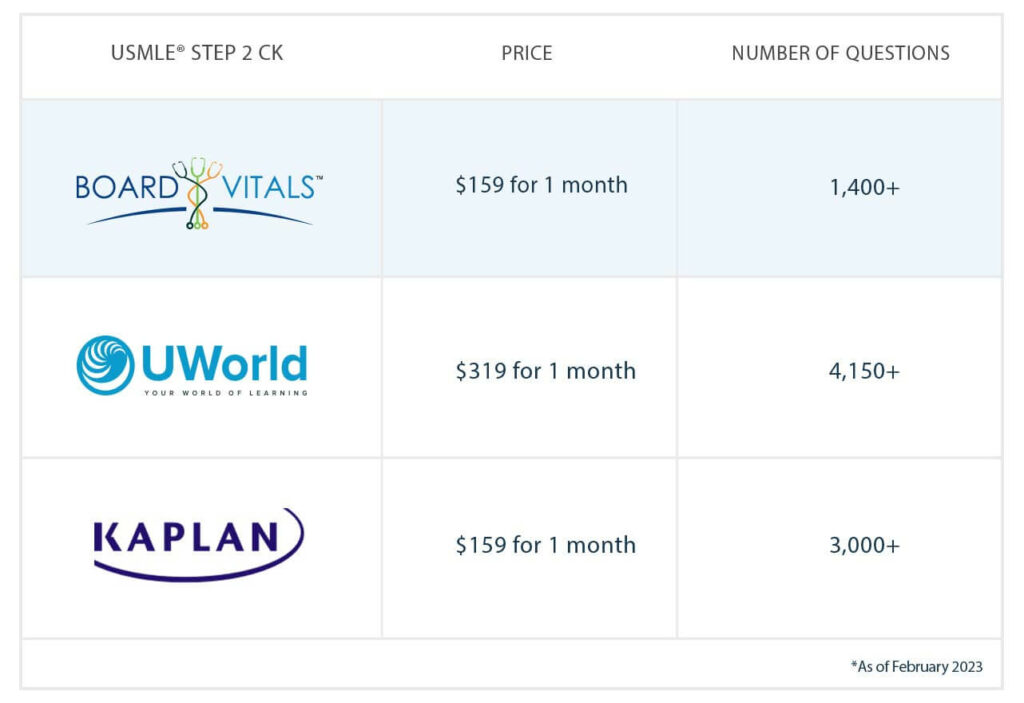 ---
*Christopher Carrubba, MD is the Co-Director of Tutor Development and Medical Education for Med School Tutors.