Have you noticed a gap in residents pay? It varies based on specialty, year in study, and gender. Medscape's annual wage survey is perhaps the largest database of information on this issue. The 2016 survey  polled 1800 residents in 25 specialties (all enrolled in medical resident programs) across the US. The survey found that "The average resident salary—$56,500—was a slight increase over the $55,400 reported in Medscape's 2015 Residents Salary & Debt Report." It's important to note that the lowest paid specialty was primary care, while the highest was critical care. It's no wonder that there is a dearth of primary care physicians coming out of medical school.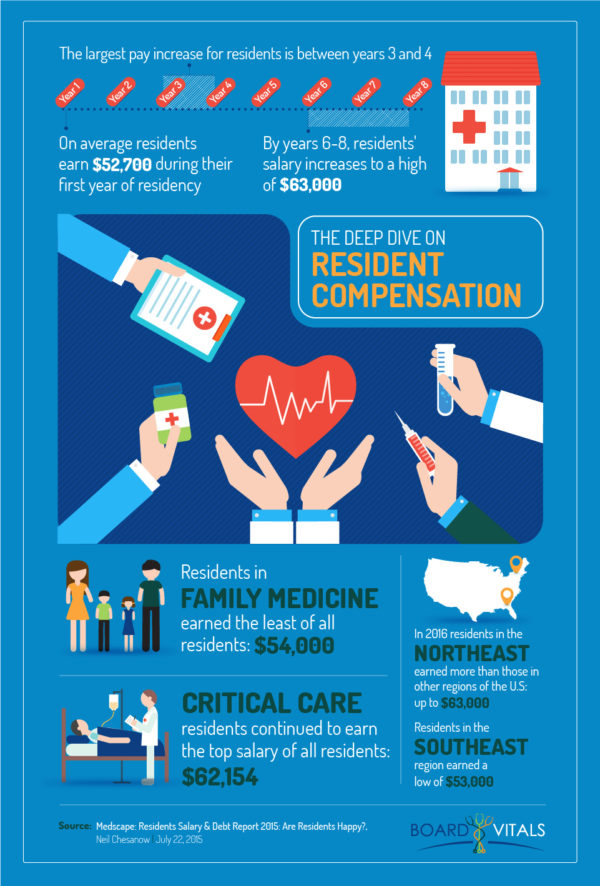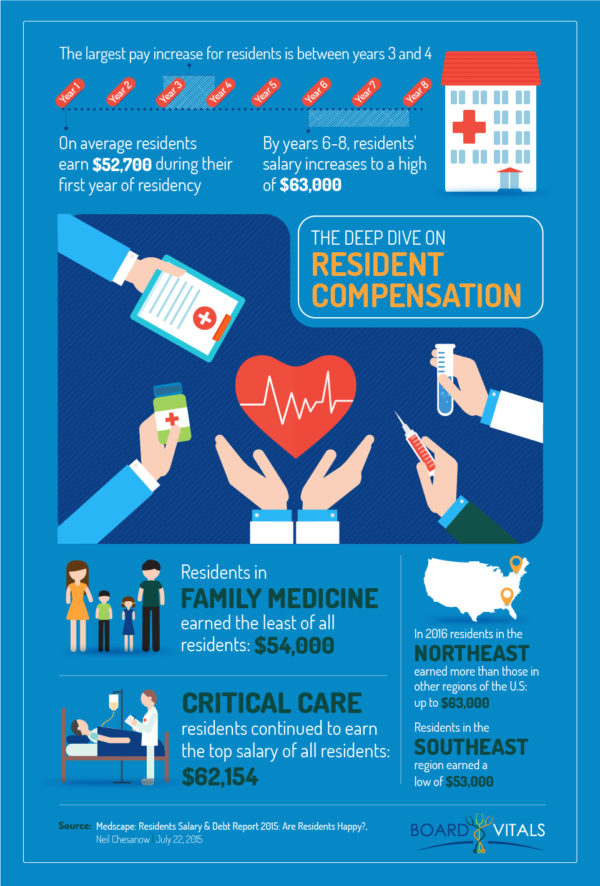 Here's the deep dive on resident compensation:
Critical care residents continued to earn the top salary of all residents: $62,154.

Residents in family medicine earned the least of all residents; $54,000

.

The average resident earned $52,700 in the first year of residency.

Salaries increased to a high of $63,000 in years 6-8.  

The largest increase was between year 3 and year 4.

Residency is one of the few areas in all medical professions where the earnings gap between men and women is very small.

In 2015 the gap was $1000 ($56,000 and $55,000, respectively).

In 2016, the average earnings gap had shrunk to $600, ($56,700 and $56,100 respectively).

In 2016 residents in the Northeast earned more than those in other regions of the US – up to $63,000. Residents in the southeast region earned a low of $53,000.

This disparity is quite different for practicing physicians; those in the Northeast earned the least in 2016 compensation – $266,000, and those in the North Central region earned the most – $296,000.
So what to do?
Realize that neither education, training, nor experience is likely to close the wage gap; knowledge and fearless negotiating can. Use the US Census Bureau links embedded in this article for salary information and add specific research from your state, available in the Medscape Resident Salary survey and the Medscape Physician Compensation Survey. 
Granted, wage equality is an uphill battle, but change is never for the faint of heart. Step by step it is possible to chip away at deeply embedded discrimination and improve wages so that work is valued, and compensated equally.
---
Want more? Check out some of our recent blog posts: