Several certifying boards, including the ABIM, have rolled out a new way for practitioners to maintain their certification. In addition to the traditional 10-year maintenance of certification (MOC) exam, the 5-year Longitudinal Knowledge Assessment (LKA) is available for many specialties.  
Despite its open-book format, the LKA should not be taken lightly. You must complete at least 500 questions over a 5-year time period. How can you best prepare for the LKA? By choosing a comprehensive MOC question bank from BoardVitals, you will have the perfect resource for before, during, and after your assessment.
Before the Assessment: Study Key Concepts
While the Longitudinal Knowledge Assessment is open book, it is still vital that you prepare before you begin the "test." You will only have a few minutes to answer each question, so it is important that you understand key concepts and how they relate to patient care. Just like you did when you sat for your initial certification exam, you should take the time before the LKA to reinforce your knowledge.  
Fortunately, taking practice questions will also help you be ready for the assessment. Since LKA content is mapped to ABIM MOC exam blueprints, BoardVitals MOC question banks are an ideal advanced preparation tool for the LKA, as they will familiarize you with key concepts so you can answer questions correctly on the first attempt. 
During the Assessment: Search the BoardVitals Database
One of the biggest differences between the traditional MOC exam and the Longitudinal Knowledge Assessment is that the LKA is open book, so you are permitted to reference resources as you complete questions such as your BoardVitals question bank. Due to the short time limit (4 minutes per question), it is important that you have access to your reference materials before you begin the assessment.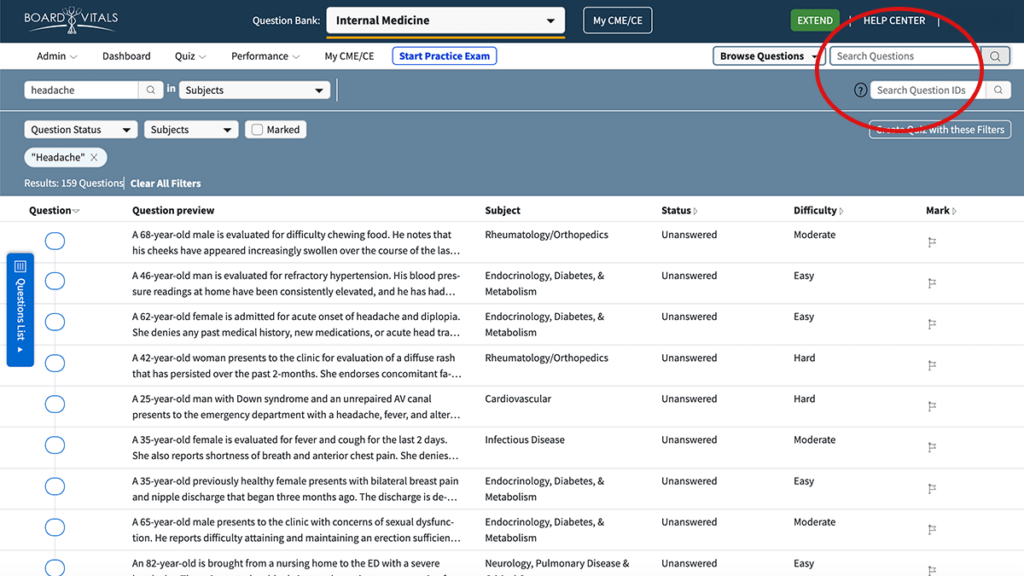 If you need to quickly look up information while you are answering questions, you can use the Search Questions field within the BoardVitals web platform which will find all questions and explanations containing the term you searched. You can then reference the questions and explanations to assist you in working out the correct answer. 
After the Assessment: Review Trouble Spots
At the end of the fifth quarter of your LKA participation (and every quarter after), you will receive an interim score report. This report will highlight where you excelled and struggled. Use it to your advantage for future assessments to ensure you meet the 5-year performance standard.
Notice a particular subject tripped you up? When you create a new BoardVitals quiz, select those subjects to review your trouble areas.
The Longitudinal Knowledge Assessment offers practitioners a new way to maintain their certification. Leverage the power of BoardVitals during your LKA preparation – you will have the perfect tool to pass your recertification assessment.