Last week, in the first part of our three-part series on physician health, we talked about the consequences of too little sleep. This week we are going to talk about how to prioritize exercise – another critical component of maintaining good health in order to sustain a career as a physician.
It may seem ridiculous to suggest that physicians should prioritize exercise despite long, arduous shifts and a chronic lack of sleep. However, to not exercise is to become more lethargic, increasingly exhausted both mentally and physically, tempting a state of general malaise. For physicians, exercise is not so much about staying in shape as it is about maintaining an optimal survival strategy.
The bad news is that the odds are against anyone maintaining a regular exercise routine. Studies show that 50% of all people who start an exercise program will drop out within the first six months. However, physicians have a leg up (no pun intended) on motivation; they know full well the detrimental effects of lack of exercise.
Prioritizing Exercise
There are as many ways to prioritize exercise as there are physicians. We aren't talking about scheduling exercise, we are talking about prioritizing it – the mental exercise that must occur before anything else can happen. We reviewed the literature, both clinical and motivational, and selected the strategies that we think are most reasonable and logical.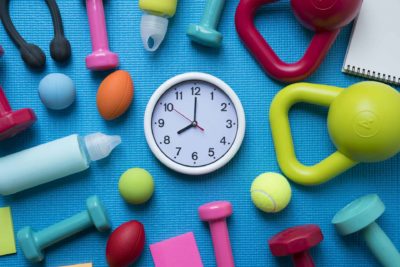 Remember the bottom line: There will never be a good day or a good time to exercise. There will always be competing priorities, too much work, too little sleep, early morning meetings and late night shifts. The point is to realize that exercise must always be part of your day – in some way. The challenge is to figure out how.
Put motivation squarely in front of your eyes. The next time you are having a cup of coffee in the physician lounge or having a quick bite to eat in the cafeteria, grab a napkin and write down the three things that are preventing you from exercising. It doesn't matter what they are; it matters that you look them squarely in the eye. Seeing perceived obstacles in print allows you to look at them honestly and determine if they are excuses or true obstacles.
Stop being a perfectionist. Don't tell yourself that you can't exercise because you don't have time to run five miles. Don't avoid going to the gym because you don't have time to complete the entire weight circuit. A vigorous 20-minute walk around the hospital campus is exercise. Walking up the stairs to the fifth floor and back is exercise. Weave that into your day all week and you may end up exercising more than if you go to the gym.
Know that you are as important as your patients. It's easy to believe that the health of your patients comes first. It's easy to believe that life and death and the practice of medicine is more important than any exercise. However, your patients count on you. They depend on you. They invest their trust in you. Therefore, you must invest in yourself. It's not a cliche, it's real life. Take care of your health so you can take care of your patients.
Do what make sense for you. You didn't get this far without using strategies that work for you. You figured out how to study, survive clinical and residency. You survived anatomy lab, the match process, and your boards. Employ those same strategies to make exercise a non-negotiable part of your week in a way that works for you. Get off the bus and walk the extra blocks? Great. Do the stairs during your break? Excellent. Schedule a stop at the gym and make that the night you pick up sushi? Perfect. Everyone succeeds at exercising once they make it their own.
Now we reach the scheduling part. Prioritizing exercise means scheduling it so it actually happens. You can schedule exercise when you are working the floor and have a break at 3PM. It simply means scheduling the stairs instead of the elevator. You can schedule it a 6AM when you walk the last four blocks to work. Or, you can schedule it every Monday, Wednesday, and Friday after work. The point is, schedule it and make it non-negotiable.
The popular media would have you believe that every fit, successful professional goes to the gym or runs on the beach with the perfect workout outfit every night. That is a fictional advertising narrative – don't buy into it. Do what works for you and make it something you look forward to. You may not have control over your patients' health but you certainly have control over yours. It's time to exercise that power (pun intended) and keep yourself strong, both physically and mentally.
Next week we will examine risky behavior in physicians, why it happens and if it is related to little sleep, too little exercise and poor nutrition.