Athletes and doctors are known for their drive, determination, and dedication. While several athletes have found success in multiple sports, a number of football players have traded their helmets for stethoscopes, making the switch from the gridiron to the physicians' office. Take a look at some NFL players-turned-doctors, but first, try your hand at a sample BoardVitals Sports Medicine board review question.
Sports Medicine Board Review Question
Before we take a look at some NFL players-turned-doctors, find out if you know the answer to this Sports Medicine Board Certification question from BoardVitals. The answer and explanation can be found at the end of this article:
This 20-year-old college football player sustained an injury during practice. On physical exam his anterior drawer test was positive, and there was suspicion of anterior cruciate ligament (ACL) disruption. In addition to a torn ACL, what other pertinent injury should be mentioned based on the MRI shown?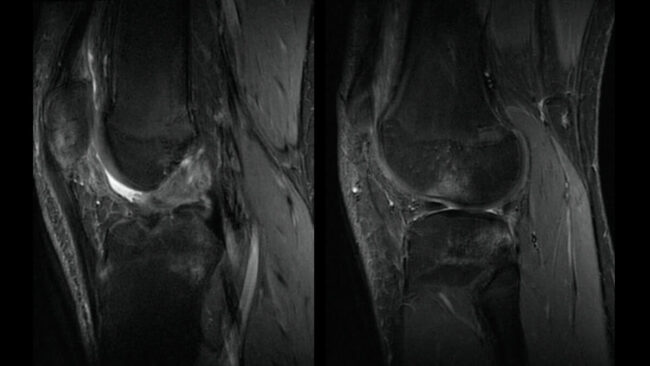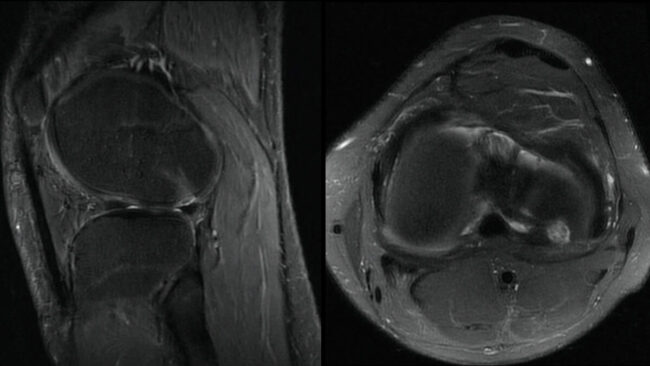 A. Posterior capsule injury
B. Medial collateral ligament tear
C. Medial meniscus tear
D. Lateral meniscus tear and osteochondral injury
NFL Players-Turned-Doctors
Laurent Duvernay-Tardif
Some physicians have first-hand or dual experience as both a pro football player and a physician. For example, before he became the first NFL player to opt-out of the 2020 season due to COVID concerns, Laurent Duvernay-Tardif, an offensive lineman for the New York Jets, is the only contemporary player to have a concurrent career as a doctor and a pro footballer. In May 2018, Duvernay-Tardif graduated from McGill University Faculty of Medicine with a doctorate in medicine. He plans to complete his residency in and practice emergency medicine.
Dr. Jean-Philippe Darch
Other pro football players-turned-physicians include Dr. Jean-Philippe Darche. Before getting his medical degree, Darche spent nine years in the NFL, playing with the Seattle Seahawks and Kansas City Chiefs.
Dr. James Bradley
Also, Dr. James Bradley, the Head Team Orthopedic Surgeon of the Pittsburgh Steelers for 29 years, and past president of the NFL Physicians Society, was a defensive back for the Penn State football team and was recruited for a trial with the NFL Cincinnati Bengals.
Dr. Myron Rolle
Dr. Myron Rolle, a neurosurgery resident at Harvard Medical School and Massachusetts General Hospital, played college football at Florida State University and was selected as an NFL safety with the Tennessee Titans. Recently, in response to COVID-19, Rolle has pivoted from neurosurgery to working 24-hour shifts on the frontlines of the coronavirus pandemic at Massachusetts General Hospital.
Dr. Dan Fortmann
Like New York's Duvernay-Tardif, NFL Hall-of-Fame Inductee Dr. Dan Fortmann, who graduated from the University of Chicago Medical School in 1940, completed his medical education and training while playing professional football. During WW2, the Chicago Bears player served on a hospital ship in the Pacific Ocean. He later became the team doctor for the Los Angeles Rams, as well as a surgeon in Burbank, Calif.  
Fortmann, Rolle and Duvernay Tardif have credited their football careers with preparing them for the teamwork and focus required to practice surgery and medicine.
These NFL players-turned-doctors made the transition from the field to a medical setting. While they may be best known for their highlight making plays, we honor them for the touchdowns they've scored as healthcare professionals.
Sports Medicine Board Review Question Answer & Explanation
Here's the answer and explanation to the BoardVitals Sports Medicine board review question above:
Correct Answer:
D. Lateral meniscus tear and osteochondral injury
The sagittal fat-saturated T2 images show a completely disrupted anterior cruciate ligament (red arrow) as well as a reciprocal marrow edema pattern at the posterior aspect of the lateral tibial plateau (green arrow) and anterior aspect of the lateral femoral condyle (orange arrow), consistent with a recent pivot shift injury. Additionally, there is a prominent osteochondral injury (yellow arrows) at the most lateral site of impaction of the femoral condyle. There is high signal in the posterior horn of the lateral meniscus which extends to the articular surface (white arrow) and is consistent with a tear. The pattern of injury occurs when there is rapid deceleration with simultaneous direction change, which loads the anterior cruciate ligament (ACL), sometimes to the point of rupture (red arrow, taken from a more midline location in the same patient). With rupture of the anterior cruciate ligament, there is anterior subluxation of the tibia relative to the femur, which causes impaction of the lateral femoral condyle against the posterolateral margin of the lateral tibial plateau. When evaluating the MR images of a patient with bone contusions indicative of a pivot shift, one should carefully evaluate the articular cartilage near margin of the bone contusion, as osteochondral injuries may be present (as in this case). It is important to report this for several reasons. Many patients who sustain ACL injuries are young, and multiple surgical options are available for repairing osteochondral injuries. Further, a displaced fragment may serve as a constant cause of catching or clicking during motion. Last, should conservative management be undertaken, they should be followed with imaging to make sure there is not progression to avascular necrosis.
Incorrect Answers:
A, B, and C. Additional soft tissue injuries that may be present include tears of the posterior capsule and arcuate ligament, posterior horns of the lateral or medial menisci, and the medial collateral ligament; however, they are not depicted in this case.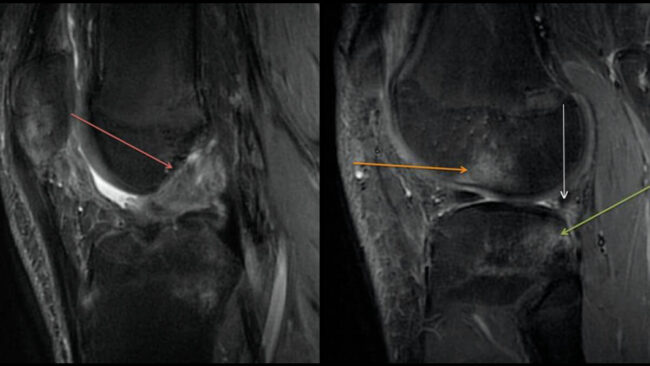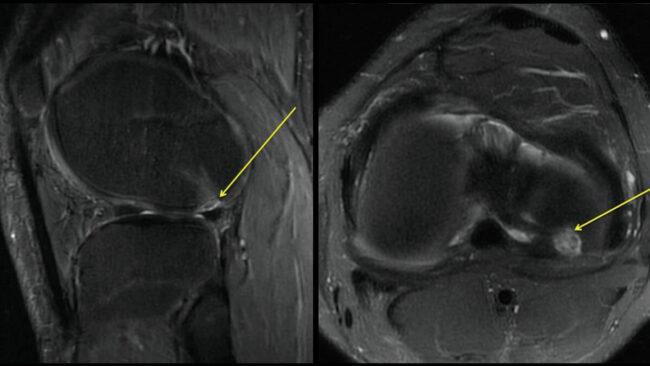 Reference:
Sanders TG, Paruchuri NB, Zlatkin MB. MRI of osteochondral defects of the lateral femoral condyle: incidence and pattern of injury after transient lateral dislocation of the patella. AJR Am J Roentgenol. 2006;187 (5): 1332-7.
Want more free practice? Check out our other blogs packed with free sample board review questions spanning 50+ medical board exam specialties.
Check out our blog on becoming an NFL Team Physician!