Part of me wishes I could tell you that I knew I was going to do orthopaedics from the moment I exited the womb. Part of me even wishes I could tell you that I used to work with my hands in carpentry or building homes.
Yet, most of me is glad that I can't tell you those things. And that to me is the beauty of how I got to this point. To explore every nook and cranny of my life would take way too much time, but let's step back into time a minute.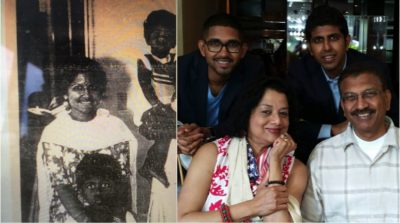 I got into medicine initially because of the loss of my mom to cancer. It was a moment that changed me forever and probably is the reason I am very passionate about what I do. For the longest time, I believed that I needed to become a pediatric oncologist; in part because I loved working with kids, in part because I had a vendetta to settle.
I was the "peds" guy in my medical school and was set on going back home to California for my residency. I had the trajectory for my career planned in my head and I knew that pediatric oncology was the only thing I could do. I never even gave myself the opportunity to think about anything else.
Yet as I explored pediatrics during my third year, I still loved working with kids, but I just didn't enjoy the medical side of it. I don't know what it was specifically, I just knew it wasn't for me. So for the first time in a very long time, I actually felt lost.  I didn't know what I was going to do.
When I finally got into surgery, I realized that I enjoyed working with my hands way more than I ever could have imagined. Considering my mom always used to yell at me for not being able to cut vegetables, to think that I could actually be a surgeon was something out of my imagination.
I ended up doing orthopaedics as an elective and was immediately engaged with the improved quality of life that these surgeries could offer. I remember the first surgery I ever did was a total hip replacement; using power tools, to drill, cut, and place a metal prosthesis was fascinating. The patient, who was previously wheelchair bound from debilitating arthritis, was walking the next day. This was amazing to me. I had not seen this immediate level of turnaround in any patient on any service I had spent time on until that point.
I spent a lot of time thereafter thinking to myself whether or not I had the mental fortitude to push through a surgical residency– let alone be a surgeon in practice! After talking with mentors and faculty advisors, I finally made the decision to apply to residency in orthopaedic surgery; my scores were solid, my extracurriculars were good, but my research was lacking. I thought about taking a year off to complete research but was dissuaded to do so.
I had 17 interview offers, ranked 10-12 spots and of course, the first time around I didn't match.
What Happened When I Didn't Match
And it turned out to be a blessing in disguise.
So I took a research fellowship year, applied again, and the rest is history. My residency program director was the inspiration for my desire to pursue foot and ankle as a subspecialty. Between deformity correction, treatment of arthritis, sports injury management, joint replacements and traumatic injuries, the opportunity for improving the quality of life of patients with foot and ankle issues is endless. Additionally, given my research endeavors/interests, pursuing a foot & ankle fellowship after completing my orthopaedic surgical residency has lent itself to multiple academic opportunities and research papers.
Although the road to becoming an orthopaedic surgeon has not been an easy one, I can safely say that I can't see myself doing anything else. This is what I was meant to do. While the challenges in healthcare definitely make it frustrating at times, I wouldn't trade being an orthopaedic surgeon for anything. Every case I do, I learn something, every resident I work with, I learn something and every student I work with I learn something. I am one of the luckiest people around.
Dr. Amiethab Aiyer is an orthopaedic surgeon, in South Florida, with a focus in foot and ankle. His practice encompasses deformity correction, arthritis management, sports injuries and trauma to the lower extremity. He has been avidly mentoring students interested in medicine/orthopaedics for several years and has garnered multiple teaching awards as a result of this. Along with two colleagues, this passion for mentoring has led to the development of Orthomentor, an online platform to help guide students through the residency application process.