You went through years of nursing school, spent hundreds of hours studying, woke up early, stayed up late, and now FINALLY it's time for the final step before you get the shining "RN" behind your name. As a recent nurse grad, I've been through the stress of preparing for the NCLEX®. Here are some of my biggest tips for you, in preparation for your NCLEX® test day.
1. Visit your testing site
I personally think it's extremely helpful to drive to your testing site BEFORE your exam. Check out what the parking situation is, and find out which building your testing center is in. This is not something you want to be worrying about 10 minutes before your NCLEX® begins.
2. Items to pack
Here are the things you need to bring to your exam:
If you bring your cell phone, they put it in a separate Ziploc bag that cannot be opened until the test is over. You can also choose to leave all of these personal belongings in your car instead.
3. The Day Before NCLEX® Test Day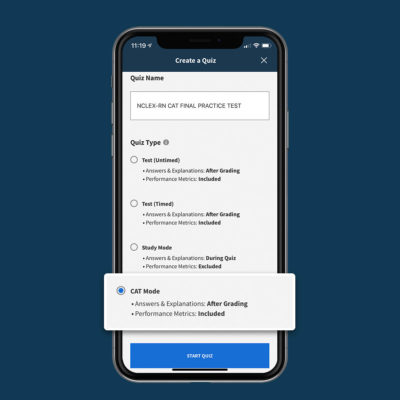 I recommend simulating the exact test environment for your test day. If you are taking your NCLEX® at 8 AM, and need to be up by 6 AM, I suggest practicing that the day before. At the stroke of 8 AM, sit down and do a 75-question practice test as if it was your actual test day. Be mindful of your pace as you answer questions. According to the NCSBN, "you'll have up to 6 hours to complete the RN exam and 5 hours for the PN exam, including the short tutorial and 2 optional breaks (the first 2 hours into testing, the second after 3.5 hours of testing)". With BoardVitals NCLEX® question banks, you even have the ability to custom create computer-adaptive tests (CAT), so you can truly simulate the actual test environment.
The night before is NOT the time to be cramming information. While some people enjoy taking the day off from studying entirely, others like to do some light studying to brush up on some final concepts. Do whatever is best for you, but make sure to head to bed early for a good night of quality rest.
4. The Morning of NCLEX® Test Day
This is not the time to get experimental! Make sure to eat a breakfast that is healthy and nutritious, and put on your comfiest clothes. Keep in mind that testing centers can get very chilly, so be sure to dress appropriately if you get cold easily. Keep in mind that hats, scarves, gloves, and coats are required to be left outside of the testing room. However, they may be accessible during breaks.
Just so you know, it is free to change your test date and time. If you feel like you want to move-up or extend your test date, you have the option to do so.
Best of luck on your exam! You're going to ACE IT!
BoardVitals offers more than 3,500 NCLEX-RN® Board Review questions and more than 900 NCLEX-PN Board Review questions with detailed explanations for both correct and incorrect responses. With a Computer Adaptive Testing (CAT) platform and board-style questions written by nurses and nursing educators in both standard and alternate item formats, users of this question bank can simulate conditions similar to the actual NCLEX® exam. The NCLEX-RN® question bank follows the exam content outline for the National Council State Boards of Nursing (NCSBN) NCLEX-RN® Exam.

Miki Rai is a Registered Nurse based near San Francisco, California. She graduated from the UCLA School of Nursing in 2018 and has worked in the Pediatric ICU and in primary care. In her spare time, Miki is passionate about content creation on social media on various platforms, such as Youtube, Instagram, and TikTok.