So you've passed the PANCE and now you're officially a certified physician assistant. Now you need to make sure you maintain your PA-C license. It can be a bit confusing knowing exactly what you need in order to maintain your physician assistant certification, but we at BoardVitals will gladly clear the air.
Maintain Your PA-C License
Starting in 2014, the National Commission on Certification of Physician Assistants (NCCPA) implemented a change to the maintenance of certification process for PAs by transitioning from a 6-year certification maintenance cycle to a 10-year certification maintenance cycle. What does this mean? When you are maintaining your license, you must log the appropriate continuing education hours and credits every couple of years, and then take the PANRE (Physician Assistant National Recertifying Exam) or PANRE-LA after 10 years for renewal.
Physician Assistant CME Requirements
Within this 10-year cycle, which includes five two-year cycles, you will have to log 100 CME hours every 2 years. You will be required to have at least 50 Category 1 Credit hours, and the remaining 50 can be Category 2 Credit hours or a combination of both.
The CME earning and logging window begins May 1 of the year your current certification was issued and continues through December 31 of the certification expiration year. For example, if your certification expires in 2020, then you must have earned 100 CME between May 1, 2018 and December 31, 2020). However, first-time loggers are the only exception to this policy.
Be sure to keep any Category 1 CME credit documentation for your current and last CME cycle just in case you are randomly selected by the NCCPA for a CME audit.
You can log your CME hours on the NCCPA website or download their app to log from your mobile device.
Category 1 CME vs Category 2 CME
Category 1
For Category 1 CME, physician assistants are required to complete at least 50 hours every two years to maintain their PA-C license. There are four various types of Category 1 CME:
Regular:

Category 1 CME has approved criteria established by organizations that serve as sponsors or accreditors of CME activities. .

Below is a list of accreditors accepted by the NCCPA:

AMA PRA Category 1 Credit

from organizations accredited by ACCME or a recognized state medical society,

Category 1 Credit

from the American Academy of Physician Assistants (AAPA)

AOA Category 1A Credit

by the AOACCME, European Accreditation Council for Continuing Medical Education (EACCME),

AAFP Prescribed Credit

by the American Academy of Family Physicians (AAFP),

Royal College MOC credits

by the Royal College of Physicians and Surgeons of Canada,

Mainpro C or Mainpro-M1 CPD

credits by the College of Family Physicians of Canada (CFPC)

Mainpro C or Mainpro-M1 CPD

credits by the Physician Assistant Certification Council of Canada (PACCC)

Certification Programs:

These activities must be preapproved by the AAPA for a maximum number of Category 1 credits in order to quality.

Performance Improvement (PI-CME): The NCCPA doubles the first 20 PI-CME credits earned per CME logging cycle. The following are accepted by the NCCPA as PI-CME credit:

PI-CME credit activities designated for AAPA Category 1 PI-CME credit by the

AAPA

Category 1 activities accepted for Part 4 MOC credit by an

ABMS-member board

Category 1A activities accepted for Component 4 OCC credit by the

American Osteopathic Association

ABMS Multispecialty Portfolio Program activities

Self-Assessment:

Activities designated for AAPA Category 1 Self-Assessment Credit by the AAPA are accepted by the NCCPA. Each self-assessment CME credits are counted as 1.5 credits by the NCCPA.
Category 2
To maintain your PA-C license, for Category 2 CME, you can complete up to 50 hours as part of your required 100 CME hour cycle. NCCPA accepts any educational activity that relates to medicine, patient care or the role of the PA that has not been approved for Category 1 credit.
What Happens If I Don't Complete My CME Hours On Time?
In the event you do not log all 100 CME hours by December 31st of your certification expiration year, the NCCPA offers the ACE (Administrative Certification Extension), which gives you a one-month extension to complete your requirements. If you do not complete your remaining requirements and pay a certification continuation fee by January 31st, your certification will expire. There are no other exceptions to this unless you can provide documentation of extraordinary extenuating circumstances.
BoardVitals CME Activities
BoardVitals offers online CME activities where physician assistants can earn up to 100 AMA PRA Category 1 Credit(s) accredited by the ACCME. Earn online CME credits by answering case-style questions and detailed rationales. Choose from an extensive list of more than 30 specialties.
Physician Assistant National Recertifying Exam (PANRE)
Toward the end of the 10th year of the certification maintenance cycle, PAs must pass the PANRE. Eligibility to take the PANRE is during the final two years of the certification maintenance cycle. The PANRE is designed to assess general medical and surgical knowledge all PAs should maintain regardless of their specialty.
To help you prepare for the PANRE, BoardVitals also offers an online PANRE board review question bank. We maintain our content with up-to-date information and PANRE practice questions designed to target the PANRE content blueprint so you can feel confident taking your recertification exam.
The PANRE is a four-hour exam comprised of 240 multiple-choice questions divided into four sections of 60 questions with 60 minutes allotted to complete each section. You can get an idea of what exam conditions will be like by creating practice tests in timed mode.
Try some of our PANRE questions!
The PANRE-LA
The PANRE Longitudinal Assessment (PANRE-LA) is the newest alternative to the traditional PANRE. It is designed to help PAs identify and address knowledge gaps in core medical content as they complete their recertification process.
The PANRE-LA is made up of 12 available quarters of material. Each quarter, PAs must answer 25 questions, with each question having a 5-minute time limit.
PAs will have three years to complete the assessment. They must complete eight quarters (at least one in the first year and one in the second year) and may skip up to four quarters. PAs participating in the PANRE-LA may access printed or online reference materials to help them answer questions.
The BoardVitals PANCE/PANRE Question Bank can be used when preparing for and completing the PANRE-LA.
Remember, learning is a continuous process. Fulfill your CME requirements and feel confident and relaxed on your next PANRE by studying with BoardVitals.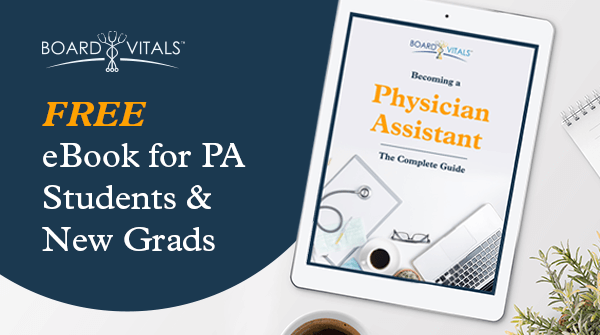 Have more questions? Need more advice on your journey as a PA? Download The Complete Guide to Becoming a Physician Assistant, the new eBook from BoardVitals. Filled with words of wisdom from PAs who have been through it all, this FREE Physician Assistant guide will help you on your journey towards becoming a PA, before, during, and after PA school.