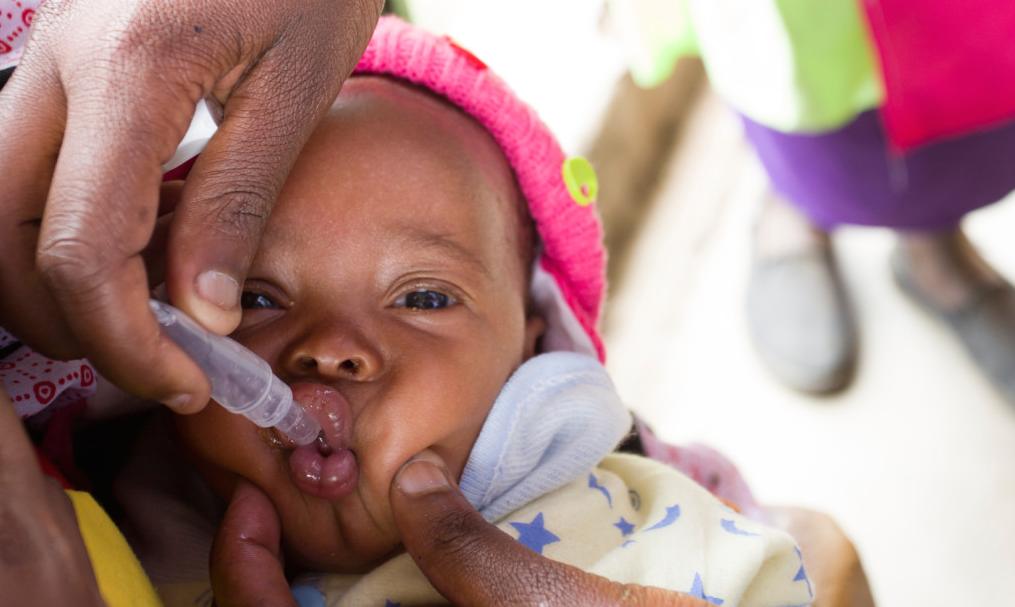 Press Release
---
BoardVitals Partners With Vaccine Ambassadors to Donate One Vaccine For Every Product Sold
---
For Immediate Release
New York, April 25, 2016 – BoardVitals, a digital leader in medical education, today announced the launch of the company's first official philanthropic initiative: #GiveVax.
In partnership with Vaccine Ambassadors, a non-profit organization dedicated to delivering lifesaving vaccines, BoardVitals will donate the equivalent of one vaccine to children and communities in need for every educational product sold through its web site.
The launch of the #GiveVax initiative and partnership between BoardVitals and Vaccine Ambassadors also celebrates the 14th annual Vaccination Week in the Americas from April 24-30, 2016.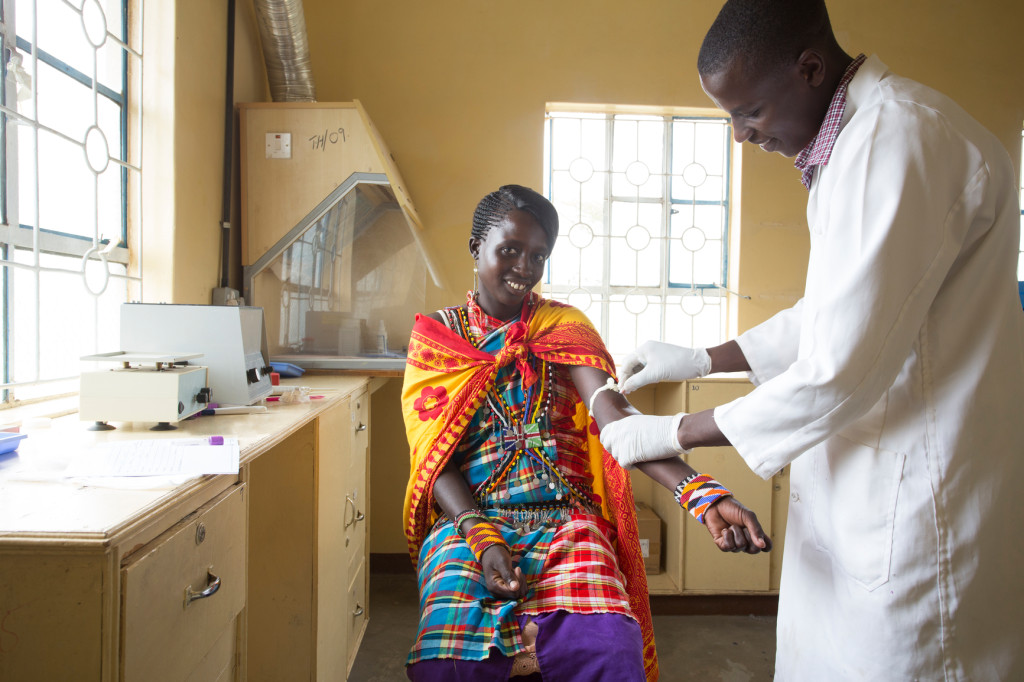 Since its inception over 519 million people have been vaccinated, making Vaccination Week in the Americas the perfect time to expand audience reach to improve awareness of the ongoing vaccine deficit.
"I believe that dollar for dollar vaccines save more lives than anything else that we could invest in," said Daniel Lambert, CEO of BoardVitals. "BoardVitals is dedicated to improving medicine and healthcare education, and a part of that mission is protecting those who are at risk."
BoardVitals develops online question banks to help physicians, nurses and other healthcare practitioners meet their licensing, board certification, and continuing education requirements. With its #GiveVax initiative, BoardVitals commits to donating $2.01 – the equivalent of one *MMR Vaccine as per the CDC listed market price – to Vaccine Ambassadors for every question bank sold through the company's website.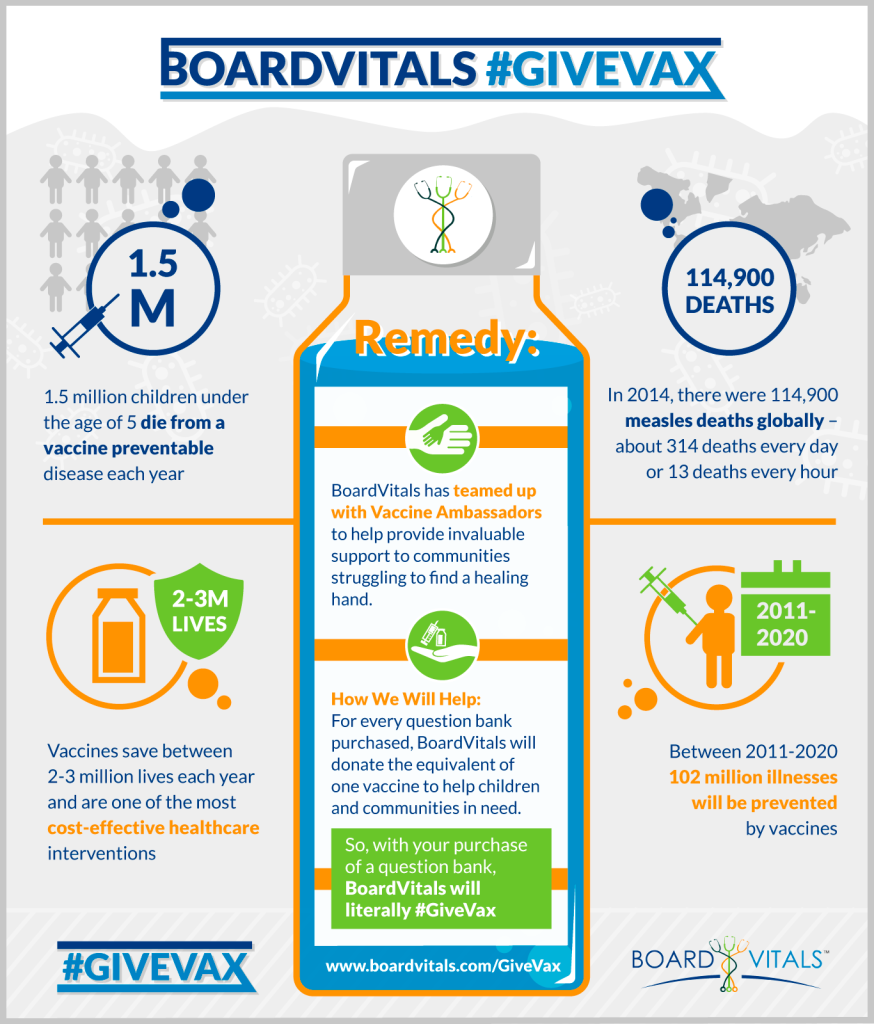 "After seeing so many people suffer from vaccine-preventable illness in Africa and Central America during volunteer trips, I know firsthand how much of an impact something as simple as a vaccine can make," said Andrea Paul, MD, Chief Medical Officer for BoardVitals. "It's time to do our part in spreading awareness and raising the funds necessary to combat preventable diseases."  
Vaccines save millions of lives annually by preventing diseases like Rubella and Measles. Vaccine Ambassadors distributes 100% of its public donations (minus any standard credit card processing fees) to the Pan American Health Organization (PAHO), Regional Office of the World Health Organization (WHO) to be used for the procurement and delivery of vaccines and related supplies/services. Such funds may be used toward the purchase of vaccines that are more or less expensive depending on regional needs.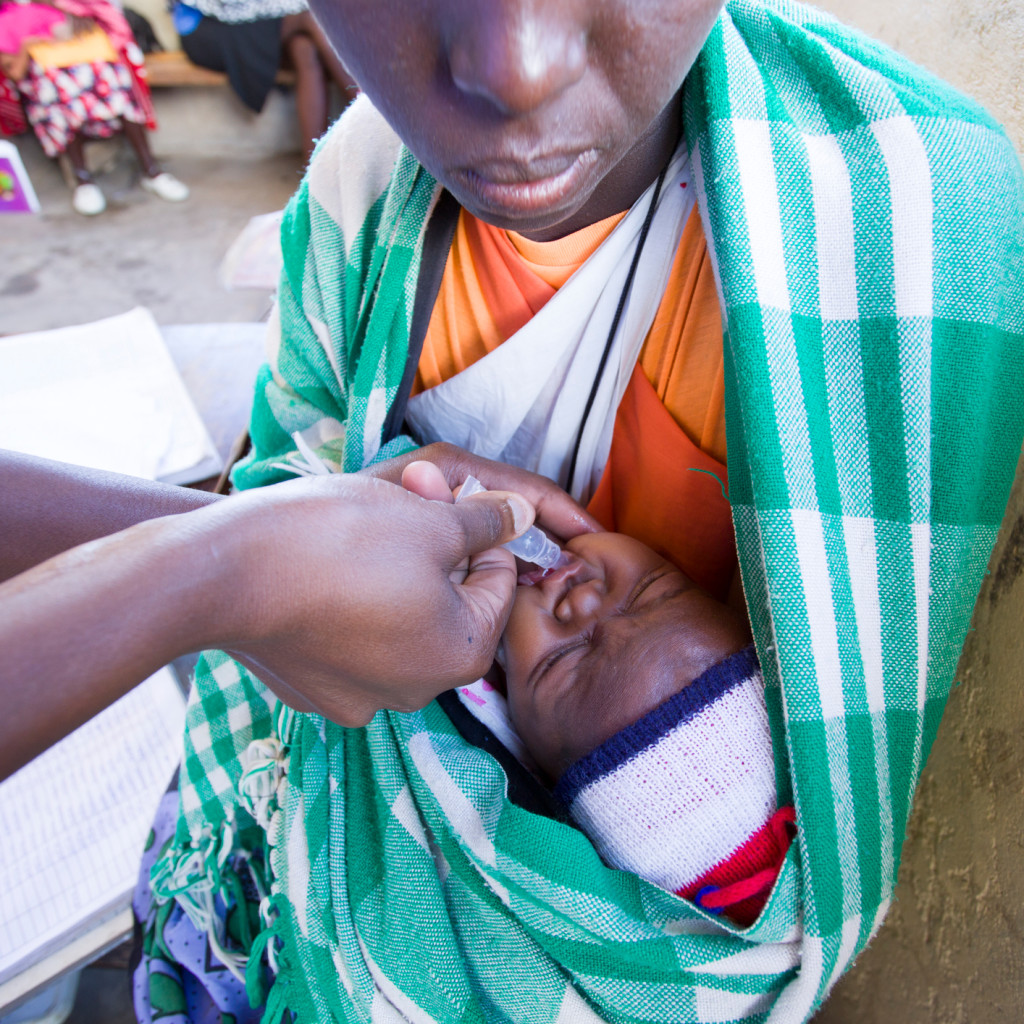 In an effort to have the greatest impact, Vaccine Ambassadors relies on the expertise of PAHO/WHO to determine which vaccines are needed most and where. This allows funds to be efficiently mobilized so that they can be directed to priority areas and populations in need.
"Vaccine Ambassadors is built on the principle that collectively we can accomplish much more than we can individually," said Jackie Kaufman, Co-Founder and Executive Director for Vaccine Ambassadors. "With a company like BoardVitals joining us in this effort, we will have a greater impact by reaching more people with life-saving vaccines. In addition to preparing medical and healthcare providers for their careers, BoardVitals is now helping to prepare children and families for a healthier future."
The #GiveVax initiative is a major step forward for BoardVitals, which has trained over 100,000 medical and healthcare professionals and served more than 300 institutions since it was founded in 2013. As the company continues to grow as an ongoing resource for the healthcare community, product sales are sure to provide a significant donation to children and communities in need.
For more information about BoardVitals and the #GiveVax initiative, visit www.boardvitals.com/givevax. 
---
About BoardVitals
BoardVitals is a leading provider of online board review, maintenance of certification, and continuing education activities for physicians, nurses, and other healthcare professionals. Bringing together content from major publishers, universities, and leading healthcare providers,

BoardVitals provides the largest and most up to date training and assessment platform in medicine. Using machine learning and professional crowd curation, the company is able to update content daily and improve medical knowledge as new information is published. BoardVitals is backed by several investors including Blueprint Health, Rothenberg Ventures, and Rock Creek Capital. For more information, visit www.boardvitals.com.
About Vaccine Ambassadors:
Vaccine Ambassadors is a 501 (c) 3 non-profit organization,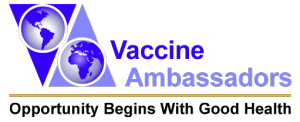 created by parents and healthcare providers, guided by the mission that everyone deserves equitable access to lifesaving vaccines regardless of where they live. Vaccine Ambassadors was born out of the idea that each of us has the ability to profoundly affect the life of another. For more information, visit www.vaccineambassadors.com.
---