Halloween may have a well-deserved reputation as "fright night" when it comes to costumes and parties, but you haven't seen anything until you've been a physician in the emergency room on All Hallows Eve. Never mind the scary masks, the injuries sustained on this night of ghouls and goblins can defy explanation and can be extremely serious. Halloween is a night of drinking, shootings, stabbings, poisonings, and the highest rate of pedestrian deaths of any night of the year. It would appear that the holiday hides a dark and seamy underbelly. Here is a collection of ER injuries seen by physicians across the country. Unfortunately, they may be an indication of what you will see in your emergency room this year.
Dark + Pedestrians
Halloween is the most dangerous night of the year for pedestrians because it's dark, children can't see clearly out of their masks and drivers are drunk. According to the National Highway Traffic Safety Administration, (NHTSA) between 2009 and 2013, 43% of all motor vehicle deaths on Halloween night were caused by drunk driving-related crashes. Halloween drunk-driving fatalities are on the rise. The NHTSA says there were "55 deaths on Halloween night in 2015, up from 17 in 2011 – and steadily increasing each year in between."
Not all accidents are the fault of the drivers. The NHTSA says that children may not be able to see well out of their masks. They may trip on their costumes and fall, or stop suddenly in the middle of the street. In other cases, their parents may have been drinking and not supervising them as closely as they might otherwise. Statistics show that the majority of pedestrian deaths, at any time of the year, occur in urban areas at non-intersection locations at night. These risk factors contribute to the high risk of automobile/pedestrian accidents on Halloween.
Stabbings
Anger and out of control drinking on Halloween can cause stabbings. Perhaps one of the strangest stories involves Cookie Monster. According to a report in the Daily Beast, a man dressed as Cookie Monster was stabbed in Times Square in New York City while attempting to break up a fight between two men, one dressed as an "American Indian" and the other dressed as a Tuskegee Airman. One of them stabbed Cookie Monster in the back. He was taken to the hospital with a lacerated spleen. The two men involved in the argument got away.
Drinking + General Mayhem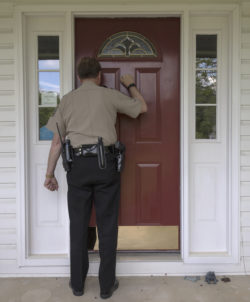 While this is not the story of a woman who ended up in the ER, it certainly is an illustration of how people end up there. This story simply has to be relayed verbatim: A Tennessee woman and married mother of three, Candie Kreidel, was taken into custody after being arrested for wearing circus makeup and chasing cars, along with being publicly intoxicated and making non-emergency 911 calls on Halloween. According to the arrest warrant, Kreidel was partially naked and wearing "a stocking cap on her head" while "running after cars along Louise Road in Cunningham and jumping in and out of traffic." When the deputy went to Kreidel's home, she answered the door "smelling of alcohol" and "wearing a sports bra, pajama pants, a stocking cap and clown makeup on her face and body."
You Have To See It To Believe It
There are the stories that live in infamy. We're all adults, so here is a story related on Quora about a seemingly violent domestic abuse case that came into the ER on Halloween.
"We had a couple come into the ER, one by ambulance and one by police car. When we asked what the police car was for, we were told it was a domestic situation, of sorts. Individually, the situation didn't make sense. He had multiple penile bite marks and lacerations and she had sustained rather extensive head trauma. After about 20 minutes of suture work on the both of them, they both asked to see each other. Rather odd in a domestic, but the officer agreed and the hospital added a few security officers in case there were fireworks. They were the epitome of a loving and caring couple despite the wounds they had inflicted on each other. Then we got the whole story. They had booked a hotel room for their anniversary night to enjoy some adult activities without the kids. She was providing oral pleasure on him when she suffered a seizure. During the height of the seizure, she uncontrollably clenched her jaws and bit down on the man. In his panic and pain, he grabbed the closest thing he could find to try to get her to loosen her bite which was sadly an old rotary style telephone and hit her in the head with it. Needless to say, no charges were pressed."
Can't Help But Laugh…
Then there are the unforgettable stories. Despite the fact that they involve a sick or injured person, these are the ones that make you laugh. How else are you going to survive?
A story related on everydayhealth.com: "My dad has been practicing emergency medicine for 31 years. He lives in Orlando — home of Disney World — so his patients often come into the ER in costume. A few years ago, he evaluated a 31-year-old male with an ankle injury who had been injured on the job while working as a mime at a local tourist destination. My father and his team were forced to gather all the information they needed via pantomime, as the patient adamantly refused to break character."
Heard in the ER on Halloween night:
"I dressed up for Halloween and I superglued this hat to my head."
As you approach Halloween night in the ER, brace yourself for the unexplained along with the tragic. It seems there is no end to the menace that human beings pose to themselves whether in or out of costume. We wish you well.