The United States Medical Licensing Examination (USMLE) Step 1 covers a substantial amount of content that not only needs to be memorized but understood, as the exam is very integrative in nature. But an organized, workable study plan can help you prepare for the exam and pass.
A study plan serves as an accountability framework that helps keep the students in check, provides an agenda to rely on, and evaluates their performance. Medical students must set up a study schedule based on dedicated study time. Usually, medical school graduates utilize 6-8 weeks to study for USMLE. However, the amount of time you need to dedicate to your USMLE preparation ultimately depends on your foundation of knowledge and your strengths and weaknesses.
Creating Your USMLE Study Schedule
Before you set out on your journey to conquer the USMLE, you must first analyze your study habits. Take a moment and try to answer the following questions:
How many days a week do I plan to and can realistically study?
During my study days, how many hours a day can I commit to dedicated studying?
Am I someone who learns better during long study sessions or in short bursts?
During which part of the day am I most productive?
Do I learn better by reading text or listening to lectures?
Am I able to better retain diagrams and flow charts?
After answering these questions, you may have a rough idea regarding your study plan. Now, we will give a better shape to that idea. But before creating your USMLE study plan, you must analyze your study habits. Think about what works best for you, whether you need to block off more prolonged periods three to four days a week or set shorter blocks of time every day for studying. Also, note the time of the day when you feel the most productive. In addition, one must keep in mind that every individual studies and learns differently. Some students utilize audio/visual aids, whereas others learn better kinesthetically. However, while studying for USMLE, you should preferably use audio-visual aids in combination with flashcards, handwritten notes, solving practice questions, and taking self-assessments.
Here are some additional tips to create the perfect USMLE study plan:
1. Mark your USMLE exam date – count the days!
The first and foremost step in setting up the USMLE study schedule is to have an estimated date for the exam. It will help you optimize your USMLE preparation time accordingly. Note your USMLE exam date and devise the entire study schedule keeping in mind the number of days you've got to study till the USMLE step 1. For instance, you have to take the exam on Friday of the 8th week. First of all, mention that date in your study schedule. Then, block off these eight weeks as the dedicated time you need to prepare for USMLE.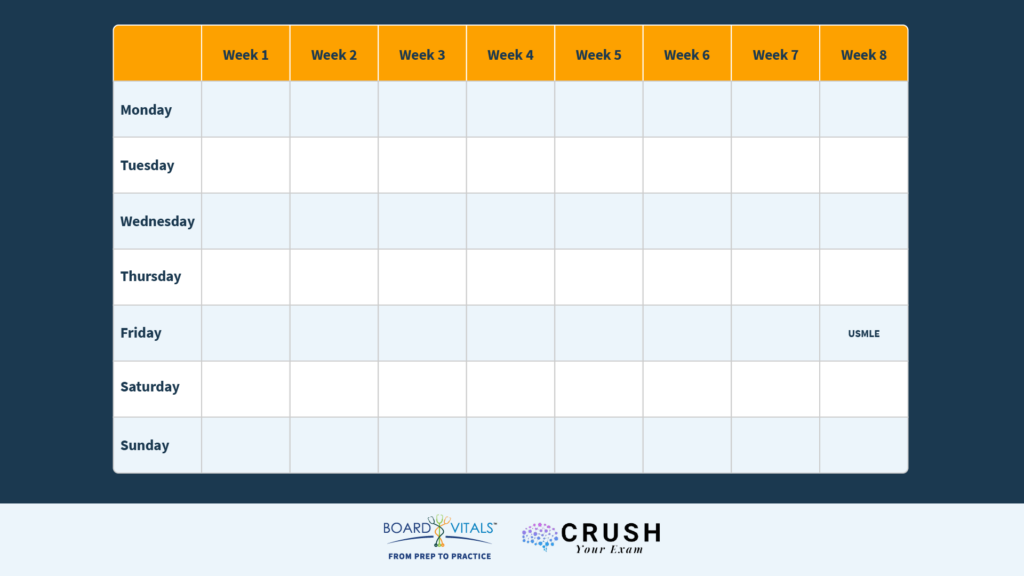 Remember that 8 weeks is just a suggested prep time, and you might require more or less time to prepare for the exam. You are familiar with your study habits. You know where you are standing in terms of learning and how many study hours you can take out daily, every week, without burning out.
2. Start preparing early!
The most significant advantage of starting early exam preparation is that you get plenty of time to study for the exam without panicking. The residency program directors pay significant attention to USMLE scores while selecting the candidates. Therefore, critical and time-consuming USMLE steps require much hard work. It is better to start preparing for USMLE from the beginning of your medical school career. Take out some time from your med school routine to clear your concepts and master the USMLE content. Even if you have passed Step 1, the foundation of knowledge you have learned in Step 1 will assist you through Step 2 CK and Step 3.
3. Choose the right resources.
Your choice of resources can help make or break your USMLE preparation, therefore, it is crucial that you pick what works best for you.
BoardVitals
BoardVitals is the most substantial study resource for USMLE. It comprises a total of 3100 questions for self-assessment. BoardVitals can be used in two modes i.e., timed mode and review mode. Students can solve questions from BoardVitals question banks regularly and read out their explanations using Review mode. The explanations are quite elaborate and can be used for taking notes in the form of key points or flashcards.
Furthermore, you can solve the qbanks in Timed Mode (approximately 1 hour for each block) to learn time management for the exam day. The best thing about BoardVitals is that it repeats the high-yield USMLE topics multiple times, and shifts your focus to high-yield topics.
BoardVitals also offers a free trial 25 sample questions.
First Aid Textbook
First Aid is the most authentic textbook for USMLE preparation written by students who have passed USMLE and approved by top residency program directors. This textbook focuses on all high-yield topics and concepts included in USMLE. Medical students not only use this textbook during their course but also for USMLE prep.  
The candidates can use this book in combination with the BoardVitals question bank. First, read the topic from the First Aid textbook and then solve BoardVitals Qbank. Remember that the FA textbook is a review book that does not explain the topics in detail. Therefore, some USMLE experts also suggest taking notes from the explanations in BoardVitals and then reviewing the topic from the First Aid textbook. Preferably, highlight significant points and mark important stuff from this book instead of taking written notes.
4. Create an Eight Week USMLE Study Plan
Creating a study timeline is important to figure out how long and hard you should study every day. Now that you are well aware of the study resources for the USMLE step, it will be great to create an 8-week example study plan for USMLE step 1. But before that, you need to split the principles of the USMLE Step 1 syllabus into modules, and then allocate 3-5 study days to the modules depending on your knowledge of these modules. For ease, we have split USMLE Step 1 content specifications into the following modules:
Renal/ Urinary System
Hematology
Foundational Concepts of Pathology and Immunology
Biochemistry and Genetics
Musculoskeletal System
Skin/Subcutaneous Tissue
Cardiovascular System
Respiratory System
Reproductive System
Endocrine System
Multisystem Processes and Disorders
Biostatistics and Epidemiology
Social Sciences: Communication and Interpersonal Skills
Here are some essential strategies to follow while creating your USMLE study schedule.
1. Take BoardVitals practice quizzes.
With your BoardVitals subscription, you can take an unlimited number of practice quizzes. You can choose everything from the subjects covered to the total length allowed for the test. Once you complete your practice quiz, you will receive a comprehensive score report that identifies how you did on each topic.
2. List down the topics from strongest to weakest.
Now that you have an idea of your strengths and weaknesses; list the topics from the strongest to the weakest. There are always some topics you know the best and some you need to learn more about. Usually, your mind is fresh, and morale is high at the beginning of your study period. It is better to study the weaker topics initially to absorb the maximum possible information. This way, you will also have more time to revise these topics. As you move toward the end of your study period, there is a higher risk of mental exhaustion, lack of interest, and burnout. Therefore, studying strong topics in the last few days is better.
3. Assign 2-5 days per topic.
After ranking topics from strongest to weakest, you can allocate 2-5 days to each module accordingly. As you have 8 weeks to prepare for the USMLE step, you can easily assign 4-5 days to weaker modules and 2-3 days to stronger ones. For instance, if you need a good foundation of medical knowledge for the renal and urinary system, then block off 5 days in your study schedule for this module.
4. Divide your time wisely.
The USMLE is hard! You must spend almost 10-12 study hours daily to prepare for the exam. However, taking out 10-12 study hours every day seems almost impossible. But buckle up! It's not that difficult. You can easily manage it by splitting up your day like this:
Morning (7 a.m. – 12 p.m.) – Study
The USMLE focuses on broad-based learning that will help the students understand general medical concepts and principles in basic sciences. You might feel mentally fresh and more productive after a good night's sleep. Therefore, you can use that time to study the topic and grasp essential concepts. So, use this time for studying the topic, taking notes, and making flashcards.
Use the resources to study the topic and keep a notebook or sticky notes with you for taking notes or use flashcards. Do not write everything; jot down important information or key points you can review at night.
Noon (12p.m. – 3p.m.) – Break & Study
Five hours (7 a.m. – 12 p.m.) is a long time, and you might feel drained and mentally taxed after continually studying for so long. It is time to take a tea break, eat something, exercise, relax your mind, and then resume studying.
Afternoon (3 p.m. – 6 p.m.) – Practice Questions/ Assessments
After having a grip on essential concepts in the morning study session, you can utilize your afternoon taking self-assessments and solving practice questions. Qbanks are the best tools for this purpose. Practice tests help you analyze the areas you still need to prepare. It is the best way to check your understanding and grip of the topic.
Evening (7 p.m. – 9 p.m.) – Review
After the self-assessment, take a break and have a cup of tea or do something you like. Then, in the evening or at night, review your USMLE notes and flashcards to memorize things further.
5. Have some days off!
You are not a robot! It is impossible to isolate yourself for 8 weeks and constantly prepare for the exam. Studying constantly without taking a break can increase your risk of burnout and mental fatigue. Maintaining your physical and mental health before an important exam of your life is requisite. Therefore, take at least one day off every two weeks to refresh your mind, be it Sunday or any other day. Do more of what makes you happy, visit your friends and family, eat out, and go places. It is also recommended to take a break from your USMLE study schedule a day before the exam and relax your mind before the big day.
6. Take the BoardVitals USMLE Step 1 Practice Exam.
About a week before your USMLE exam, take the BoardVitals USMLE Step 1 practice exam. This full-length exam mimics the interface and blueprint that you will see on test day. It will help you evaluate your predicted USMLE test score and timing to attempt the exam and will help you figure out the subject areas you still need to learn and improve.
Keeping the above strategies in mind, we have prepared a full-fledged eight-week study schedule that you can follow for USMLE preparation as it is or adjust to your liking.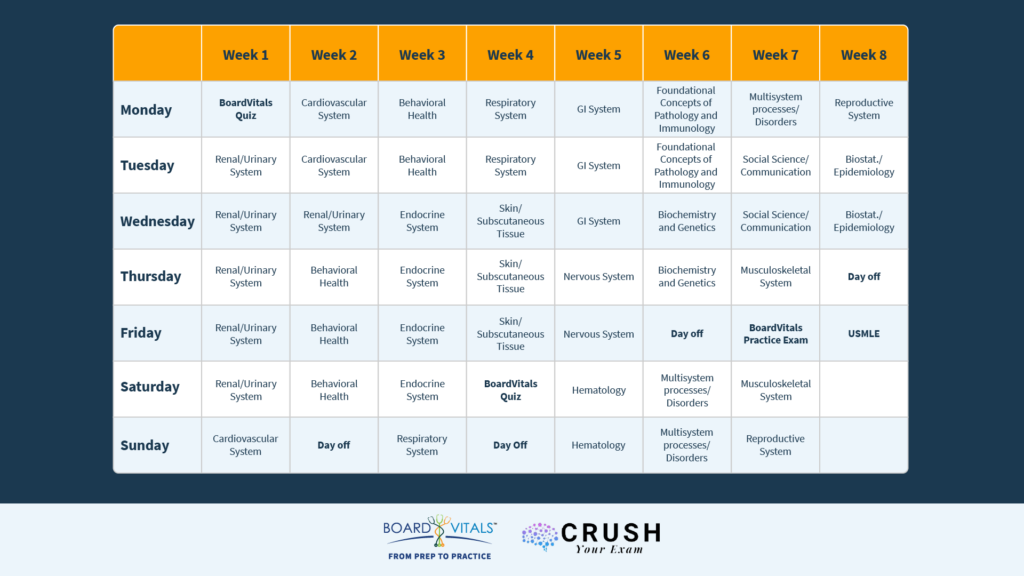 Both local U.S. med school graduates and International Medical graduates (IMGs) can follow this schedule to prepare for USMLE. However, keep in mind that this is just an example plan, and your success ultimately depends on the hard work and determination you put in.
7. Schedule self-assessments.
Self-assessments or practice tests are crucial to evaluate your preparation and help you understand what you will get on the exam. These self-assessments allow you to analyze your performance and enhance their test-taking skills. If you still have time before, during, or after your USMLE preparation, employ it to take self-assessments and practice tests.
FAQs for Preparing for the USMLE Step 1
How many hours a day should I study for USMLE?
It is ideal for studying 8-12 hours daily for USMLE step 1. However, study hours vary from student to student. Therefore, try studying for different durations and see what works best for you. Medical students usually have 2-3 months between the second-year final exams and the USMLE Step 1 exam. Therefore, students can take 4-6 weeks of dedicated study time to prepare for the exam.
How should I begin preparing for the USMLE Step 1?
The best way to begin studying for USMLE Step 1 is to devise a workable study plan first. For studying, you can use reliable, sturdy sources. For instance, you can use the BoardVitals question bank and solve it along with reviewing the content from the FA textbook. You can read the topic, clear your concepts using the textbook, and then solve MCQs using the Qbank to evaluate your understanding of the subject.
What is the best study source for USMLE?
BoardVitals is an authentic study resource for USMLE, and a lot of medical students rely on it to pass USMLE and get into their dream residency program. BoardVitals has a total of 3,100 questions, and it offers self-assessments too. The chief advantages of BoardVitals: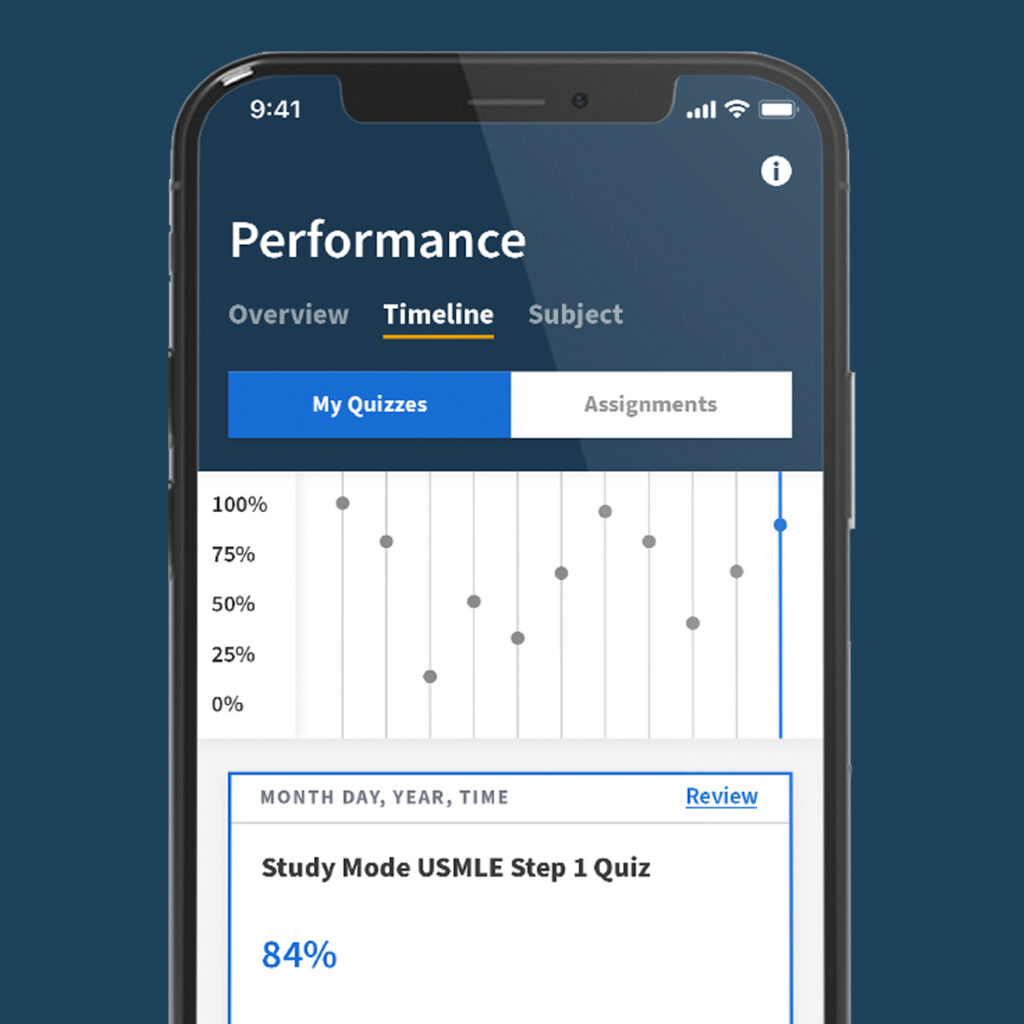 High-yield topics are repeated multiple times.
It explains almost everything regarding the topic. Even if the question revolves around disease diagnosis, everything from its pathophysiology to treatment is well-explained.
It uses figures and tables to explain the topic.
It has a "flag question" feature that you can use to mark important questions and review them later.
It includes a Performance Timeline that allows you to see how you've improved over time.
You can use the explanations in BoardVitals Review mode to copy important information that you can review later.
Are flashcards needed for USMLE preparation?
You might feel that you do not need flashcards. But flashcards are the most effective tool that helps you retain and review knowledge when needed. However, they are only helpful if you review them regularly.
Are video lectures needed for USMLE preparation?
Video lectures are an excellent method of preparing for the USMLE exam. You can watch videos to study the topic and solve BoardVitals questions for practice.
How long should you spend reviewing MCQs?
Each BoardVitals question block should preferably be solved in one hour. It is ideal to spend around 2-3 hours reviewing the MCQs while preparing for USMLE.
Self-confidence is the key to success everywhere in life. Be confident and do your ultimate best to prepare for the USMLE exam. Your performance in USMLE rewards you with the residency program of your choice and boosts your career in the field of medicine. Work hard, give your best, and have a rewarding medical career.
Looking for more USMLE Step 1 Resources? Check out these blog posts from BoardVitals: