Podiatry is a profession stigmatized for dealing with the ugly step children of extremities (our feet) and the ailments found therein. But believe me, Podiatrists are people, too, and their shared passion for helping those fighting disease and remedying ailments that are often times ignored (which can sometime prove fatal) should be commended. Allow me to help pull back the curtain and provide you with an accurate picture of two different Podiatrists with one shared goal:
---
Practicing for 29 years
What got you into podiatry?
One reason I chose podiatry is the variety of diseases we treat. I can literally treat 20 different patients with 20 different foot ailments– there's always a good challenge and it never gets boring!
Does a particular case stand out?
As podiatrists, we are often the first line of defense for potentially devastating diabetic foot issues. A corn, callus, ingrown toenail or scrape can cascade. Often the patient ignores the problem (or can't feel it due to diabetic neuropathy). This can lead to a sore……then an infection… an ulcer… a bone infection… an amputation… and sometimes death. We are often in a position to prevent this cycle.
To understand the consequences and severity of diabetic neuropathy: I once had a patient who walked a full day with his eyeglasses in his shoe, without him knowing it!
Dr. Shapiro Recommends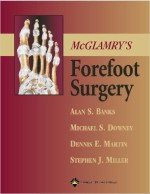 The surgical "bible" is the McGlamry series.
This book retails at $180, but you can get it used on
Amazon
for just over $10!
Any final words of wisdom?
Anyone interested in a career in podiatry should contact one of the 9 podiatry colleges. They will likely offer a visitation of the college and/or recommend a podiatrist whom the prospective student can shadow. There is also information on the APMA website: "Careers in Podiatry" and the NYSPMA website under "Professional development /Podiatry Education".
Do you see a profound correlation between podiatry and diabetes?
Podiatrists play a huge role in diabetes. Infection, ulcers, and amputations take a huge toll on patients lives and the healthcare system.Podiatrists are often the first to suspect and diagnose a patient with diabetes. There are many clues that we see in the feet to alert us to this including poor circulation, diabetic neuropathy (lack of sensation)  and poor healing. We consider ourselves part of the "team" which may include a vascular specialist, endocrinologist, neurologist, orthopedist, internist,  radiologist and infectious disease specialist. 
---
Practicing for 30 years
What got you into podiatry?
As a little girl, I had deformed feet. I had to have so-called "cookies" inserted into my Dr. Denton's (an orthopedic-looking shoe). My mother took me to the Hospital For Special Surgery (then called, The Hospital For The Ruptured and Crippled.) I longed for the cute, attractive shoes all my friends were wearing.
I completed training as a Licensed Physical Therapist at Columbia University. After my training, I began treating Vietnam War veterans, many of whom had very severe lower extremity injuries. I decided that I could do more good as a podiatrist.
After receiving my Podiatry license and doing additional surgical training I started my practice. I have performed more than 15,000 foot surgeries of various kinds. I decided to combine my knowledge and experience as a foot surgeon with my love for beautiful shoes—so I essentially created the field of aesthetic podiatry. My colleague and I formed the International Aesthetic Foot Society (IAFS) and have lectured to hundreds of doctors in multiple specialties from around the world.
Does a particular podiatry case stand out?
In thirty years of practice, many cases stand out. But a particularly interesting one was a happily married man who had undergone transgender surgery. The identification reassignment surgery changed many things, but not his large, hairy, male feet.  I do NOT do foot surgery for cosmetic reasons alone — there has to be a medical condition that is best treated with surgery (painful bunion, hammertoes, etc.). In fact, this patient had both. After the surgery, for the painful deformities, his pain was considerably reduced, his feet, looked better; I did laser hair removal as well, on his feet and toes—three months later she returned with a big smile and pain-free, with beautiful and more feminine feet.
Dr. Levine recommends: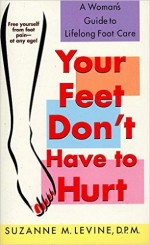 My latest book, Your Feet Don't Have To Hurt: A Woman's Guide to LifeLong Foot Care, covers foot problems and the role of podiatry well. 
Some other books by Dr. Levine:
My Feet Are Killing Me: Dr. Levine's Complete Foot Care Program by Suzanne Marin Levine D. P. M., Everett Marc Lautin M. D., Michele Bender
The Botox Book: What You Need to Know About America's Most Popular Cosmetic Treatment by Everett Lautin, Suzanne Levine, Kathryn Lance
You Don't Need Plastic Surgery: The Doctor's Guide to Youthful Looks with No Surgery, No Pain, No Downtime by Everett Lautin, Suzanne Levine, Kathryn Lance
---
 Are you studying for your podiatry board exams? We've just updated our question banks to include questions for the ABFAS Foot Surgery Board Exam, ABFAS Reconstructive Rearfoot/Ankle Surgery Certification Exam, and the ABPM Podiatry Board Exam! If you're studying, there's no better place to start than with a free trial.
---