The Emergency Medicine Shelf Exam, also known as the Emergency Medicine Advanced Clinical exam, is designed to evaluate your performance at the end of your medical school sub-internship. Residency program directors often use the results as a tool to assess the weaknesses and strengths of incoming residents. It is vital that you pass the Emergency Medicine Shelf Exam to continue on with your career.
Choose top resources, take part in mock exams, and you will be well on your way to passing your Emergency Medicine shelf exam.
Emergency Medicine Advanced Clinical Resources
NBME Blueprint This is a great place to start looking when you're going to begin preparing for this shelf exam. The National Board of Medical Examinations posts the breakdown and weight of topics you will find on your exam. By following this guide, you can identify your strengths and weaknesses to make the most of your study time to pass the Emergency Medical Shelf exam.
PreTest: Emergency Medicine This book offers more than 500 USMLE-style questions and answers. It includes detailed explanations and rationales for right and wrong answers. (tip: go through it twice)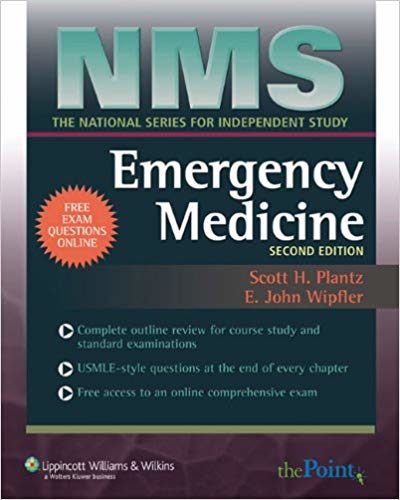 NMS: Emergency Medicine This text provides medical students, residents, physician assistants, and nurse practitioners with an introduction to the core content of emergency medicine. It is a combination of information and practice questions and it will help you identify and learn topics. The text comes with an accompanying online board simulation exam.

Emergency Medicine Shelf Exam Question Bank BoardVitals offers more than 600 challenging Emergency Medicine Shelf Practice Questions. You can set up practice quizzes targeting topics for on the NBME blueprint in timed mode to get a feel for the actual test environment. Take practice questions in the study review mode to see the answers and correct your mistakes as you go. Each question comes with detailed explanations for correct and incorrect answers. (tip: take this in timed mode at 60 seconds per question to gauge your speed)
Top Emergency Medicine Shelf Exam Topics to Know
The Emergency Medicine Shelf exam covers a number of challenging subjects. According to the content outline, the following topics are the most tested on the exam:
Diseases of the Nervous System
Cardiovascular Disorders
Diseases of the Respiratory System
Nutritional and Digestive Disorders