In today's fast-paced academic world, where time is often our most valuable resource, it's crucial to study smarter, not harder. BoardVitals' new Risk Assessment Reporting offers an innovative way to make the most of your study time. This AI-powered performance metric makes it simple to pinpoint your highest risk subjects so you can focus your time on areas you need the most work. Let's delve into the details.
What is Risk Assessment?
Risk Assessment is a data metric found within the Performance section of each BoardVitals user that combines data with AI modeling to give you a clear picture of your overall academic performance. Based on each user's demonstrated performance within the platform, a risk category is assigned to each subject. These reports provide a comprehensive overview of your strengths and areas that may require additional attention as you study.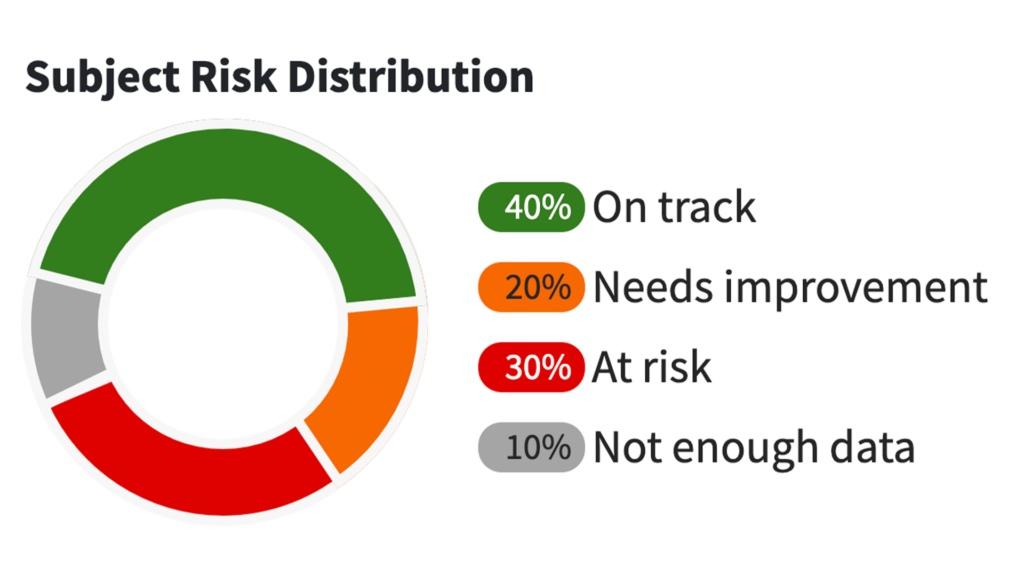 How is Risk Assessment calculated?
Risk categories are assigned based on each user's performance within the BoardVitals platform in comparison to past users from 2017 to 2023. Using AI modeling, this is calculated using several factors that influence performance are used including subject score, the number of questions attempted, the difficulty level of questions attempted, and the time taken to answer questions, to determine each subject's risk category.
Once you answer at least 10 questions in the subject (25 overall), a risk level will be calculated. Subjects with fewer than 5 available questions will not have a risk level assigned.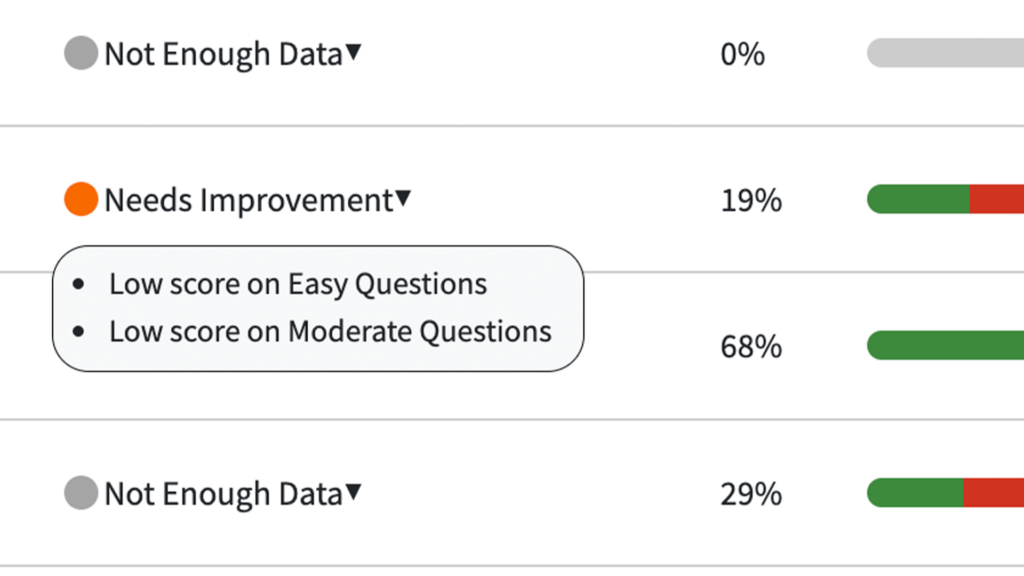 What do the "Risk Levels" mean?
When you receive your score report, you will note three risk levels for subjects: On Track, Needs Improvement, and At Risk. Each risk level is accompanied by the determining factors so you can understand the reasons and how you can improve in order to achieve a better risk level. These categories are based on your score, the number of questions you answered, time spent, as well as how other learners are performing in the same question bank and subject. You should strive to reach "On Track" in all subjects, as this level means you are performing well in the subject.
How can I use Risk Assessment to study more effectively?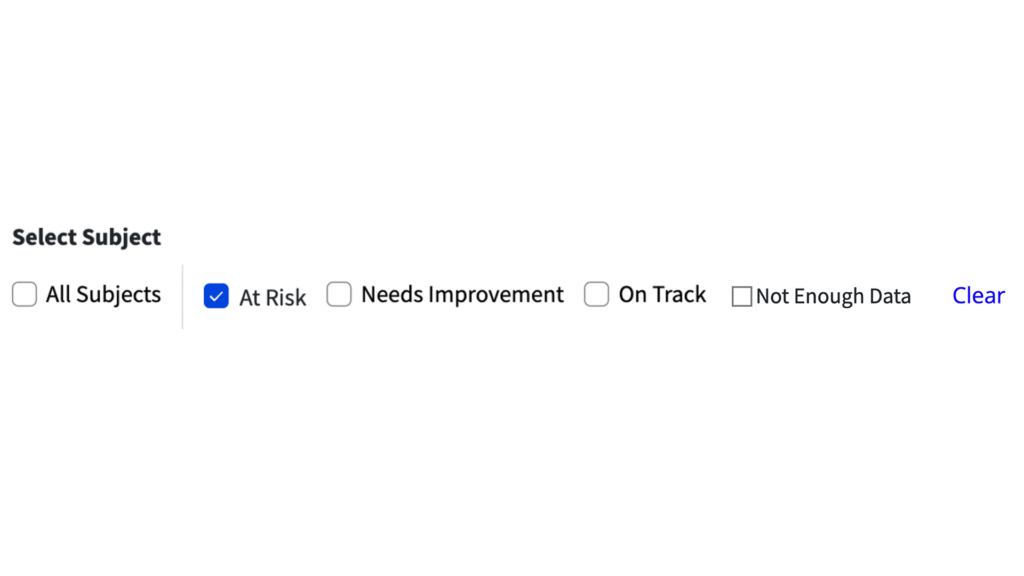 By reviewing your risk levels, you can easily identify where you need to focus your study time and attention instead of wasting valuable time studying what you are already proficient at. You can improve your risk levels by taking practice questions within your highest risk subjects. For a more achievable challenge that gradually increases in difficulty at your own pace, you can start by working on your "Needs Improvement" subjects until they are in the "On Track" category before moving on to your "At Risk" subjects.
With the introduction of risk assessment, it is now easier than ever to create quizzes comprised of questions personalized to any of your high-risk subjects. Within the "Select Subject" section of creating a new custom quiz, there are now filters to indicate which risk levels you want in your quiz.
Are my risk levels only calculated once?
As you study and improve in areas, the algorithm will continue to calculate. Risk is recalculated each time a quiz or assignment is submitted, making this a great way to set achievable goals for improvement.
Please note that it can take up to 20 minutes for your risk levels to recalculate. Risk is recalculated each time a quiz/assignment is submitted and can take up to 20 mins to recalculate.
Does my question bank include Risk Assessment?
All BoardVitals question banks now include risk assessment, except for the following:
ENT Oral Boards
Pain Management, Palliative and End of Life Care CME
Pharmacotherapeutics
NCLEX RN and NCLEX PN
Opioid Prescribing, Substance Abuse, and Pain Management CME
COMVEX
Bioanalysis (ABB)
Pediatric Cardiology Certification MOC
Child Neurology MOC
In a world where time is of the essence, BoardVitals' Risk Assessment reporting empowers you to make the most of your study time. It's not just about studying harder; it's about studying smarter.