As a PA student, starting my clinical rotations in one of the biggest cities in the world during a pandemic was nothing short of intimidating. However, the element of excitement was beyond doubt. I simply could not wait to get out there and see the things that I have been reading about in books until 2 AM during countless late-night study sessions. Now, three clinical rotations later, I still experience the same level of enthusiasm every day before my shift at the hospital. Getting to work with patients, being a part of the healthcare team, and learning the art of medicine is a privilege. In the last 3 months, I have had some memorable patient encounters that have been great learning opportunities.
Applying My Didactic Training to Clinicals
There is something really intriguing about actually seeing a particular disease or disorder that you spent so much time learning about in textbooks and lectures in real life. The process of diagnosing and treating the patients and seeing them get better is truly rewarding. These experiences constantly reinforce my desire to become a healthcare professional.
Guidance From Experienced Healthcare Professionals
It's important to mention the crucial role my residents, PAs, and NPs played in my clinical training. A large part of what I know has come from these amazing professionals taking their time to explain clinical reasoning and show procedures, demonstrating immense skill and competency. A 3rd year resident once told me, "Having a good provider can make or break your rotation!" and I absolutely agree with her. Having a resident or a PA/NP who engages in an active learning environment with the student can substantially augment the students' learning curve.
It feels good to have guidance from someone who has been practicing for years and is actively teaching you to become a better provider. A Nurse Practitioner told me that her method of training NP/PA/Med students on the unit is "See one, do one, teach one." This means you're passing down the knowledge you've obtained from someone more knowledgeable and experienced than you.
Healthcare is Interdisciplinary
Throughout the last 3 months, I really learned to appreciate the interdisciplinary approach of healthcare. It was great to experience firsthand how collaboration, specifically between PAs and physicians, is so important to ensure proper patient care. It was beyond satisfying to see the whole healthcare team function from doctors, PAs, NPs, nurses, social workers, respiratory therapists, pharmacists, and more, come together for the mutual goal of optimal patient care. Each profession plays its own essential part in the entire scope of patient care. It was like seeing puzzle pieces coming together.
I feel so fortunate to have experienced and thrived during my PA clinical rotations. It was great getting to learn so much from experienced mentors and apply what I learned from my didactic curriculum. I hope all PA students get to have as great of an experience as I did.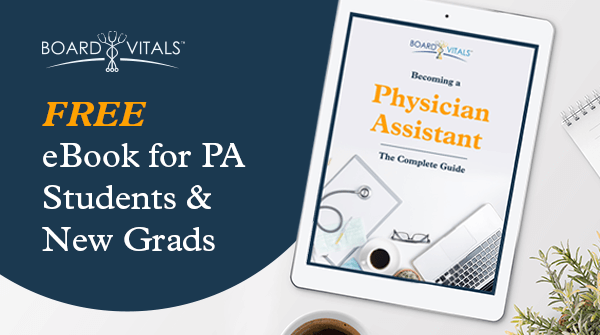 Looking for more advice for your journey to becoming a PA? Download The Complete Guide to Becoming a Physician Assistant, the new eBook from BoardVitals. Filled with words of wisdom from PAs who have been through it all, this FREE Physician Assistant guide will help you on your journey towards becoming a PA, before, during, and after PA school.