If you think marijuana (weed, dope, grass, reefer) is a legal, FDA approved, prescription drug, you're not alone – but you may not be correct. The fact is that marijuana is legal in some states but not in others, and is never recognized as legal at the federal level. Medical marijuana can only be purchased according to a given state's particular, and highly detailed, laws. It's a complex landscape and one that you as a physician should approach with extreme caution.
Small Surveys, Mighty Implications
It was a small survey that called attention to this problem, but one could say the findings were mighty in their implications. Fifty-one residents at Saint Peter's University Hospital in New Jersey completed a survey asking about their understanding of medical marijuana and regulations regarding its control.
38% thought medical marijuana was an FDA-approved prescription drug.

76% didn't know the category "marijuana" is classified under the Controlled Substance Act.
Researchers said that the residents completing the survey self-reported:
A lack of preparedness to counsel patients regarding medical marijuana

Increased concerns regarding the safety and addiction potential of the drug

Concerns about limited evidence of its therapeutic benefit
While the findings were reported with great surprise in many quarters, they shouldn't have been. Other surveys discovered the problem as well. In fact, the findings were tantamount to a neon sign that everyone ignored. A survey of more than 250 medical residents and fellows at Washington University School of Medicine found:
89.5% felt they weren't prepared to prescribe medical marijuana

35%+ felt "not at all prepared" to answer patients' questions
Educators Aren't Educating About Marijuana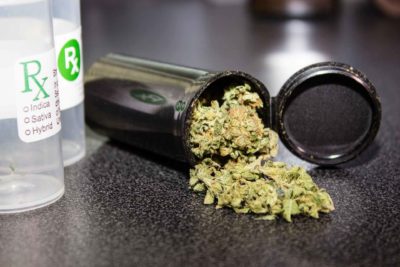 Schools aren't helping the issue. Most are woefully underprepared to educate residents about medical marijuana. Researchers at Washington University in St. Louis conducted a nationwide study of more than 100 medical school deans who oversee the curriculum at their schools and found:
67% of deans

admitted their graduates weren't equipped to prescribe marijuana

25% said their graduates were not even qualified to answer patient questions about medical marijuana
That's unfortunate as 29 states and the District of Columbia have legalized the sale of marijuana. (As noted earlier, the US Government does not recognize medical marijuana as legal.) Qualifying as a patient who can legally purchase medical marijuana varies widely by state. In order to adequately counsel patients, physicians need to have an understanding of the medical effects of medical marijuana and at least a cursory knowledge of the laws in the state in which he or she is practicing. By the looks of things currently, neither of those two things exist to any extent.
If You Want to Become More Informed
There are several things you can do.
Cannabis CME: There is an online, medical marijuana CME presented by the Society of Cannabis Clinicians (SCC). It is presented in collaboration with

TMCI Global

(Global Medical Cannabis Education). According to SCC, it is the first course of its kind and presents in sequential order, "…a series of 12 courses designed to take a practicing clinician from the basics of the plant, its history and the underlying physiologic (endocannabinoid) system to the pharmacology and clinical practice of medical cannabis'.

State education and training: Many states have medical marijuana training for physicians. For example:
In other words, it's fairly easy to find information on medical marijuana for the state in which you practice. It's a very good idea to check it out before venturing into medical marijuana territory.
You must be certified and registered with your state if it has passed medical marijuana laws, before you can prescribe it to patients.

Patients must have completed the rigorous process necessary to obtain a medical marijuana card.
It's a labyrinth that isn't easily navigated.
Regardless of your personal opinion about (or use of) marijuana and regardless of your professional opinion of medical marijuana, it's best to remember one thing – do not give advice to patients about it until you are fully and completely educated about the issue in your state. That's the best rule of thumb for a highly complex issue that is fraught with pitfalls for you and your patients.