It's common knowledge that the population is aging. The US Census Bureau estimates that by next year there will be 50 million Baby Boomers over the age of 65. By 2020, there will be 85 million people over the age of 85. Obviously, that means you are going to see a greater percentage of seniors in your practice, (unless you are a pediatrician). However, did you realize it means you are also going to see more caregivers?
The number of family caregivers is growing and in many cases, they are vital to the care team. In the best case scenario, they are an important link to the home and an ambassador for you in the continuum of care. They can supervise treatment plans and help to improve medication adherence. Worst case? They are a person to be educated. In either case, the more you communicate with caregivers, the better the chances for positive outcomes with your patients.
One of the most comprehensive pieces of research on caregivers in the US who provide unpaid care to friends or family members was conducted by the AARP. It delivered comprehensive statistics on caregivers and their stressors; information you need to know when communicating with them.
When asked by the AARP survey, caregivers reported being responsible for communicating with healthcare professionals and advocating for the person in their care. That's an important point. Within HIPAA bounds, that can significantly change how and what you communicate. If the caregiver feels responsible to advocate for their loved one, you can empower them with information.
Basic Facts on Caregivers in the US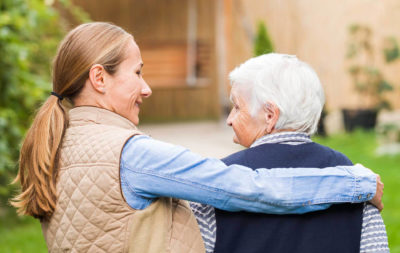 The AARP estimates that 34.2 million Americans have provided unpaid care to an adult age 50 or older "in the prior 12 months". Those on the higher end of the caregiver spectrum are providing 21 hours or more of care each week.
60% of caregivers are women

82% of caregivers are taking care of one person

On average, caregivers are 49 years of age

85% are caring for a relative

49% are caring for a parent or an in-law

1/10 provides care for a spouse

On average, they have been in their role for four years, with a quarter having provided care for five years or more

65% of care recipients are female and on average are 69.4 years of age

47% of caregivers provide care to someone 75+ years old
With just these basic statistics a picture of caregivers under stress begins to emerge. Many of them are at an age where they are raising children and working, while also caring for someone else. Frequently they are responsible for managing both households, including financial and healthcare affairs.
Providing at Home Care without Training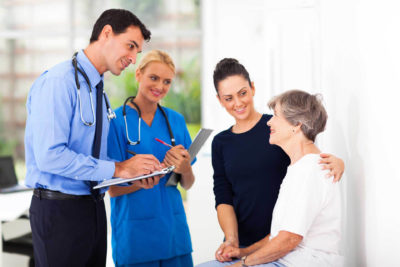 Perhaps the most important insight for healthcare professionals is the extent to which caregivers provide at-home medical care. Some are caring for very ill people. When it comes to the person receiving the care the AARP survey found:
59% of care recipients have a long-term physical condition

37% have more than one chronic condition or illness

35% have a short-term physical condition

26% have a memory problem
When caregivers were asked to describe the health problems for which they were providing care, they reported:
"Old age": 14%

Alzheimer's or dementia: 8%

Surgery/wounds: 8%

Cancer: 7%

Mobility: 7%

Mental/emotional health issues: 5%
More than half of care recipients have been hospitalized in the past 12 months (53%).
Caregivers self-report having to provide medical services without training, and without a level of comfort. In addition to helping with activities of daily living, caregivers report having to perform various medical tasks. These include injections, tube feedings, catheter and colostomy care, and other complex care tasks. It's not known why the caregivers, rather than a home health nurse, are performing these tasks. One can only assume it is because of financial and insurance deficits.
Regardless of the reasons, these statistics highlight the vast opportunity for infections and serious health complications as a result of untrained medical care. It also provides important insight to physicians who need to ask questions of seniors and their caregivers. The health and well-being of these patients can either be supported, or at risk, depending upon the types of care being delivered in the home.
57% of caregivers assist with medical/nursing tasks at home

14% of those caregivers who assist with medical/nursing tasks find it difficult.

42% of caregivers are doing medical/nursing tasks without any preparation

Only 14% report having received some preparation or training
According to the AARP report: "Caregivers in the most complex care situations are the ones most likely to be performing medical/nursing tasks without any preparation."
Fully 62% of high-burden caregivers are performing medical/nursing tasks without prior preparation.
Caregivers Also Assist with ADL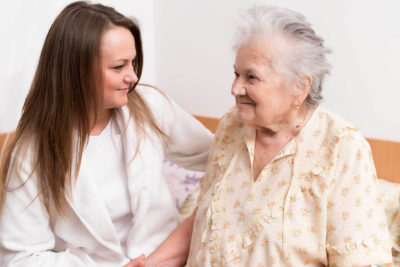 Standard fare for most caregivers is to help their loved one with Activities of Daily Living (ADL).
59% say they help with at least one ADL

43% say the most common ADL they assist with is getting in and out of beds and chairs

One in four caregivers finds assisting with ADLs difficult.
However, the more support they provide for ADLs, the more caregivers find it difficult.
48% of caregivers who provide support for all six ADLs find it difficult to do so.
Caregivers rated the most difficult ADLs as follows:
40%: dealing with incontinence or diapers

33%: helping the recipient to and from the toilet

31%: bathing/showering assistance
It's a complicated picture, as is everything in healthcare. This one involves a network of people under high stress, trying to do the right thing without adequate training or information. You can help. To the extent that you can include caregivers in the continuum of care, education and support them, you improve the care of your patients and employ one more tool in the effort to improve outcomes.