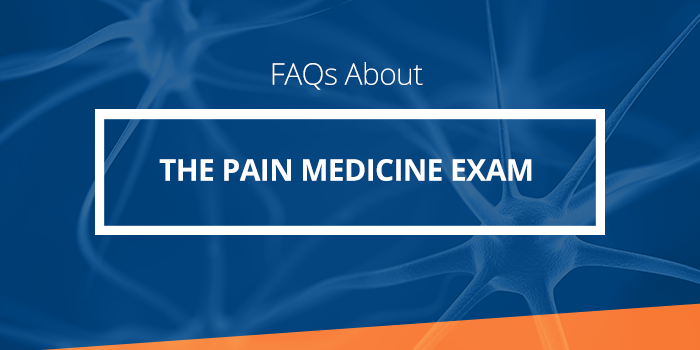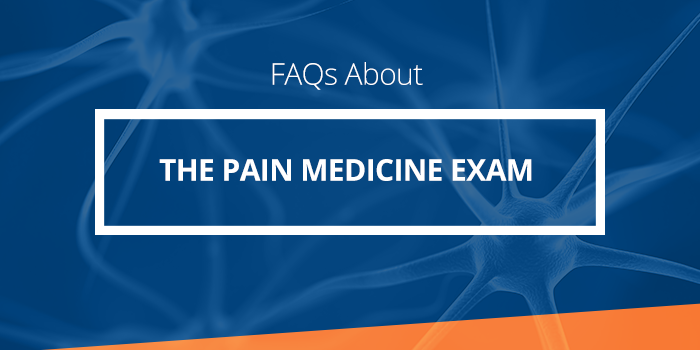 The Pain Medicine Board Examination, or American Board of Anesthesiology (ABA) Certification in Pain Medicine, is a single standardized test of knowledge and skill in pain medication, its application and evaluation.
When can I take the ABA Pain Medicine Exam?
The 2022 ABA Pain Medicine Exam is set for September 17, 2022. Applications for the 2022 examination will be open from March 14 to July 14, 2022. Late registration is available for an additional fee from July 15 to August 18.
How do I apply for the exam?
Individuals with ABA certification, or other boards that are part of the ABMS, can apply for this certification exam through the ABA website. All applicants must have a valid, unrestricted license to practice medicine or osteopathy from a US or Canadian jurisdiction. They must also demonstrate their current pain medicine practice (i.e. that they take part in clinical pain management duties at least once per week for twelve successive months over three years). Applicants must also meet the requirements of the Maintenance of Certification in Anesthesiology Program (MOCA).
What topics are covered on the Pain Medicine Board Examination?
This certification covers general points of pain medicine; pain assessment and psychological considerations; the treatment of pain and its methods; clinical pain states and special cases. It is designed to test the applicant's knowledge of the physiology, anatomy and biochemistry of pain transmission, modulation and systems. Other questions on clinical pain research, its procedures, design and ethics may be posed.
The applicant may also require awareness of the effects of gender, sex, culture and other factors in pain perception, assessment and treatment. An understanding of pharmacokinetics, pharmacodynamics, toxicity, interactions and indications is also required.
The 4-hour exam has 200 single-best-answer multiple choice questions. You can expect to see the following topics on the Pain Medicine board exam:
Background Concepts (5%)
Assessment of Pain (5%)
Treatment of Pain: Pharmacotherapy (15%)
Treatment of Pain: Procedural (15%)
Treatment of Pain: Psychological, Physical, and Integrative Therapies (10%)
Clinical States (includes Tissue, Visceral, Nerve, Headache, and special cases of pain) (50%)
How much does the ABA Pain Medicine exam cost?
The ABA Pain Medicine Exam costs $1800 for first-time registration. For those taking a repeat exam, the cost is $1,350. Those who register late will pay an additional $500.
How do I study for the pain medicine exam?
Text books for studying include McGraw Hill Speciality Board Review: Pain Medicine and Beyond Pain: A Comprehensive Pain Board Review For The Pain Management Physician.
For additional practice, studying with a question bank like BoardVitals provides a vast range of realistic sample questions that simulate the your computer-based exam on test day.
What happens if I fail the Pain Medicine boards?
If an applicant achieves a non-passing grade on his or her first attempt, she or he can re-take it. Re-registration fees ($1,350, with an added $500 for each late re-exam registration) must be paid by all repeat applicants.
What do I need to bring on test day for the exam?
On test day, you should come fully prepared after a good night's rest and bring the registration letter from the ABA and an ID showing the applicant's photograph and signature. Both are required to gain access to the examination area.
However, make sure you leave the following items at home:

Electronics including: watches, times, calipers, monographs, and phones

Study materials including books, note cards, and other resources

Pens and pencils

Purses and briefcases
Phone calls or other communications during the exam are also prohibited.
If you need scratch paper during the exam, the test administrator will provide paper and pens at their disposal for students. You will be given a secure locker to store your belongings.
Ready to start studying? The BoardVitals Pain Medicine question bank contains more than 750 pain medicine sample questions to help you prepare for both the American Board of Pain Medicine (ABPM) Certification Exam and the American Board of Anesthesiology (ABA) Pain Medicine Exams. Sign up for a free trial today!