Constantly on a mission to evolve patient care and enhance quality of life, pain medicine specialists are a dedicated and innovative group. Read on for the stories of five pain medicine practitioners and how they continue to advance science and shape the field of medicine.
Mike Evans, MD
Dr. Mike Evans is the founder of Evans Health Labs, a revolutionary health and media fusion that provides viewers with simple, straightforward, medically informed videos addressing common health complications. The videos revolve around the conditions Americans suffer from the most, primarily chronic pain. The videos also explore drug use and mental illness, all of which, Dr. Evans asserts, are interrelated.
Dr. Evans first earned recognition through his "23 1/2 Hours", a whiteboard style video that became a viral hit online, gaining Dr. Evans' millions of followers and fans. After the video's success, Dr. Evans developed a series of similar styled short films, all dedicated to providing a comprehensive yet jargon-free education on wellness. Dr. Evans assumes a holistic and interdisciplinary perspective towards health, pain management, and longevity, and has devised a unique and creative way to impact a mass population of patients.
To check out the videos and learn more about Dr. Evans, head to Evans Health Labs.
David Hanscom, MD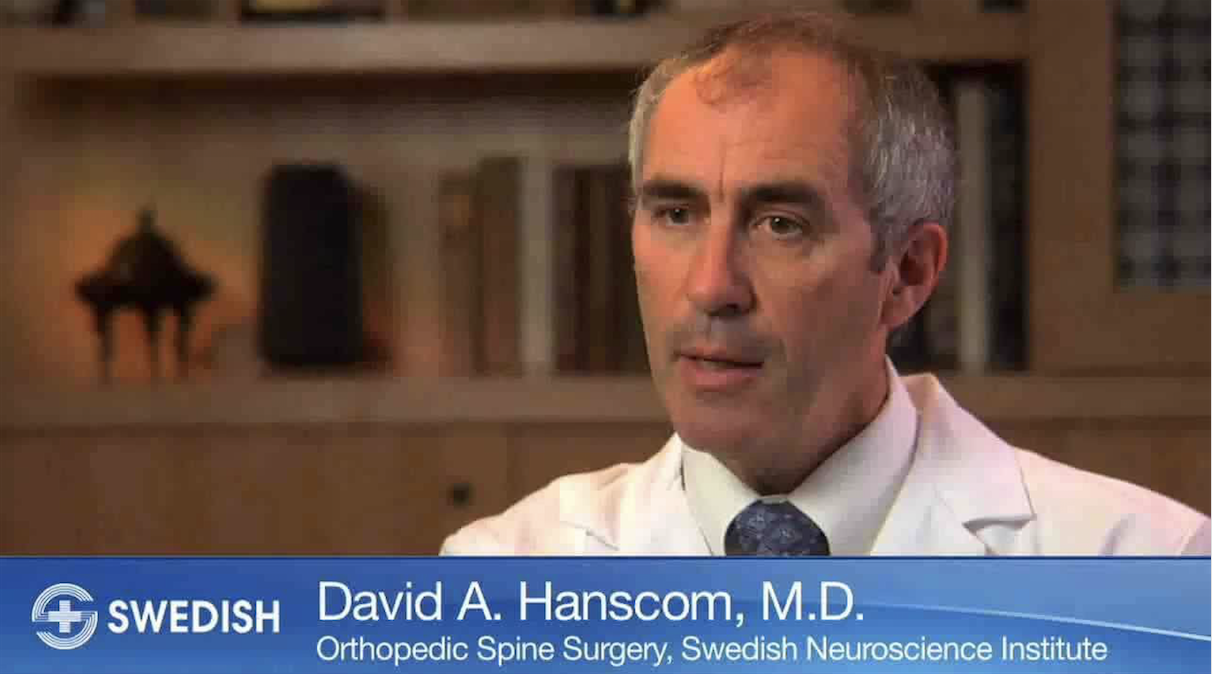 Dr. David Hanscom has focused his career on facilitating pain management. To educate his patients on the fundamentals of chronic pain, he founded and developed the DOCC project, called "Back in Control". DOCC, which stands for Evolution of Defined Organized Comprehensive Care, is a systematic perspective of the components of pain, breaking the concept down into a three part framework.
DOCC addresses the physiology of pain while reflecting on the emotional components of adaption and healing. Dr. Hanscom's approach utilizes a mental health framework of empowerment and self-efficacy to promote wellness as a balance between a patient's personal achievement and a physician's treatment plan. This approach, published in the book "Back in Control" has gained both Dr. Hanscom and the DOCC project significant attention, and has been widely utilized to promote patient understanding of chronic pain.
To learn more about the DOCC, head over to their website.
Michael Fratkin, MD
Dr. Michael Fratkin is an internist and palliative medicine specialist who currently serves end-of-life patients. Dr. Fratkin once worked in a hospital setting. However, in this role he felt unable to provide his patients with the in-depth, personalized attention that they needed, such as spiritual guidance or therapeutic conversations, in the vulnerable end of life stage. As a result, Dr. Fratkin founded a startup, called ResolutionCare.
Specifically geared towards rural communities, ResolutionCare provides services to those who have no access to hospice care. With ResolutionCare, Dr. Fratkin is the only practicing pain medicine specialist within a 120-mile region. In a recent interview, he even described traveling by bush plane to access patient's living in drastically isolated regions. However, he and his team remain committed to their patients, and continue to treat hundreds of individuals who would otherwise not receive services.
Looking to be part of the ReoslutionCare community? Take a look here.
David Eisen, LAc, MSW, OMD
David Eisen, known as Dr. Dave, has taken a unique approach to pain medicine. Executive director and founder of the Portland, Oregon based Quest Center for Integrative Health, Dr. Dave offers patients a variety of alternative pain medicine treatment options. With a background in Chinese medicine and acupuncture, Dr. Dave utilizes a global perspective of health to promote a wellness routine that does not hinge on opioid use.
At the Quest Center, Dr. Dave utilizes a forward-thinking integrative staff model. The multidisciplinary team treats a dual-diagnosis population; the majority of which suffer from a combination of diagnosed chronic pain, substance treatment, and mental health concerns. Dr. Dave's alternative approach provides his clients with a method of care that might otherwise be unavailable, and promotes a diverse range of treatment opportunities within the pain medicine field.
Looking for more information on Dr Dave. Take a look at Quest Center.
Lynn Webster, MD
Dr. Webster is a trailblazer in the quest to discover safe and effective treatment therapies for chronic pain. Dr. Webster has committed his professional career to the research of opioids, their impact on health, and addiction prevention. Known for the development the unique Opioid Risk Tool, Dr. Webster has also taken a lead in promoting a public campaign to reduce the number of opioid overdose deaths from prescription medication.
Most recently, Dr. Webster published "The Painful Truth: What Chronic Pain is Really Like and Why It Matters to Each Of Us". This collection of stories describes a series of patients living with chronic pain, including it's disabling impact on their functioning, healing attempts, and the challenges they face in living a meaningful life. An accompanying documentary is also set to be released, continuing the widening of access to Dr. Webster's meaningful work.
Keep up with the news of Dr. Webster's progress here.
We're proud to showcase the work of Dr. Evans, Dr. Hanscom, Dr. Fratkin, Dr. Eisen, and Dr. Webster. We thank them for their commitment to their patients and their impact on the field.
Do you know an inspiring physician who deserves to be featured? Email us at [email protected].