As the United States population continues to increase and Baby Boomers continue to age, a growing need has developed in healthcare. With fewer physicians than needed, advanced practitioners have begun to fill provider gaps in a wide range of healthcare environments. What is a physician assistant responsible for, and how can these practitioners help solve the physician shortage problem?
Filling Gaps and Improving Revenues
The American Academy of PAs (AAPA) reports that there are 131,000 physician assistants (PAs) practicing in the U.S. In contrast, the American Association of Nurse Practitioners (AANP) reports that there are more than 270,000 nurse practitioners (NPs) licensed to practice in the United States.
These specialties both practice in a range of different healthcare environments, and they are essential to solving the physician shortage. A Penn State study found that the number of those specializing in nursing home care increased by 33.7% between 2012 and 2015. This study reported that most specialists were advanced practitioners, physician assistants, and nurse practitioners.
Physician Assistant Scope of Practice
PAs must follow specific regulations when setting up practice namely. According to the AAPA, "Licensed healthcare facilities (hospitals, nursing homes, surgical centers and others) have a role in determining the scope of practice for PAs in their institutions. In order to provide patient care services within an institution, PAs request clinical privileges, which must be approved by the medical staff, and ultimately, the institution's governing body. This process defines a scope of practice that each individual is qualified to provide within that organization. Institutions assess PA requests for privileges, including verification of professional credentials (graduation, licensure, and certification) and documentation of additional relevant training, previous privileges and/or procedure logs, CME, or skills assessment under direct observation."
The physician assistant scope of practice is fairly broad. While the scope covers nearly every type of clinical practice, functions are dependent on the state in which you are licensed to practice. According to the AAPA, a PA is qualified to perform the following:
Take medical histories

Perform physical examinations

Order and interpret laboratory tests

Diagnose illness

Develop and manage treatment plans for patients

Prescribe medications

Assist in surgery
Physician Co-Signature and Ratio Requirements
In addition to the functions PAs can practice, there are state co-signature and ratio requirement laws with PAs and physicians. According to the American Medical Association (AMA), 20 states require a certain percentage or number of PA charts to be co-signed by a physician and 39 states have limits on the number of PAs a physician can supervise or collaborate with.
Physician Assistant Specialties
The majority of PAs, 34%, report working primary care environments, however practicing in other specialties is growing. The American Medical Association Journal of Ethics reported:
25%: General surgery/surgical

12%: Emergency medicine

11%: Internal medicine

9%: Orthopedics

4%: Dermatology

2%: Obstetrics/gynecology
With an ever-growing aging population, and a physician shortage, the increasing availability of advanced level providers is a welcome, and highly skilled solution to the care gap. As the number of PAs grows, so does a patient's access to quality care from a skilled, knowledgeable provider.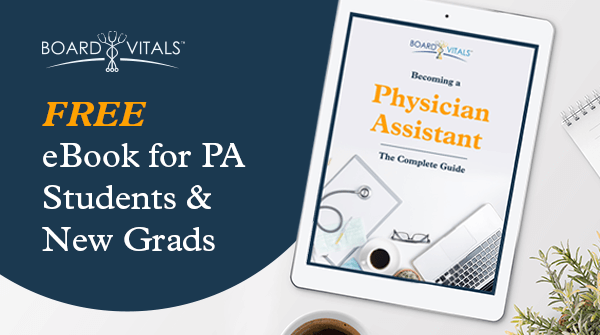 Have more questions? Need more advice on your journey as a PA? Download The Complete Guide to Becoming a Physician Assistant, the new eBook from BoardVitals. Filled with words of wisdom from PAs who have been through it all, this FREE Physician Assistant guide will help you on your journey towards becoming a PA, before, during, and after PA school.