People looking in from the outside often believe that physicians are happier, wealthier, thinner, and generally more satisfied with life than other people. Physicians know differently. The latest Medscape Lifestyle and Happiness report shows that physicians struggle with many of the same issues that other people do – friendships, relationships, exercising and maintaining a healthy weight. It also shows that for the most part they succeed in being happy. The 2018 survey canvassed 15,000 participants in 29 specialties.
61% of participants were male, 39% were female

56% were under the age of 49

44% were aged 50 or older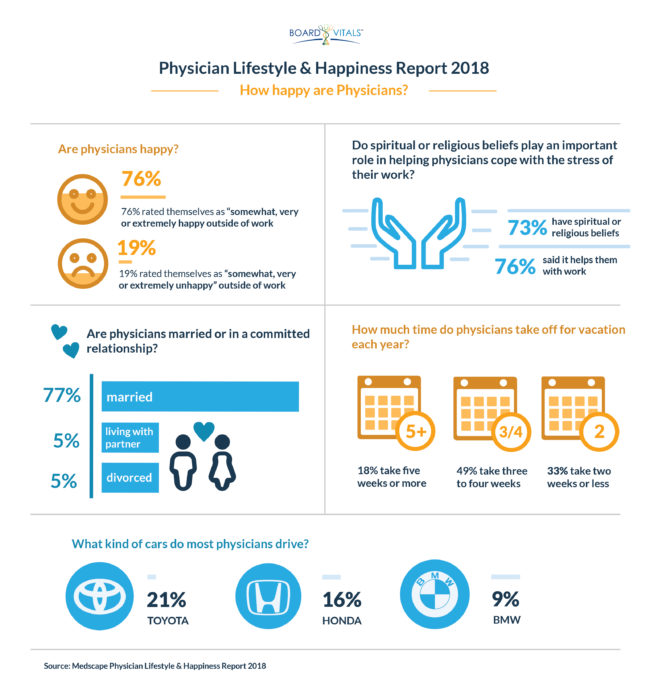 The goal of the survey was to measure physician views of their lifestyle and happiness outside of work rather within their profession. The conclusion is the majority are very happy.
The vast majority of physicians, 76%, rated themselves as "somewhat, very or extremely happy outside of work"

Only 19% rated themselves as "somewhat, very or extremely unhappy" outside of work
The majority of physicians said that spiritual or religious beliefs play an important role in helping them to cope with the stress of their work.
73% have spiritual or religious beliefs

76% said it helps them with work
When it comes to having a significant other, the majority of physicians say they are in committed relationships. 77%, are married and 5% are living with a partner. Only 5% of the physicians surveyed are divorced. Where they find their partners differs and whether they marry inside or outside the field of healthcare is nearly evenly split.
47%

married someone in healthcare, and among that 21% married another physician.

53% married someone outside of the field of healthcare.
Female physicians tend to marry a person outside of healthcare more than male physicians.
64% of women married outside of healthcare vs. 48% of men

33% of men married someone inside healthcare vs. 11% of women

25% of women married a physician vs. 19% of men
It appears that the majority of physicians realize the importance of maintaining some semblance of work/life balance. The vast majority of physicians, 49%, take three to four weeks vacation time. Eighteen percent take five weeks of vacation or more. However, it's troubling to see that one-third of physicians, 33%, take only two weeks or less of vacation time each year. It may come as no surprise that employed physicians take more vacation time than self-employed physicians, but not by much. Of physicians who take three weeks or more of vacation time:
69% are employed

63% are self-employed
Physicians are not as prone to spending their hard-earned dollars on luxury as people like to think, at least when it comes to cars. Patients who believe that physicians drive around in Mercedes Benz and Cadillacs all day would be surprised to learn that the majority of primary care physicians and specialists, 37%, drive Toyotas and Hondas. Much smaller percentages drive luxury vehicles:
BMW: 9%

Lexus and Mercedes Benz: 8%

Cadillac and Lincoln: 1%
Slightly more specialists than primary care physicians drive luxury cars. Nine percent of specialists drive Lexus and Mercedes-Benz versus seven percent of primary care physicians.
Exercise, Alcohol, and the Battle of the Bulge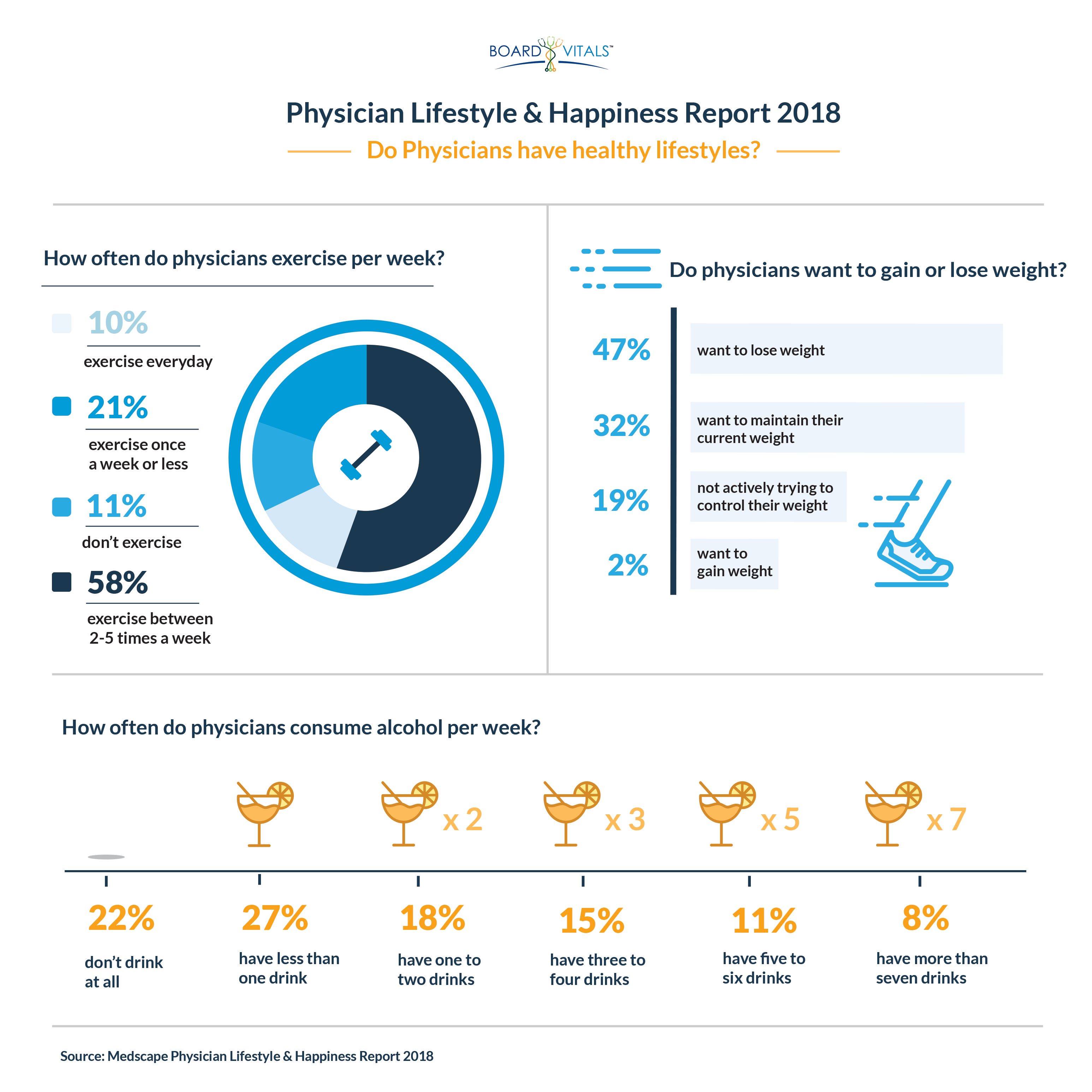 In other areas of life, physicians struggle with the same lifestyle issues as everyone else; finding the time to exercise, controlling a healthy weight and maintaining friendships.
When asked if they exercise, the majority of physicians, 58%, said they do succeed in exercising between two and five times a week. However, a third said they exercise once a week or less.
11% don't exercise

10% exercise every day

23% exercise 4-5 times a week

35% exercise 2-3 times a week

21% exercise once a week or less
When it comes to the battle of the bulge, physicians are just like everyone else.
47% want to lose weight

32% want to maintain their current weight

2% want to gain weight

19% are not actively trying to control their weight
Despite working in a profession that can be a pressure cooker of stress, physicians don't drink much. Twenty-seven percent of physicians report having less than one drink per week and 22% say they don't drink at all. The others ranked their weekly drinking habits as follows:
18%: 1-2

15%: 3-4

11%: 5-6

8%: more than 7 drinks
A Few Friends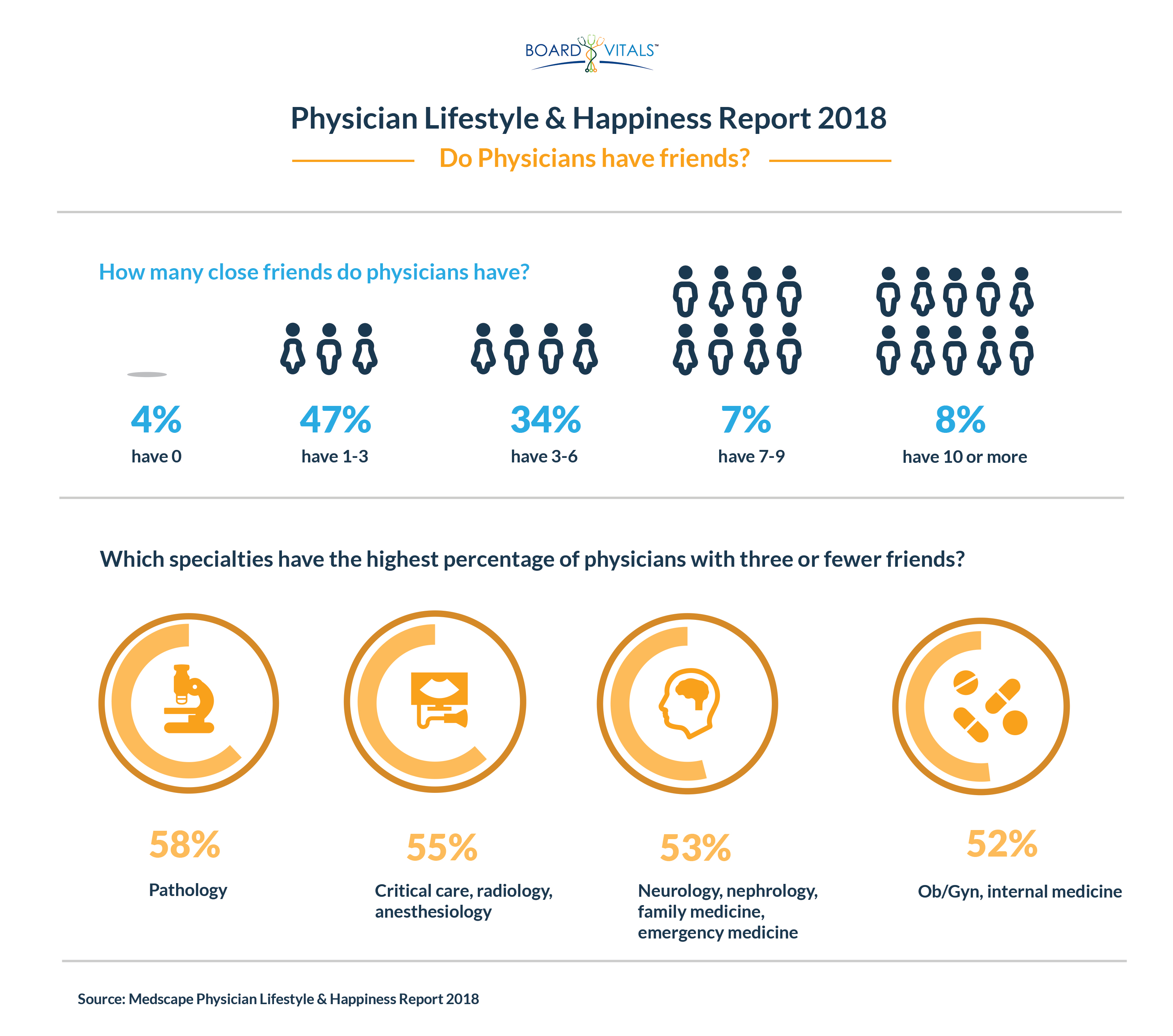 The majority of physicians are probably just like everyone else when it comes to friendships, saying that they have a few close friends. It's sad to see that four percent of the surveyed physicians say they have no friends at all.
4%: 0

47%: 1-3

34%: 3-6

7%: 7-9

8%: 10 or more
Could it be that the rigors of given specialties impact the ability to have friends? The survey looked at that too and found that certain specialties have the highest percentage of physicians who have three or fewer friends.
Pathology: 58%

Critical care, radiology, anesthesiology: 55%

Neurology, nephrology, family medicine, emergency medicine: 53%

Ob/Gyn, internal medicine: 52%
Another factor that can impact the ability to maintain friendships is whether an individual considers themselves to be introverted or extroverted. Again, the surveyors wondered if this was a characteristic unique to any given specialty. The percentage of physicians who rated themselves as introverted were highest in the following specialties:
48%: Public health and preventive med

45%: Pathology

40%: Rheumatology

39%: Physical med and rehab, allergy and immunology, critical care

37%: Pediatrics, neurology, family medicine
Of the physicians who rated themselves as extroverted, the top specialties were:
35%: general surgeons

35%: urologists

34%: OB/GYN and gastroenterology

32%: plastic surgery and oncology

31%: cardiology and orthopedics, Otolaryngology

30%: ophthalmology
It's reassuring to see that for the most part, physicians are happy, healthy and well-adjusted. (We do worry about the four percent with no friends.) These survey findings scuttle the stereotype that many patients have of high-flying, luxury dripping physicians who spend most of their time working and the rest of their time spending money. We intend to spread the word on these findings so that people know that the dedicated men and women who take care of them at all hours of the night and day are human beings just like them; trying to stay healthy, enjoy a bit of life and maintain great friendships.