The last step on your journey to obtaining your radiography certification is to complete the American Registry of Radiologic Technologists (ARRT) Radiography exam. This computer-based test can be challenging for even the best student. What do you need to know before you take the exam, and how can you best prepare?
What eligibility requirements are there for certification?
ARRT requires all candidates meet three requirements before they can obtain certification:
Education: To earn an ARRT credential in radiography, you must complete the requirements in the Primary Eligibility Pathway which consists of earning an associate's degree and completing an ARRT-approved educational program. 
Ethics: Candidates must review the ARRT Standards of Ethics and answer ethics-related questions on the certification application form. 
Examination: You must pass the computer-based exam.  
How many questions are on the ARRT radiography exam?
The ARRT Radiography Exam contains 230 questions. 30 of these questions are pilot questions, which are not graded and do not count in your final score.
How long is the ARRT exam?
Test-takers are allowed 230 minutes of test time to answer the exam questions, which means there is about 60 seconds to answer each question. Including time for the Tutorial, NDA, and Survey, the total exam time is 4 hours and 10 minutes (250 minutes).
What topics are covered on the exam?
Candidates are tested on the knowledge and cognitive skills required to function as an entry-level radiologic technologist. According to the ARRT Radiography Examination Blueprint, the following topics are covered:
Patient Care 33 Questions

Patient Interactions and Management

Safety 50 Questions

Radiation Physics and Radiobiology (21)
Radiation Protection (29)

Image Production 51 Questions

Image Acquisition and Technical Evaluation (26)
Equipment Operation and Quality Assurance (25)

Procedures 66 Questions

Head, Spine and Pelvis Procedures (18)
Thorax and Abdomen Procedures (20)
Extremity Procedures (28)
What is a passing score?
To pass the ARRT Radiography exam, you must achieve a scaled score of 75. However, this is not the same as answering 75% of questions correctly. The number of questions required to score a 75 will vary based on the difficulty of the exam version you are assigned and how you perform on individual content sections.
How can I study for the ARRT exam?
As with studying for any board exam, practice makes perfect. Taking practice test questions will help familiarize you with what you can expect to see on exam day.
The BoardVitals ARRT Radiography Question Bank contains more than 1,100 radiography test questions and includes a full-length mock exam. The question bank includes an ARRT exam interface, which matches the same features and look and feel of the interface you will see when you sit for the test.
We recommend studying for this exam for a minimum of 3 months before your exam date. With the included mock exam or question bank and ARRT exam interface, you can simulate multiple realistic exam conditions to gauge your readiness. Try this at least three times throughout your study duration: once in the beginning, another in the middle, and a third about a week before your exam date. The purpose of this is to track your progress over time and pinpoint content areas you need to work on.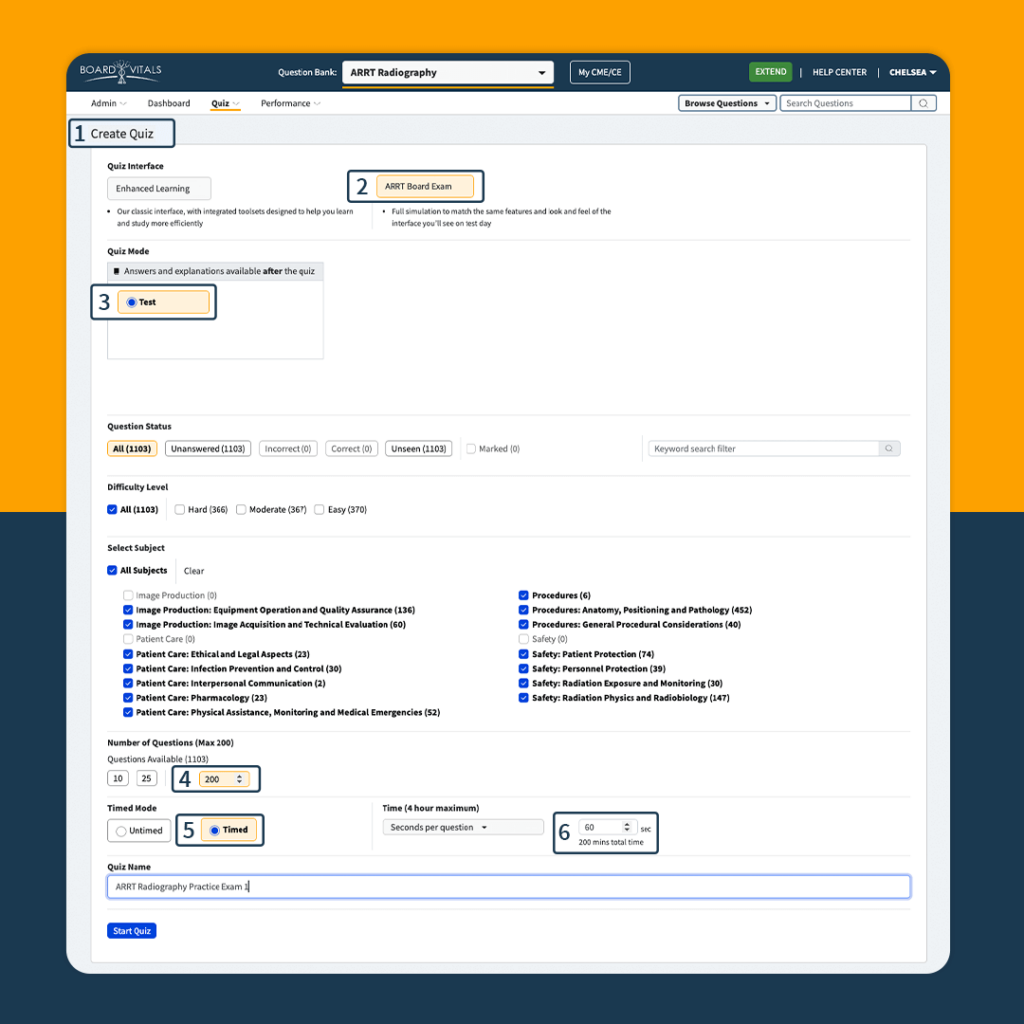 How to Simulate ARRT Exam Conditions with BoardVitals
Step 1: Create Quiz
Step 2: Go to Quiz Interface and select ARRT Board Exam
Step 3: Go to Quiz Mode and select Test
Step 4: Set Number of Questions to 200
Step 5: Select Timed Mode
Step 6: Set Time to 60 Seconds per question
How long does it take to get results?
After you complete the exam, you will receive a preliminary scaled score at the test center. This is not your final score. You will receive an Examination Results Packet by mail within four weeks. This packet will include an official score report, certification, and results by content area.
How hard is the ARRT exam?
According to the 2022 Annual Report of Exams, the ARRT Radiography Exam pass rate was 83.5%. The two most difficult categories were Image Acquisition and Technical Evaluation and Equipment Operation and Quality Assurance. This exam can be difficult but with a well thought out study plan and ample time to prepare with the right resources, acing this exam is within reach.
What happens if I fail?
You are allowed to take the ARRT exam three times within three years of the date your first exam window opens, meaning if you don't pass on your first attempt, you have two more tries.
If you fail the exam three times, you are required to regain eligibility before you can make another attempt.
Do I need to pass the exam to practice?
Having an ARRT certification can give you a career boost. While many employers require certification, it is not universally mandated.
Currently, more than 330,000 RTs hold ARRT credentials. By passing the ARRT exam, you will join the ranks of the top professionals in the industry.
Preparing for the ARRT exam? Pass with confidence with BoardVitals. Our BoardVitals ARRT Radiography Question Bank contains more than 1,100 radiography test questions. Questions include detailed explanations for correct and incorrect answers. Sign up for a free trial today!