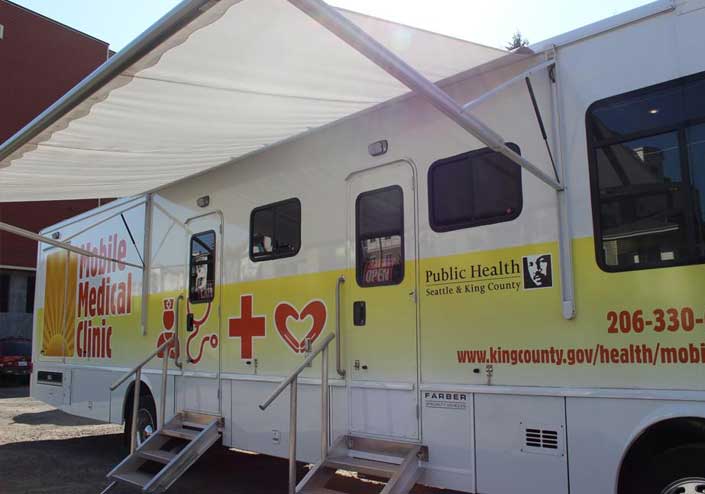 Currently, about 2,000 mobile health units serve approximately 6.5 million patients across the U.S. each year. These mobile clinics bring a wide range of basic services to almost exclusively low-income communities in every state plus Washington, D.C. They provide such necessities as primary care, preventative care and screenings, chronic disease management, dental care, pre-natal care, and pediatric care.
Mobile health units are the vanguard in finding creative and effective ways of addressing social determinants of health and achieving greater health equity. Helping connect people affected by social circumstances or behavioral health issues with the services they need is critical, and one of the primary challenges Healthify seeks to address.
Offering Much More than Convenience
For vulnerable and at-risk populations, including the poor, uninsured, and underinsured, access is a major barrier to health care.  It's not just that many existing clinics are inconvenient for those without easy access to transportation—such barriers can make care virtual inaccessible. And this has serious consequences.
Missed appointments due to unreliable or unavailable transportation are a major barrier to addressing population health. In fact, approximately 3.6 million Americans, mostly the poor, miss or delay a doctor's appointment due to a transportation problem. For patients suffering from chronic conditions, the need for reliable transportation is even more important, ultimately compounding other social determinants many low-income patients are struggling to overcome.
This is also a big problem for U.S. hospitals, practices, and health plans. Missed appointments cost them an estimated $150 billion annually while Medicaid spending on transportation is nearly $3 billion per year. Getting patients to their healthcare appointments is critical in combating chronic illness and addressing the social determinants of health. Since financial pressures restrict low-income populations from getting to doctors' offices, especially during work hours, mobile health units allow offices to come to them.
Meeting People Where They Are
Recently, some innovative healthcare organizations have rolled out (literally) tactics to educate and engage people about their health without disrupting their normal routines or requiring much travel. In St. Louis, for example, public transportation commuters can find mobile health clinics conveniently located at MetroLink stations.
St. Louis County has more emergency room visits than the rest of the city. But thanks to the county's Department of Public Health, commuters can get screened for blood pressure, have their cholesterol checked, and find referrals for other healthcare options—all on their way to work.
In Seattle, the King County Mobile Medical program provides health and social services to homeless and other vulnerable populations by parking mobile health units at meal programs, food banks, and homeless encampments throughout the county to help patients where they are. The program provides primary care for some chronic conditions, testing for STD, HIV, and hepatitis C, family planning counseling, and other critical services, all without patients having to travel.
In Madison, Wisconsin, the Rebalanced-Life Wellness Association has set up health clinics in barbershops to educate black men about the importance of their health. Black men are particularly at-risk for health issues such as heart disease and stroke, yet often mistrust health systems. By reaching men in places where they're already comfortable, the organization hopes to gain trust in order to educate black men about how they can help prevent health problems many of them face.
These are just three examples of forward-looking services bringing healthcare and preventive services where they are needed most. Reaching vulnerable communities in this way also prevents many patients from using emergency rooms as a substitute for regular care, which is less effective and much more expensive.
Ultimately, efforts like mobile health units directly affect population health by integrating into, rather than disrupting, daily life. This shift in the relationship between healthcare providers and vulnerable populations can have far-reaching effects and make significant progress in addressing some of the root causes of healthcare inequities in the U.S.