In today's world, doctors and healthcare professionals have to strive to create a comfortable environment so patients will want to come back and share their positive experiences with loved ones. 72% of patients choose their physician based on word of mouth, according to Beckers Hospital Review.
Lambda Legal, an American civil rights organization that focuses on lesbian, gay, bisexual, and transgender communities, conducted a survey of 4,916 LGBT and people living with HIV in the US and there were some concerning results:
56% of lesbian, gay or bisexual respondents had at least one experience of discrimination and barriers to care when going to see a physician.

70% of transgender and gender-nonconforming respondents had one or more of these experiences.

63% of respondents living with HIV experienced one or more of these types of discrimination in healthcare.
Making your practice LGBTQ+ friendly grows your patient base and can set you apart from competing practices. Here are some ways to make your LGBTQ+ patients more comfortable and welcome in your office.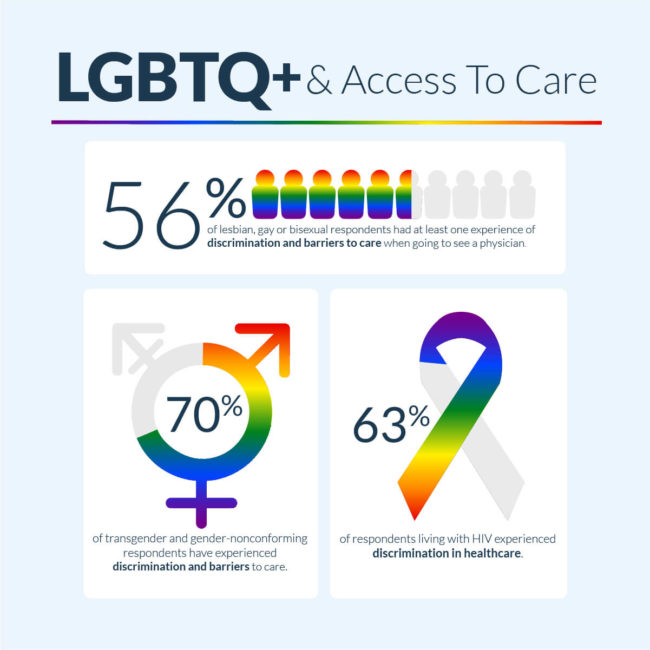 Atmosphere
Differentiate your decor in your practice. Try incorporating some posters that display non-straight, racially diverse couples.

Be proud to be non-discriminatory. Visibly post a

Non-Discrimination Statement

at your check-in area.

If you have single-stall restrooms that are gendered, consider making them unisex. This can help trans, non-binary, or gender non-conforming patients feel more comfortable when choosing which bathroom to use.

Showcase brochures on

LGBTQ+ health concerns

such as depression, HIV, HPV, etc.
Asking Questions and Communication
Allowing patients to fill in preferred pronouns, sexual orientation and gender identity on on-boarding forms can help make them more comfortable being open and honest with you.

Avoid assumptions when asking questions. Ex: "Are you in a relationship?" as opposed to "Do you have a wife?"

Be aware of key LGBTQ terms in order to avoid miscommunication with LGBTQ patients.
We're all learning together. Making an effort means a lot, no need to be perfect in our everchanging climate. If you make an error in conversation, simply apologize. There's no need to make a big deal of it. Imagine someone calling you "Tim" instead of "Tom". It's embarrassing, but it happens.
Making your office comfortable and welcoming for all of your patients, regardless of sexuality, is a simple, and effective thing to do. It will help you retain patients and add new patients in the future. Also, consider listing your practice on the GLMA Provider Directory (GLMA is a national organization committed to ensuring health equity in the LGBTQ+) to make it easier for LBGTQ patients find your practice.
How do you make your practice LGBTQ+ friendly? Share your ideas in the comments.