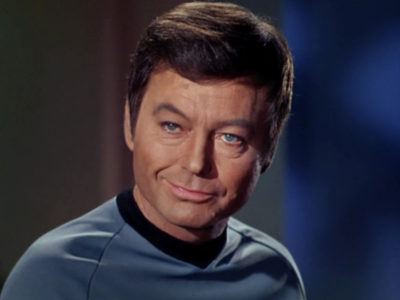 Fans of Star Trek, the original series, may remember Dr. Leonard McCoy of the Starship Enterprise saying "Damn it, Jim, I'm a doctor, not a bricklayer", or "Damn it, Jim, I'm a doctor, not a moon shuttle conductor". As a new doctor, you may feel Dr. McCoy's pain and think, "Damn it, Jim, I'm a doctor, not an IT expert."
You may have gotten into the doctor field with your prime expectation being helping people, but once in, you'll find there's a lot more to it than just providing health care. Administrative burdens in today's medical practices are interfering with patient care and physician education. Extensive requirements for Electronic Health Record (EHR) documentation is the main source of dissatisfaction among new residents and a high rate of burnout in experienced physicians. Notes, data, and extensive EHR requirements can make for a painful entry into the first days of practicing medicine.
Strained by Bureaucracy
EHR documentation is time intensive, to say the least. One study discovered that "Computer use occupied 40 % of interns' time." Another found that 67.9% of residents spent more than four hours each day on documentation. "Only 38.9% reported spending this amount of time in direct patient contact."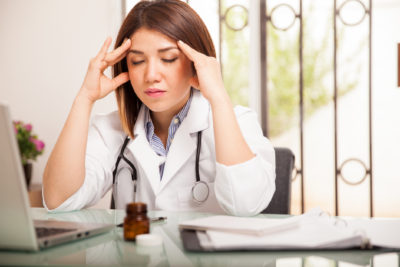 Many residents find EHR and note requirements to be extreme. One survey of 1,515 residents in 24 specialties found that 92% considered documentation obligations tobe excessive. 90% of residents reported that time spent with patients was compromised by documentation requirements and 73% said it had a "negative effect on patient care."
The problem doesn't get any better once you are employed by a healthcare system or in your own practice. One study found that during the office day, physicians spent 27% of their total time on direct clinical face time with patients and 49.2% of their time on EHR and desk work.
The New Reality of Little Patient Time
Many physicians find that medical school has shielded them from the painful realities of daily practice. They walk onto the floor anxious to begin caring for patients and run headlong into a wall of bureaucracy. Nathaniel P. Morris, a second-year resident physician in psychiatry at the Stanford University School of Medicine described his first hour as a new resident in a recent column in the Washington Post.
"My computer credentials didn't work, so I couldn't log on to the hospital's system. As I waited on hold with the IT department, I tried to keep up with the patient handoff. I needed to learn about their conditions, medications and treatment plans. Labs were waiting to be followed up. Consults had to be placed. My pager started going off. Questions piled in from nurses, case managers, social workers and other co-workers: Is this patient being discharged today? Can you sign this disability form? Have you placed that clinic referral yet?"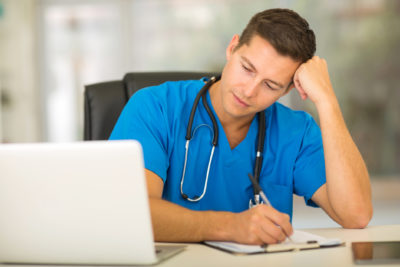 In an article called "Doctors Strangled by Bureaucracy", Robert Tennant, Director of Health Information Technology Policy at the Medical Group Management Association, says administrative burdens are getting worse. He says that now the average doctor needs to hire four administrative workers to cope with regulations and documentation.
Federal regulations carry a large part of the blame. The HITECH act – part of the 2009 economic crisis stimulus package – requires the use of EHR in order to receive full Medicare reimbursement – noncompliance results in a 3% cut. On top of that, there are more than 1,000 pages of "meaningful use" regulations along with other value-based purchasing programs including the Physician Quality Reporting System (PQRS), and the Value-based Payment Modifier (VM). It's enough to make physician and healthcare administrators stand up and cry "Uncle".
Where Does it End?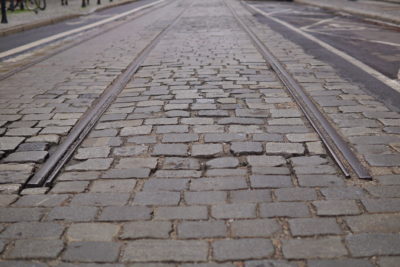 The beginning of the end already took place earlier this year when health care administrators from across the country stood up to say enough is enough. A group of CEOs from leading healthcare systems in the US, including the Mayo Clinic, Cleveland Clinic, and Atrius Health to name a few, wrote a letter to their colleagues urging them to accelerate the pace of EHR enhancement to save physician time and reduce burnout.
"Health care delivery organizations, organized medicine, payers and other interested parties need to work with EHR vendors to improve their product offerings, which could reduce EHRs burden on physicians," they wrote.
The CEOs said that the promise of EHR has not yet been realized. "They have radically altered and disrupted established workflows and patient interactions, become a source of interruptions and distraction and are very time intensive."
The group issued a call to action to fellow CEOs, asking them to commit to a dozen actions to address administrative burdens and physician burnout including:
Encouraging government/regulators to address increasing regulatory burdens that are driving inefficiency, redundancy, and waste.

Proactively monitor and address new unnecessary and/or redundant regulations.

Encourage and support the AMA and other national organizations to work with regulators and technology vendors to reduce the burden of EHR on all users.
At about the same time, a group of 43 national professional organizations, 43 states, and Washington D.C. wrote a letter to the administrator of the Centers for Medicare and Medicaid Services (CMS) stating that EHR "…needed to be streamlined and aligned."
In a forceful but polite letter the group said:
CMS must establish a strategy to relieve the EHR documentation burden.

CMS should establish a new "Administrative Burden" category of hardship exemption for the 2016 Meaningful Use performance year.

Eligible providers should not be penalized for "…focusing on providing quality patient care rather than the arbitrary "check the box" requirements of Meaningful Use."
It's encouraging that national organizations and health care leaders are raising the roof on this issue. They are right to put regulators on notice that physicians can't sustain their practice under the current weight of administrative burdens. At a time when there is already a projected shortage of primary care physicians in the coming decade, we cannot afford to lose more providers to burnout caused by excessive documentation requirements.