NBME Internal Medicine Shelf Exam Review Questions and Practice Tests
Choose your plan
Detailed Explanations and Rationales
Targeted to NBME Exam Blueprint
Mobile App to Study On-The-Go
Vaccine Donated with Every New Purchase
100% Pass Guarantee
Ask a Physician™
Buy Now, Start Later (up to 6 months)
Detailed Explanations and Rationales
Targeted to NBME Exam Blueprint
Mobile App to Study On-The-Go
Vaccine Donated with Every New Purchase
100% Pass Guarantee
Ask a Physician™
Buy Now, Start Later (up to 6 months)
Detailed Explanations and Rationales
Targeted to NBME Exam Blueprint
Mobile App to Study On-The-Go
Vaccine Donated with Every New Purchase
Free Trial
$0
No credit card required
Free access to select questions
Detailed Explanations and Rationales
Targeted to NBME Exam Blueprint
Included with all plans
Customize practice tests by subject

Track your progress with advanced analytics and reports

Timed option to simulate real test conditions

Compare your progress against the national average
"BoardVitals is outstanding! Its Internal Medicine question bank for both the shelf exam and the boards is excellent... I had the opportunity to review both question banks, and as someone who has taken both the shelf exam and the boards, these questions are exactly what you need to pass! They will expose the areas in which you are weak, and the explanations will expand your medical knowledge. The questions are challenging and reflect current best practices. I strongly recommend BoardVitals IM exams!"
Sonya Lecuona
Internal Medicine Specialist, Baltimore MD
Key Internal Medicine Shelf Exam Board Review Features
Internal Medicine Shelf Exam Board Review Topics Covered:
Infectious Disease
Oncology
Dermatology
Gastroenterology
Neurology
Rheumatology/Orthopedics
Allergy and Immunology
Hematology
Cardiovascular
Psychiatry
Endocrinology
Pulmonary
Renal/Urinary and Male Reproductive Systems
Obstetrics and Gynecology
Ophthalmology
Geriatric Syndromes
Otolaryngology and Dental Medicine
About the NBME Internal Medicine Shelf Exam (Subject Exam)
As outlined by the NBME, the Subject Exams are designed to provide institutions with effective evaluation tools and useful examinee performance data that can be compared with a large representative group of examinees at the same stage of training.
What content is covered on the Internal Medicine Shelf Exam?
According to the NBME Clinical Science: Medicine Modular content outline, the following topics are covered on the exam:
General Principles, Including Normal Age-Related Findings and Care of the Well Patient 1%–5%
Immune System 1%–5%
Blood & Lymphoreticular System 5%–10%
Nervous System & Special Senses 5%–10%
Skin & Subcutaneous Tissue 5%–10%
Musculoskeletal System 5%–10%
Cardiovascular System 10%–15%
Respiratory System 10%–15%
Gastrointestinal System 8%–12%
Renal & Urinary System 8%–12%
Female Reproductive System & Breast 1%–5%
Male Reproductive System 1%–5%
Endocrine System 5%–10%
Multisystem Processes & Disorders 3%–7%
Biostatistics, Epidemiology/Population Health, & Interpretation of the Medical Lit. 1%–5%
Social Sciences, Including Medical Ethics and Jurisprudence 1%–5%
Physician Task
Applying Foundational Science Concepts 10%–15%
Diagnosis: Knowledge Pertaining to History, Exam, Diagnostic Studies, & Patient Outcomes 50%–55%
Health Maintenance, Pharmacotherapy, Intervention & Management 30%–35%
Site of Care
Ambulatory 55%–65%
Emergency Department 20%–25%
Inpatient 15%–20%
Patient Age
17 to 65 70%–80%
66 and older 20%–30%
What question formats are on the Internal Medicine Shelf Exam?
As outlined in the NBME Guide to the Subject Examination Program, the following question formats will be on the exam:
Application of Knowledge
This exam will have an increased emphasis on the application of knowledge instead of the recall of isolated facts.
Vignettes
Questions are framed in the context of clinical vignettes.
Single-best-answer (A-type)
This is the most widely used MCQ format. Each question is comprised of a focused item stem (e.g., a clinical vignette) and a lead-in question, followed by a series of options with one correct answer for each item.
Extended Matching (R-type)
These questions are organized into sets that use one list of options for all items in the set. Examinees must select one best answer.
VIDEO: Internal Medicine Shelf Exam Board Review Question Explained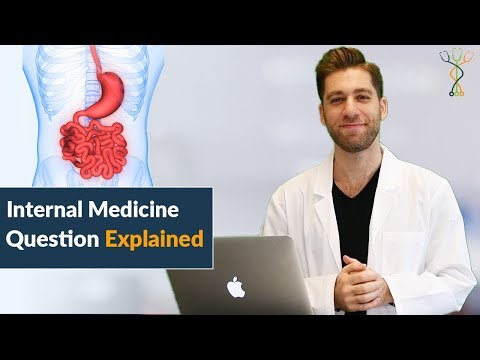 Internal Medicine Resident, Dr. Mike Natter, answers a question from our Internal Medicine Shelf Exam question bank! This lecture is part of our "Practice Connection" video series that we developed to highlight helpful practice questions and explanations. This Internal Medicine lecture explains the most likely diagnosis related to symptoms causing diarrhea, covered in our Internal Medicine Shelf Exam question bank. Check it out!
NBME Internal Medicine Shelf Exam Prep and Readiness
Internal Medicine is a really broad topic, especially for shelf exams. You won't find any one single source that follows the exam directly. Most physicians that we talked to used 3+ sources during their prep time. Fortunately, though, the Internal Medicine content is not as 'tricky' as Family Medicine, you just need to have a broad knowledge base. First Aid is a good Internal Medicine companion to use hand in hand with BoardVitals to make sure that you're covering all relevant topics.
NBME Internal Medicine Percentile Requirements
Internal Medicine requires a score at the 11th percentile to pass.
Since it is graded 'on a curve', it's important to compare yourself to others. Use the 'percent correct' feature on our platform to know where you stand. Internal Medicine is not a rushed exam, generally speaking, but it is important to be aware of timing – we suggest using the time keeping feature on our platform.
Our platform also allows you to flag questions so you can go back and review at a later date. Good luck on the shelf exams! They do get easier!
If you need any help, feel free to reach out us
View all of our NBME Shelf Exam Prep Offerings.
Learn more about the Internal Medicine Shelf Exam Board Exam on the blog
Are you searching for additional information as you study for the Internal Medicine Shelf Exam? Explore the content found in the Shelf Medicine category of our blog. You'll find tips and tricks to help you prep for the Internal Medicine Shelf Exam.
Tips and tricks to pass, and prepare for the 2015 Internal Medicine Shelf Exam.

Read More

Be prepared for the Internal Medicine Shelf Exam with these high yield tips and content topics.

Read More