NBME Family Medicine Shelf Exam Review Questions and Practice Tests
Choose your plan
Detailed Explanations and Rationales
Targeted to NBME Exam Blueprint
Mobile App to Study On-The-Go
Vaccine Donated with Every New Purchase
100% Pass Guarantee
Ask a Physician™
Buy Now, Start Later (up to 6 months)
Detailed Explanations and Rationales
Targeted to NBME Exam Blueprint
Mobile App to Study On-The-Go
Vaccine Donated with Every New Purchase
100% Pass Guarantee
Ask a Physician™
Buy Now, Start Later (up to 6 months)
Detailed Explanations and Rationales
Targeted to NBME Exam Blueprint
Mobile App to Study On-The-Go
Vaccine Donated with Every New Purchase
Free Trial
$0
No credit card required
Free access to select questions
Detailed Explanations and Rationales
Targeted to NBME Exam Blueprint
Included with all plans
Customize practice tests by subject

Track your progress with advanced analytics and reports

Timed option to simulate real test conditions

Compare your progress against the national average
"This Q-bank is awesome. When I used this bank for the first time, I said to myself 'oh wow' because I was missing little bits and pieces which I filled in with BoardVitals. These questions are hard but very similar to questions on NBME exams. I would strongly recommend BoardVitals for everyone who is studying for Step 1, 2, 3 and shelf exams. I used this bank for Step 1, and right now I'm using it for Step 2 and for my upcoming Internal Medicine shelf exam."
Nadia Badar
Medical Student
Key Family Medicine Shelf Exam Board Review Features
Family Medicine Shelf Exam Board Review Topics Covered:
Neurology
Dermatology
Endocrinology / Metabolism
Musculoskeletal and Sports Medicine
Eye
Pediatrics
Hematology
Gastroenterology
Cardiovascular Disease
Nephrology
Allergy and Immunology
Ear, Nose, Throat
Ambulatory Medicine
Statistics / Study Design
Nutrition
Geriatrics and Palliative
Infectious Disease
Oncology
OB/GYN
Ethics
Rheumatology / Orthopedics
Pulmonary / Critical Care
Psychiatry
Population-Based Care
Medical Editor
Elise Torres, MD
Our Family Medicine editor, Elise Torres, MD, is a board-certified family physician who practices full spectrum family medicine and telemedicine. After graduating from Stanford University and Harvard Medical School, she completed her family residency training at the Stanford O'Connor Family Medicine Residency and obstetrics fellowship at Santa Clara Valley Medical Center in San Jose, CA.
About the NBME Family Medicine Shelf Exam (Subject Exam)
As outlined by the NBME, the Subject Exams are designed to provide institutions with effective evaluation tools and useful examinee performance data that can be compared with a large representative group of examinees at the same stage of training.
What content is covered on the Family Medicine Shelf Exam?
According to the NBME Clinical Science Family Medicine Modular content outline, the following topics are covered on the Core portion of the exam:
General Principles, Including Normal Age-Related Findings and Care of the Well Patient 5% – 10%
Immune System 1% – 5%
Blood & Lymphoreticular System 1% – 5%
Behavioral Health 5% – 10%
Nervous System & Special Senses 1% – 5%
Skin & Subcutaneous Tissue 3% – 7%
Musculoskeletal System (% increases with the addition of the Musculoskeletal module) 5% – 10%
Cardiovascular System 5% – 10%
Respiratory System 5% – 10%
Gastrointestinal System 5% – 10%
Renal & Urinary System 1% – 5%
Pregnancy, Childbirth, & the Puerperium 1% – 5%
Female Reproductive System & Breast 1% – 5%
Male Reproductive System 1% – 5%
Endocrine System 5% – 10%
Multisystem Processes & Disorders 1%–5%
Biostatistics, Epidemiology/Population Health, & Interpretation of the Medical Lit. 1% – 5%
Social Sciences 5% – 10%
Communication and interpersonal skills
Medical ethics and jurisprudence
Systems-based practice and patient safety
In addition to the Core portion of the exam as outlined above, optional modules in Musculoskeletal/Sports-related injury and Chronic Care are available as a supplement.
How long is the Family Medicine Shelf Exam?
The Family Medicine Shelf exam is made up of 80 items. Each optional module consists of 10 items.
What question formats are on the Family Medicine Shelf Exam?
As outlined in the NBME Guide to the Subject Examination Program, the following question formats will be on the exam:
Application of Knowledge
This exam will have an increased emphasis on the application of knowledge instead of the recall of isolated facts.
Vignettes
Questions are framed in the context of clinical vignettes.
Single-best-answer (A-type)
This is the most widely used MCQ format. Each question is comprised of a focused item stem (e.g., a clinical vignette) and a lead-in question, followed by a series of options with one correct answer for each item.
Extended Matching (R-type)
These questions are organized into sets that use one list of options for all items in the set. Examinees must select one best answer.
VIDEO: Family Medicine Shelf Exam Board Review Question Explained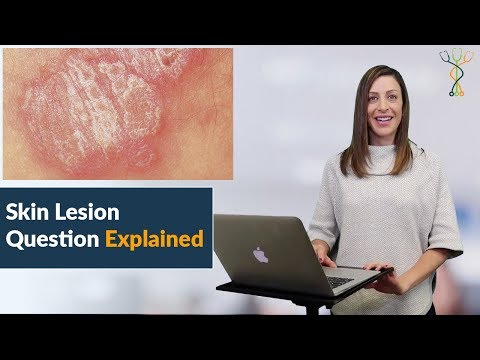 BoardVitals' Cofounder, Dr. Andrea Paul, answers a question from our Family Medicine Shelf Exam question bank! This lecture is part of our "Practice Connection" video series that we developed to highlight helpful practice questions and explanations. Check out this Family Medicine lecture discussing how to diagnose particular skin lesions, covered in our Family Medicine Shelf Exam question bank.
NBME Family Medicine Shelf Exam Prep and Readiness
During the later years of Medical School, clinical clerkship exams (or shelf exams) are given by the NBME to ascertain readiness. Family Medicine is a module that is required by nearly every program that participates in NBME testing.
Family Medicine is infamous for being really difficult. It's also well known for the being the 'what next' exam. It really helps to lay out processes in advance of studying, and our questions try to help you with the process type questions. We also offer timed exams, so you can get a feel for pacing, and we also include a percentage correct score for EVERY question. Students rely heavily on our personalized recommendations.